Vagabonds' Voyage
Devised and written by the company
Little Wonder
Camden People's Theatre
(2009)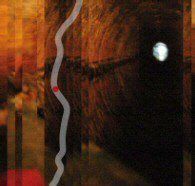 Although part of Camden People's Theatre's 2009 Sprint Festival, this is not a performance in the theatre but an outdoor promenade performance that begins on a bridge where Camley Street crosses the Regent Canal north of St Pancras Station and continues eastward along the waterway. You are taken along the towpath by characters from the present or the past who move between them: a watchman (Paul Murray) and a lock-keeper (David Brett), an itinerant singer (Morna Young), a young woman (Katherine Maxwell-Cook) who seems related to the lock-keeper and a smart estate agent (Sarah Kewley) marketing the homes and offices which will soon rise on the railway lands around you.
There is a thread of plot to be uncovered, some tragedy from the past: the young woman is searching, searching for something, fishing the river to retrieve some object precious to her,. At the same time this is a guided walk along the canal that recounts some of its history and sets memories of its building and its working life against recent development and the major new Kings Cross development that's to come. With songs, the recorded memories of local people and snatches of information it is a leisurely stroll through past and present which is delightful on an early summer evening, though less clement weather may give a stronger edge to its underlying tales of hardship and loss.
The cast, and especially the wonderfully relaxed Brett with his squeeze box, seamlessly bridge that gap between being person present and the character they are playing, being both informant and performer. They call on participants to use their imagination, to feel the texture of a wall, sense the events that once went on behind it, to conjure up the smells and sounds of industries that lined the banks so recently: The Bolinder engine that powered so many canal boats may be the sound you are given to hear but until 1956 there were still horses walking the towpath hauling boats along behind them.
There was one place the horses could not go: the tunnel, nearly 800 metres long, that takes the canal deep below Islington. That used to be negotiated by men lying on the deck of a barge and 'legging' it through - pushing with their feet against the side of the tunnel. You don't have to 'leg' it but you do get to go through that tunnel and to discover exactly what a real narrow boat is like inside with its kitchen dark tiny bunks. That's worth going on this journey in itself. On the way you'll be gently entertained, moved perhaps and, even if you know these waterways already, discover new things you didn't know.
This is not a conventional play nor a startling use of promenade techniques but it is performance and it fits a festival that sets out to be a showcase for experiments in theatre forms that are different from conventional expectations. One difference you should be aware of is that you don't end up where you started. No going out where you came in. This journey ends east of the Angel: you disembark near the City Road Basin, some miles from where you started.
Continues Wed-Sun until 20th June 2009
The audience is limited to a small group that can fit into a narrow-boat cabin. All performances are now listed as sold out but you could always try for a return
Reviewer: Howard Loxton