Who's Afraid of Virginia Woolf?
Edward Albee
Royal Exchange Theatre, Manchester
(2007)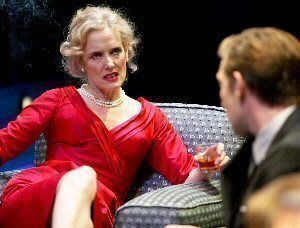 Associate artistic director Sarah Frankcom has revived Edward Albee's 1962 'Angry Middle-Aged Couple' play Who's Afraid of Virginia Woolf? for the Royal Exchange Theatre in Manchester.
George is a history professor at an east coast American university with, we are told, no hope of any promotion, and his wife Martha is the daughter of the principal. They bring back to their home a young biology professor Nick and his wife Honey after a party thrown by Martha's father, and very quickly begin what they call their 'games', which consist entirely of hurling insults and abuse at or trying to humiliate one another. Their young guests watch this verbal - and occasionally physical - battle with horror and fascination, until they end up getting entangled in the 'games' when the hosts use information told to them in confidence to humiliate their guests in front of their spouses. The worst abuses seem to be aroused by a mention of Martha and George's son, but is he real or is he just another invention for their 'games'?
The Royal Exchange presents another lengthy production here, and with a first 'half' in excess of two hours it isn't for the weak of bladder. However when it is going well, the production has real pace, humour and grit, provoking the audience to laugh loudly and cringe equally at the verbal assaults. The lower key moments are less successful though, often coming over as slow, stilted and unnatural, with some exchanges sounding more like two people taking it in turns to deliver speeches than real dialogue. The pace starts to slip in the latter part of the first act, and doesn't pick up sufficiently after the interval.
Hannah Clark's design is a similar mix of the appropriately naturalistic and the not-quite-right. Her set is largely successful as a naturalistic representation of a rather dowdy middle class home of the early sixties with a few grey leaves outside for added symbolism. However there are two seemingly minor points that nevertheless jar against this naturalism: the television doesn't quite look real, even from the balcony, and the two women seem quite happy to walk on the pieces of a broken bottle in stockinged feet with no ill effects.
Barbara Marten follows on from some big-name actors such as Uta Hagen - one of the most influential figures in American actor training of the twentieth century - and Elizabeth Taylor (in the film) for the role of Martha, but she attacks the role and George with a great deal of bile and relish, as can even be seen clearly on the publicity photos. Philip Bretherton as George seems a little uncertain at first, but soon warms into the role and attacks his wife, her father, their son and the guests with gusto and evident pleasure. Michael Begley succeeds as Nick, the only character onstage to put across the shock and horror that the audience is supposed to feel until he is broken down to become a houseboy and another weapon for Martha and George to attack one another with. Joanne Froggatt is a joy as sickly, empty-headed, drunken Honey who always gets the wrong end of the stick; she gets all the great humour out of this role without ever overplaying the character and plays the more emotional parts later with equal success.
At its best, this production from the Royal Exchange is wonderful and compelling and often very funny. However when the pace goes, it makes it seem as long a night for the audience as it is for the characters. Hopefully this will improve to some extent as the actors settle into the run.
Running until 14th April
Reviewer: David Chadderton