Wah! Wah! Girls The Musical
Book and Lyrics by Tanika Gupta, Music by Niraj Chag
Sadler's Wells, Theatre Royal Stratford East & Kneehigh in association with Hall for Cornwall
Peacock theatre
–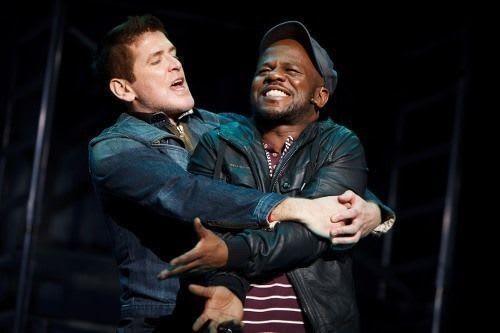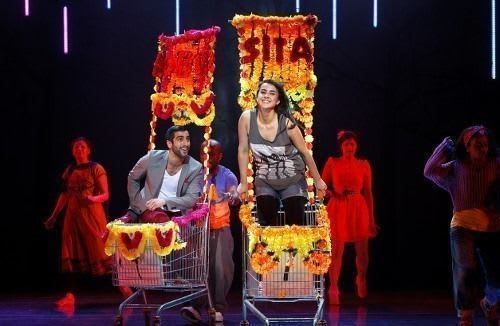 This is Eastenders meets Bollywood in a colourful extravaganza that centres on a Mujra dance club in London's E15.
Mujra dancers, in a tradition that developed in Moghul India, were schooled in the classical dance form Kathak. They were sophisticated entertainers who, like the Japanese geisha, would converse with their clients as well as being accomplished dancers and singers—poets even, courtesans who might become the lovers of their wealthy patrons.
The club run by Soraya (Sophiya Haque) runs aims to follow that tradition, unlike some that exist in Britain today that have been directly linked with the prostitution and sex-traffic, but her son Kabir (Tariq Jordan) thinks they ought to get more up to date. Then runaway Sita turns up played by Natasha Jayetileke (who alternates the role with Rebecca Grant). She is escaping from her strict family in Leeds, and her modern moves get his attention and romance begins to blossom. Meanwhile Sita's brother (Gurpreet Singh) is trying to track her down and take her back home.
It is a story that takes us in flashback to Soraya's youth when her father (Tony Jayawardena) sold her (played when young by Sheena Patel) to a woman running a Mujra troupe (Rina Fatania). It is the sort of plot that frequently crops up in Indian cinema and here the whole story is framed as though it were a film watched on television by Rina Fatamia's cheerful Bindi whose husband goes off to a conference leaving her to work on a paper she is supposed to be preparing with instructions not to waste time watching television. Watching over them all is a deity whose representatives are the pigeons who frequently flutter onto the scene, controlled by hooded puppeteers who sometimes also join the chorus and push around Bindi's oversized armchair so that she can be there for every scene—and sometimes joins in the action.
Yes, Tanika Gupta's plot is somewhat contrived, but no more than the sort of films that inspired it and it has the same mixture of melodrama, romance and villainy. On the way she makes points about the conflict between young British Asians and the traditional attitudes of their parents, sexploitation, the racism that sees an Indian corner shop vandalised and throws in Polish builder Pavel, a newer immigrant, and West Indian Cal from an earlier influx who is very sweet on Soraya.
Emma Rice's production is simply staged. Traverse curtains showing photographically accurate façades of shops and house are rapidly drawn across to change the scene, the interiors behind them in contrast highly stylized. Simple silhouettes of trees, of a village house and fishing boat, the outline of a punkah give a dream view of Indian landscape and Keith Khan's dazzling costumes provide a riot of colour.
Niraj Chag provides a lively score that is a mix of Western and Indian styles and lifts some Hindi numbers direct from Bollywood movies especially for the flashback scenes, this isn't British-based Bangra, it's much more varied but the English lyrics were often drowned by the band and with those in Hindi for non-speakers the dance had to tell the story.
Choreography is partly in the hands of Bollywood's Javed Sanadi and partly those of Kathak expert Gauri Sharma Tripathi. The cast are neat movers, Heeza Farhan's Omar especially, but though the Kathak convention can often look lovely there is little opportunity for romantic lyricism in the choreography. The young lovers are relatively low on romance and it is Delroy Atkinson's Cal who comes over as the real romantic. It is a heart-touching performance, not least in a comic duet he and Philip Brodie's Pavel have on scaffold towers pushed in choreographed patterns by the hoodies, the Pole egging him on and suggesting he gets himself some Viagra before soaring off like Superman.
Depite its serious undertones this is a show designed as entertainment. The mood is set by Rina Fatania's Bindi and she is an actress who knows how to make an instant rapport with her audience and get them laughing.
Reviewer: Howard Loxton