Wail
Little Bulb Theatre
Little Bulb Theatre
Battersea Arts Centre
–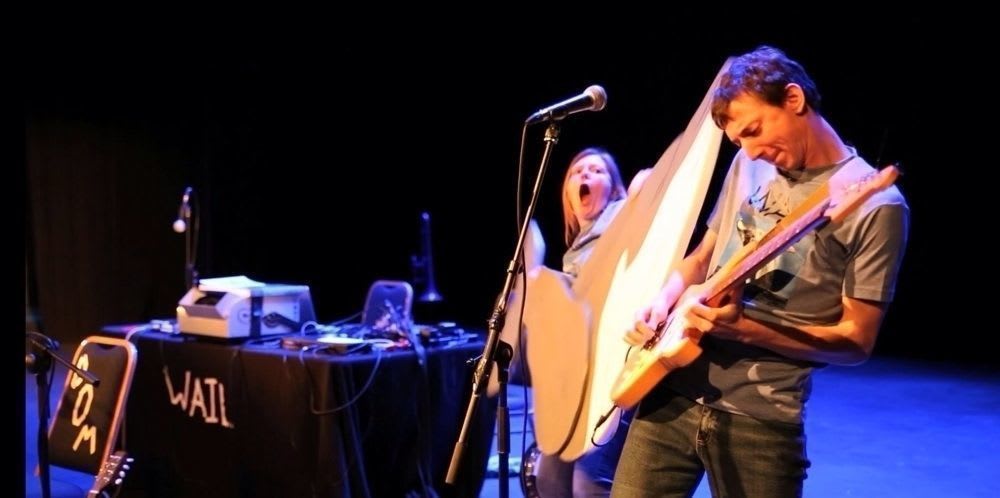 Little Bulb Theatre's show Wail is a whimsical entertainment about whales, in particular the humpback whale.
It begins with a song packed with obscure facts about whales which later forms the basis of a quiz entitled 'who is whale clever' in which they ask multiple choice questions of a member of the audience.
The good natured performance of Little Bulb's Dominic Conway and Clare Beresford keeps everything light and fanciful. There is little chance of anything disturbing slipping into the action. Dominic does get slightly wistful about never having seen a whale but Clare subsequently dresses up as a whale to satisfy that longing.
Playfully they demonstrate the twelve- to sixteen-metre length of the whale by stretching a tape measure the full length of the Battersea Arts Centre Council Chamber performance space. They follow that up with a song about the comparative scale of whale to human. In song they point out that if a whale was a dog then the human would be its tail.
We learn that male whales will sing for perhaps eighteen minutes and repeat the song many times for hours. Perhaps it's a mating sound. No one is sure.
Little Bulb gets the audience to recreate the sound by setting up a Male Whale Choir. It doesn't take long to get us all making the humpback whale sounds of creaking and whooping and shrieking.
Wail is a deliberately ridiculous show which had most of the audience laughing most of the time, only pausing for the fine singing of various songs from a haunting Scottish ballad to Clare Beresford's satiric hippie song.
We don't get to learn very much about the science of whales. There is no mention of any environmental issues. The performance is just a typical whimsical riff on a slight idea from a theatre company specialising in constructing something that looks naive, simple and innocent.
The performance ends with bubbles filling the stage and various instruments being used to generate an orchestral gathering of whales. Some members of the audience whooped their appreciation.
Reviewer: Keith Mckenna