Waiting for Apollo
Jennifer Moule
Washing Line Productions (Edinburgh Preview)
Theatre503
(2010)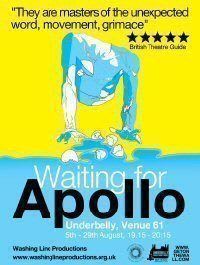 If Euripides, author of many a Greek tragedy, had met Jordan, model of many a Page 3 spread, and had a secret love child thanks to some magical time machine, the result in dramatic terms would be Waiting for Apollo; sixty minutes of zany theatrical fun.
Washing Line Productions bring Greek mythology's Orestes up to date with a good old bang - innuendo fully intended - in their latest production, which looks set to be a hit when it premieres at the Edinburgh Fringe in August.
A mix of physical theatre, stand up and slapstick, Waiting for Apollo places throw-away culture and consumerism into a theatrical blender, adds a dash of Euripides' Orestes and creates a dramatic meal worthy of Heston Blumenthal. From cultural allusions, to cultural icons, any possible link, be it semantic or celebrity, is served up alongside a healthy Greek side salad of swearing and smut. This production is not for those with a delicate ear.
The ensemble of actors play their roles with pure energy and intensity. Elena Byers is a devilishly acid-tongued Electra, her brain constantly buzzing as she blurts out idioms and obscenities by the bucket load. She is joined in her almost tourrettic tirades by Chris Birks as Orestes. Both actors have a fine range of facial expressions and manage to extract as much comedy as possible from this witty, yet slightly schizophrenic script.
The Orestes myth is framed by Ben Holme as American TV presenter Bud Buddeson, who proceeds to use Barbie dolls and a 'quasi Playboy Sylvanian mansion' to teach the audience all about the House of Argos. His running commentary delivers the key aspects of the narrative and his comic interplay with the Greek world allows for some self-referential humour. Like all characters in Waiting for Apollo, Buddeson is highly eccentric and his 'Greek Geeks' presentational style lies somewhere between a sports commentary á la FOX Sports and television shopping retail courtesy of QVC.
Stereotypes are pushed to the max, and the directorial approach seems to borrow much from yoga. Washing Line Productions are a nimble group of actors and the physical theatre aspects of their show are well thought out and executed. Particularly effective are the multi-roling chorus who appear in a variety of costumes and take on a myriad of roles including bathers and ballboys. At times their almost constant presence and movement does distract a little from the main action and it is not always entirely clear where Moule wants her audience to look, but perhaps this is just yet another directorial approach to represent the information overload present in today's media savvy society.
Waiting for Apollo has all the drama of a Greek Tragedy, as well as that found weekly in Heat Magazine. Washing Line Productions prove once again that they know how to create theatre that is fresh, bold and dazzling. Just how they'll keep their energy up over the run, Zeus only knows!
Playing as part of the Edinburgh Fringe at the Underbelly, Venue 61 from 5th - 29th August 2010.
Reviewer: Simon Sladen