Wait Until Dark
Frederick Knott
Theatre Royal, Newcastle, and touring
(2005)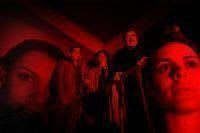 Wait Until Dark was first produced on Broadway and then had an 86 week West End run, ending in March 1968, and it shows. Last year Middle Ground Theatre Company toured a version of Knott's first play, Dial M for Murder, which was almost a deconstruction of the thriller genre, an approach which gave the piece a contemporary resonance: however this version of Wait Until Dark, directed by Joe Harmston and produced by Bill Kenwright, is played straight and it creaks pretty badly.
Not that there's much wrong with the production or the performances: it's just that the thriller has moved on and what was fresh and different when it first appeared is now frankly dated, to the extent that what delivered a real shock to the audience then - the climax of the action of the play - made tonight's audience at the Theatre Royal burst out laughing.
But there was laughter at other times, too. In Act III we have three scenes: the first picks up scant moments after the ending of the previous act which had finished on the sort of cliff-hanger that would be appropriate in a TV series. Fair enough: it is a thriller after all. But scene two is "a few minutes later" and scene three "a minute later" - it's like Knott is saying to us, "This is a dramatic moment!" The front cloth (a map of Notting Hill) flies in, stays closed for a moment, then flies out again. We accepted it after the interval, but the second time raised a bit of a giggle and the third had a large part of the audience laughing aloud.
The set (designed by Paul Farnsworth) is good and Nick Richings' lighting is effective in a plot in which, in the latter stages, light plays an important part, but I found the performances less than rivetting, although veteran Derren Nesbitt clearly enjoyed being thoroughly evil, playing a man playing two parts. Michael Melia gave his usual solid performance, but the rest could best be described as competent. Footballers' Wives star Susie Amy made a pretty good fist of portraying her character's blindness, although her emotional range was somewhat limited, whilst James Carlton as Mike, one of the villains, was rather bland.
"Wait Until Dark" plays in Newcastle until 23rd July, and then moves on to Richmond, Brighton, Malvern, Guildford, Bradford, Glasgow, Cardiff and Belfast.
Reviewer: Peter Lathan