Waiting for Godot
Samuel Beckett
Everyman Theatre Company
Everyman Theatre, Cheltenham
–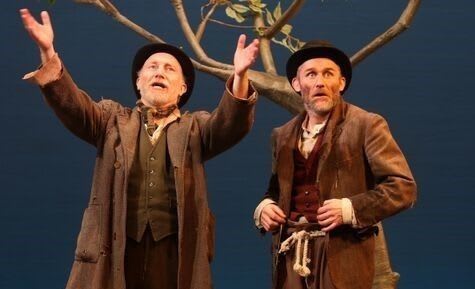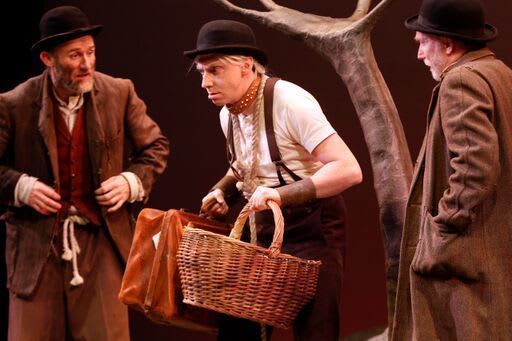 The publicity had been all about Tweedy, the clever, beloved circus clown and star of numerous Everyman pantomimes, due to appear in his first big-stage role as Beckett's tramp Estragon.
A quick check through the archives would show the part played by the likes of Barry Humphries, Mel Gibson, Robin Williams and Ian McKellen. No pressure there then.
In fact Alan Digweed, as we might properly and respectfully call him on the basis of this career breakout, performs creditably well in a part ideally suited to his gifts. For this is like clowning in the dark, and his overhanging brows and haunted blue eyes seem to imply demons not godots lurking around the corner.
He is joined, in a double act that owes as much to the inseparable Stan and Ollie as to the knockabout Laurel and Hardy, by another comic specialist Jeremy Stockwell as the more philosophical Vladimir.
Peter Hall, who directed the play's first English production, famously told his cast that he had "not the foggiest idea what some of it means." Nowadays it seems much simpler—the clue after all is in the title—but the play's reputation seems to have overshadowed just how funny it can be.
Digweed has an innocence of delivery, Stockwell the drollery of a deranged prophet to bring it all home in this sad, absurd, comically nihilistic world.
Perhaps it was the casting of two natural comics in the main roles that persuaded director Paul Milton to pitch so many of the duo's quips at the audience. "Look at this muck heap"—glance to the stalls; "shall I tell you a story?"—a stare toward the back row. One almost expected a "da-dah!" after a particularly banal bon mot.
This became mildly irritating and seemed to diminish the mutual dependency of these two inadequate characters to find the words, thoughts and actions with which to fill their empty days. And, as the production grows in confidence, it might allow a little more space in the dialogue, in which the occasional silence promotes that sense of idleness and futility.
Mark Roper is a Pozzo fit to pop, Murray Andrews the luckless Lucky who delivers a breathless tirade on theology, history, golf and the meaning of life, all of course quite meaningless.
The Everyman deserves congratulations for its commitment to great 20th century dramas, and for its acumen in finding a way to sell this absorbing tragicomedy. Slight reservations apart, it is an absorbing show full of needle-like humour that will baffle, surprise and entertain. Goodo for Godot.
Reviewer: Colin Davison