Waiting for Lefty
Clifford Odets
Oracle Theatre, Chicago
–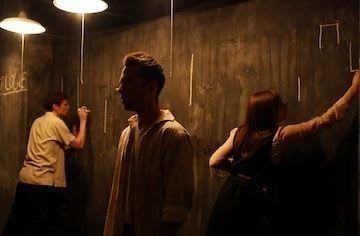 Waiting for Lefty, an early piece of agitprop by American playwright and communist Clifford Odets, is a fitting piece for Oracle Theater, one of Chicago's off-Loop companies, to produce: Oracle Theatre has given away all of its tickets at no charge since 2010, believing that the arts must be free for all. In these days of outrageous ticket prices, this is a laudable goal. Like many off-Loop companies, Oracle operates on a shoestring in a small house with limited seating; the decision to give tickets away must not have been an easy one.
The auditorium is quite small; the audience is literally right on top of and surrounded by the actors, and Eleanor Kahn's set—a barebone affair that is nonetheless surprisingly effective—was literally built out of cardboard painted with the urban architecture of 1930s New York. Chalk was used to depict the buildings as well. The show's prologue is quite effective: the cast sings about the need for economic overturn while sketching the New York skyline. Sam Allyn's music is really lovely to listen to and sung well by the ensemble.
Coming directly out of labour issues of the 1930s, Odets's one act play moves between three main narrative threads. The most important of these focuses on a meeting of unionized taxi drivers trying to decide whether or not to strike for better conditions. The history from that period is one of almost unrestrained violence against strikers; in Odets's play, the strike committee is holding off its decision till the title character (one of the offstage characters so popular in the modernist drama) appears. Like too many union men and women from the period, he won't do so. We find at the end of the play that he has, in fact, been shot in the head to end his effective leadership of the union.
There are two other narrative threads that weave through this work: a doctor who loses his job not because he is incompetent (just the opposite) but because he is Jewish. Anti-Semitism is a sad part of American history and some of the plays from the 1930s, especially those produced by children of immigrants such as Odets himself, would explore those ethnic tensions. Another concerns a lab assistant who is given a huge raise to twenty or even forty dollars (huge for the time) if he will consent to spying on one of the experimenters.
In this production, director Matt Foss attempts a revisionist approach to this modernist work, one in which Odets's rich language has a lyrical quality that moves beyond mere realism. According to the director's note in the programme, "we hoped to fold the newspaper [that is, the text of the play] here and there, laying stories over top of each other to see what we could learn."
The image here is of an attempt to open up Odets's play to a contemporary audience by deconstructing it and putting it back together. I've no problem with revisionist approaches; however, in this instance, I failed to see just how much rearrangement actually took place. In fact, I reread Waiting for Lefty the next morning in order to compare it to Oracle's production and found very little variation. The text is cut at places and some of those cuts are hard to understand. For instance, if I remember correctly, the play as presented by Oracle never mentions the means of Lefty's death though a character did describe finding his body; the doctor's Jewish heritage (the point of his being dismissed from his job) is never disclosed either.
What did occur is that several of the characters are oddly conflated. Dylan Stuckey plays one of the striking taxi drivers, the doctor, and the lab assistant; Jeremy Clark plays Fatt, the management man charged with keeping the strike from occurring but also portrays the boyfriend of a young woman acted by Stephanie Polt who also played Joe's wife; and so forth. This was a bit confusing as I watched the production.
While there is nothing particularly wrong with any of the performances, there isn't enough variation to make it clear that the actors are playing different characters. Indeed, some of the acting is quite strong. Stephanie Polt's work as Edna, Joe's wife, driven to the point of leaving him because of her family's financial difficulties is particularly noteworthy.
What compounds the oddity of this choice is the fact that the cast has five other ensemble members, more than enough to cast all the roles in Odets's play. There seemed to be little point of double or triple casting some of the actors while underutilizing others in what could have been a very intense production of this play.
Reviewer: Keith Dorwick