Waitress
Book by Jessie Nelson, Music and lyrics by Sara Bareilles
Barry & Fran Weissler and David Ian for Crossroads Live UK
Sunderland Empire
–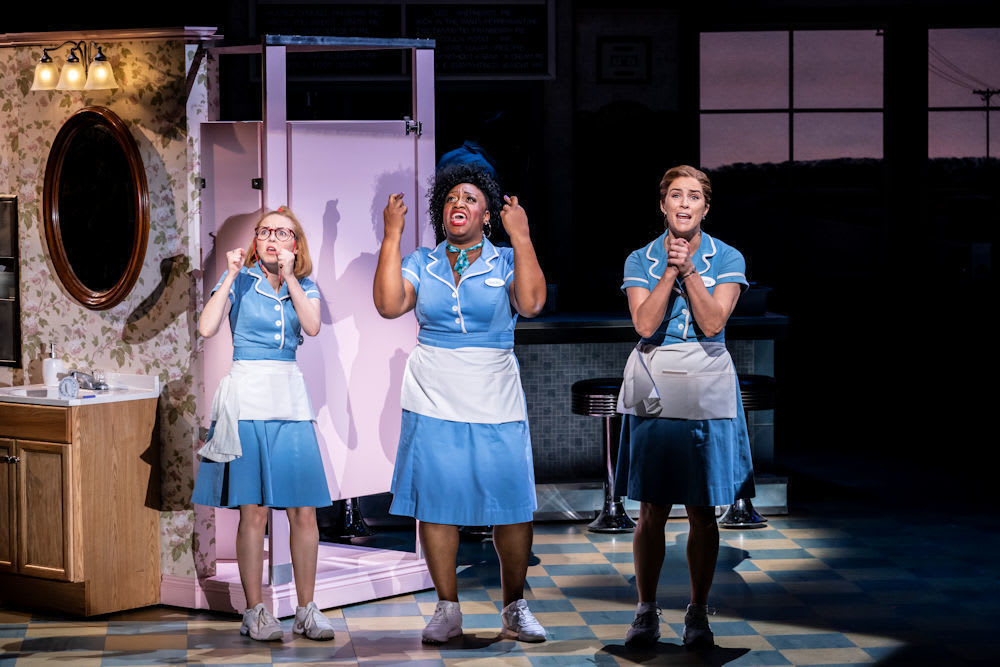 There are three waitresses at Joe's Pie Diner. There's Jenna (Lucie Jones). She's our heroine and married to Earl (Donal Brennan in this performance) who's a bully and demands she hands over her tips to him. She's the pie-maker, producing pies on an almost industrial scale and constantly coming up with new recipes. She's just discovered that she's pregnant (Earl warns her she'd better not love the baby more than him) and then she finds that her old doctor has retired and the new one, Dr Pamatter, (Matt Jay-Willis) is young and good looking.
Then there's Dawn (Evelyn Hoskins) who's the kooky one, full of energy and bounce. Her hobby is taking part in historical re-enactments and she's about to go on a five-minute dating agency date for which the other two help prepare her by removing her glasses and loosening her hair from its ponytail. Sound familiar? And the man she meets, George Crawford's Ogie (another re-enactor who's an amateur magician and writes poetry), is not so much kooky as goofy! They're a perfect fit!
Becky (Sandra Marvin) keeps her love life to herself but is concerned that one boob droops more than the other!
Then there's Cal (Christopher D Hunt) who runs the diner and Joe (Michael Starke) who owns it. An interesting character is Joe; if this was a Western, he'd be sat in a rocking-chair whittling a piece of wood and dispensing homespun wisdom!
We also meet a somewhat feisty Nurse Norma (Scarlet Gabriel) and, very briefly, Dr Pamatter's wife (uncredited in the programme).
You can see the way it's going, can't you? And it does. The plot is entirely predictable and somewhat sentimental. Everyone gets what they deserve and there's a kind of feminism-lite message, not in-yer-face enough to give the men in the audience pause but enough to show that girls are really quite capable of taking charge of their own lives without needing men to help them.
It's not a musical, if that word makes you think of Les Mis, Miss Saigon or Phantom, but a musical comedy, with all that suggests in terms of comfort and lack of emotional challenge.
The music is similar; it does what it's meant to do but doesn't, I'm afraid, remain in the memory.
But the audience loved it; there was whooping and whistling and a standing ovation, and that is surely what this kind of show is all about, not about pandering to grumpy old critics!
Reviewer: Peter Lathan