Waitress
Book by Jessie Nelson from the Adrienne Shelly movie, music and lyrics by Sara Bareilles
Barry and Fran Weissler and David Ian For Crossroads Live present
The Lyric, Theatre Royal Plymouth
–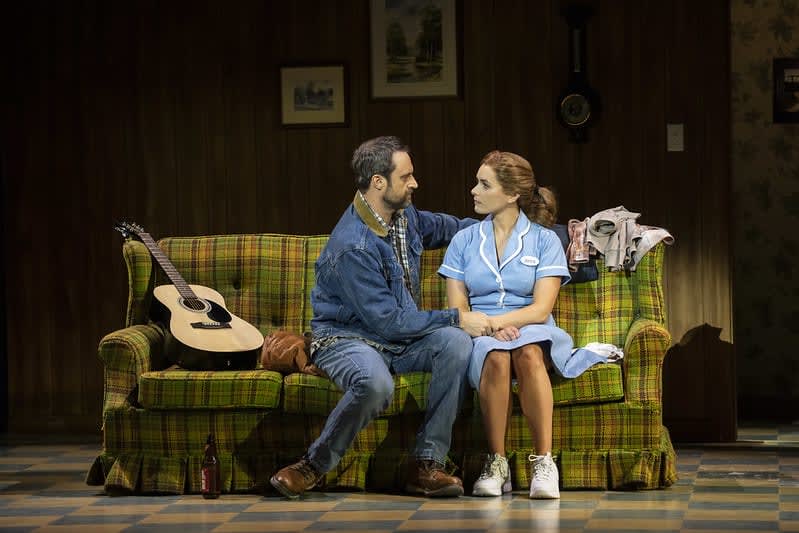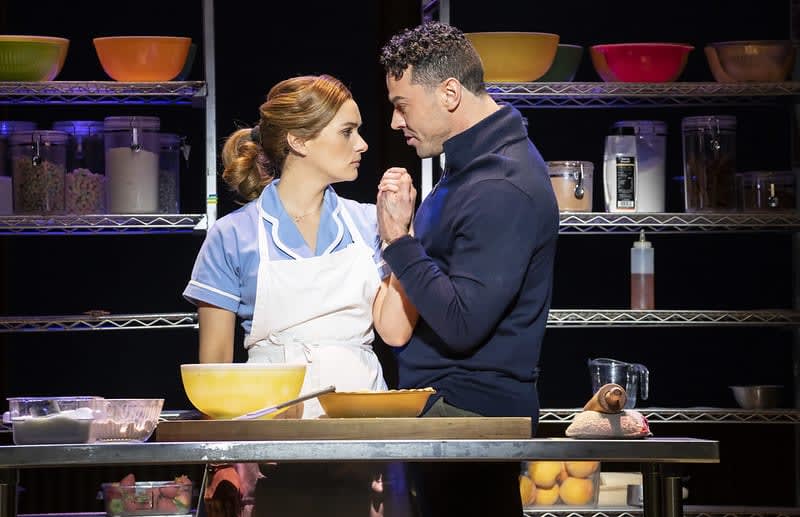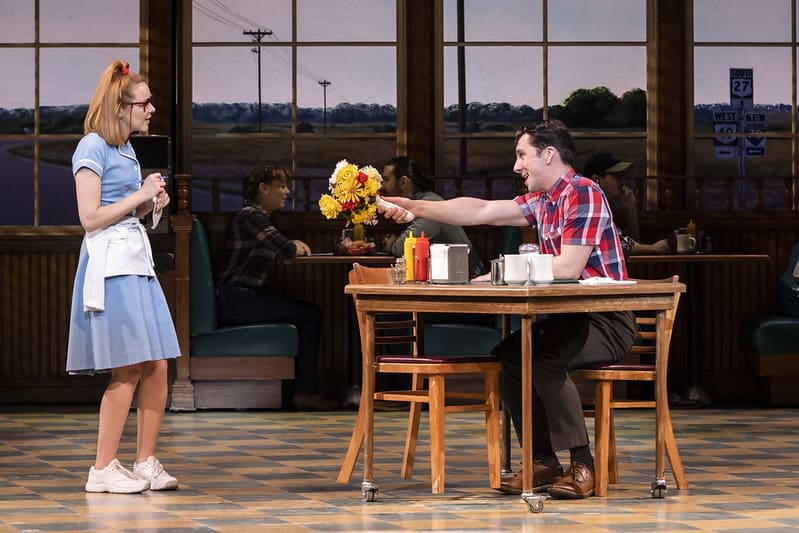 It's an odd mix: casual adultery, comedy, abuse, romance, unwanted pregnancy and much pie-making and sex. Not exactly a recipe for light entertainment but, somehow, it is and Waitress is grabbing standing ovations on its UK tours.
Heralded as the first Broadway show with an all-female creative team, Jessie Nelson's book is based on Adrienne Shelly's 2007 cult film; Sara Bareilles adds a pretty punchy score and lyrics while director Diane Paulus sets a cracking pace as pie-making prodigy Jenna's tale of woe and redemption unfolds.
Chelsea Halfpenny (Byker Grove; Emmerdale; Casualty) is a world-weary Jenna, trapped in an abusive marriage with the despicable Earl (a brooding and menacing performance by Tamlyn Henderson who, unfortunately, gets no comeuppance) mirroring that of her beloved late mother and mentor in all things pastry. Her unwelcome bun in the oven is another nail in the coffin of ambition—unless she can bake her way out of Earl's clutches and the tedium of being just happy enough.
Enter new obstetrics / pudding club doc on the block—the married Dr Pomatter (an impressively unexpected—and athletic—performance from Busted's Matt Jay-Willis) whose lovely bedside manner, dorky demeanour and gynae expertise wins desserts galore and more. The chemistry is palpable and sweet with It "Only Takes A Taste" and "You Matter To Me" particularly poignant and "Bad Idea" amusing.
Wing women Dawn and Becky are stereotypes but fun.
Evelyn Hoskins (Misfits; Hero's Welcome) is ditzy Dawn rising from awkward re-enactment queen and rare turtle collection to launch herself onto the Internet to bag her man—the inappropriate inhaler-reliant, spontaneous poet, magician and tax inspector Ogie (Book Of Mormon's George Crawford) whose frenetic "Never Getting Rid of Me" is a status changer while Emmerdale and Call The Midwife's Sandra Marvin excels as sassy and bawdy Becky: all attitude, sexual frustration and a quick grope among the pots and pans when not changing her beloved husband's diapers or calming his seizures.
Christopher D Hunt (We Will Rock You) is Cal, commander of the kitchen; Beatrix Wilde (alternating with Ursula Billing) adorable as Lulu; Scarlet Gabriel (SIX the Musical) is on point as all-seeing Nurse Norma while Michael Starke (Hairspray, Sister Act, Rocky Horror Show) is convincing as the benevolent Joe (whose "Take It From An Old Man" is a classic) as relationships are perhaps explored, nay given a cursory look, love examined, and morals and fidelity are long gone.
The ensemble are mostly present, whether mimicking baking or the cramps of labour, as café customers or scenery shifters with Lorin Latarro's choreography ranging from flowing to clunky.
Scott Pask's clever set is slickly moved to create a cosy Joe's Pie Diner, sterile consulting room, shabby lounge and bus stop while Ken Billington's lighting design moves from sun-up to sundown with some interesting moments in between.
And throughout, the live orchestra sits in the corner of the stage, sometimes obscured, sometimes served coffee and cake and sometimes solo pieces brought forward.
Early mixing, balance and mike issues were mainly overcome but some words—spoken and sung—were lost here and there but hopefully that will be ironed out during the week.
In all, as odd a mixture as the blueberry and bacon pie on offer, but definitely more appealing and perhaps more palatable.
Reviewer: Karen Bussell