Wake Up and Smell the Coffee
Greg Freeman
New End Theatre
(2007)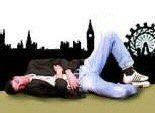 Sex, food - or, shall we say, aired views of these subjects - mixed with spontaneous naps and fear of castration are the staple diet of the four protagonists, two of whom are carnivorous and two are vegetarians.
Harry (Daniel Hill) is a successful organic meat entrepreneur whose divorce from Hanny (Helen Lederer) leaves him in hyper-anxiety of possible castration by his ex in a world where dreams and reality are tightly fused at the seams. He naps in mid-sentences, not because he is suffering from narcolepsy, but simply because he 'works too hard' and doesn't get enough sleep. That does not stop him from having endless shallow relationships based purely on lust.
Domenic (Charles Armstrong), a rather obsessive character, cannot come to terms with his recent divorce from Charlotte. He dresses his anxieties in a form of fear for poor Sid, his ex's cat, whom he believes will be castrated by her.
Balancing the picture are the two female characters. Georgina (Calre Kissane), a vegetarian, unattached attractive woman. Georgina is Harry's close friend and is attracted to him. Hanny, on the other hand, Harry's ex, is a formidable business woman who farms Nile Crocodiles and eats anything except pigs, on the grounds that they are too similar to humans. She is a loutish and pragmatic woman who will stop at nothing to gratify her desires. Undercurrent rivalry between the women is rather weak and points to a male perspective on the relationship.
The milieu is a side room of a café shop, befitting the fast growing Coffee shops culture. Harry's condition of a swift transition from an animated state to sudden sleep - fusing the conscious with subconscious, reality with dream - would have been an interesting dramatic exercise; but in the play neither is explored in any depth, leaving the ideas hanging in the air.
There is a strong element of exaggeration which brings events to the brink of parody. Unfortunately the polarised characters lack the key ingredient to gell the drama into an effective comedy or parody with wittier jokes and less disjoined lines. Issues such organic food, vegetarianism and sex are skimmed over, leaving one indifferent to the characters and their views. Having said that, the dialogue is funny in parts yet embellished with clichéd jokes.
The casting by the director Ninon Jerome is superb but the loose ends fail to enhance or progress the play. The characters are left to wander into dead ends leaving the audience craving for a drink.
Reviewer: Rivka Jacobson