I Caught Crabs in Walberswick
Joel Harwood
Eastern Angles/High Tide
Bush Theatre
(2008)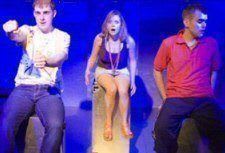 The energy that breathes in a new-writing theatre on an opening night gets under the skin. There is something about the promise, the expectation, and, of course, the potential for failure.
The Bush Theatre - that prized Mecca and refuge for new-writing - last night blew wind into the sails of Joel Horwood's latest effort, I Caught Crabs in Walberswick - a techno-rural tale of repressed angst, misfiring adolescence and self-sabotage.
The atmosphere pre-curtain was like a teenager on the threshold of something new - buoyant, eager, alert - an atmosphere that found an echo in the play itself: three sixteen-year olds, the eve of their final GCSE, fearful, burdened, desperately seeking
Wheeler (Harry Hepple) has caught the wrong type of crabs, spits a diction which is East End meets East Anglia, and chugs Lambrini to forget where he is from. Fitz (Aaron Foy) looks like a Westlife-gangster, wants to nail his exams (amongst other things), and is weighted by the absence of both parents - one is dead and the other addicted to long-haul flight simulation. Dani (Gemma Soul), a troubled, it-girl Londoner with a short temper and a shorter skirt, makes up the triumvirate's third leg.
As the three hit the town (well, Lowestoft) for a life-altering night of toxic indulgence, a tag-team of narrators (who double and treble-up to play the text's other characters) offer pithy insights and plot developments.
The almost omniscient, conversational licence afforded Horwood by including two roaming narrators, coupled with the minimalist set (a couple of metallic crates and a columned backdrop of sea-side scenes), allowed the action to cruise seamlessly and in a sort of teenaged, drugged-up rush.
The play's pulse, unmistakably, is the respective tribulations of Wheeler, Fitz and Dani. Yet whilst Fitz bottles his anger like ketchup, Wheeler pretends he's an urbane drug-junkie and Dani plots a burning revenge on her evasive, jobsworth father, the play's peripheral characters, thanks largely to Andrew Barron and Rosie Thompson's chameleon efforts, fall to its centre
Bob, Fitz's joystick-cradling, work-shy father offers hopeless, but not inauthentic, evidence of the demobilising, gutting impact of losing a partner. Ursula, Dani's silently-going-mad artiste of a mother, displays the shortcomings of female stoicism in the wake of divorce. Max and Steph, Wheeler's parents, in an effort to galvanise their stagnating marriage ("How did we get so old and so fucking boring?"), smoke Afghan weed, listen to Bob Dylan and set free a frozen Hawaiian.
I Caught Crabs in Walberswick is a gag-infested, poignantly crabbish collage of the varying forms, motives and consequences of self-repression, loss and disillusionment.
Examples of Horwood's sharp word-play and Lucy Kerbel's witty direction are numerous, if a little consistent: Wheeler's jokes about getting "Crème-bru-laid and café-au-laid"; Max's imitation of an American stuck in the freezer; Jeremy's inability not to treat his kids like psychological patients ("I've got to go: the boys are rejecting some ground rules").
A joy ride turns sour; inhibitions are jettisoned; daggers are thrown. Hang on, don't these kids have an exam in the morning?
As Dani torches her father's holiday home and Fitz runs away from a future he so earnestly wants, Wheeler sits the Biology exam that will prove both the gravestone of a friendship and the beginning of a new chapter in his colourful evolution.
Until 6th December
Philip Fisher reviewed this prpduction at the 2008 Edinburgh Fringe
Reviewer: Ben Aitken