Walking the Tightrope: The Tension Between Art and Politics

Underbelly Productions and Offstage Theatre
Underbelly Potterrow
–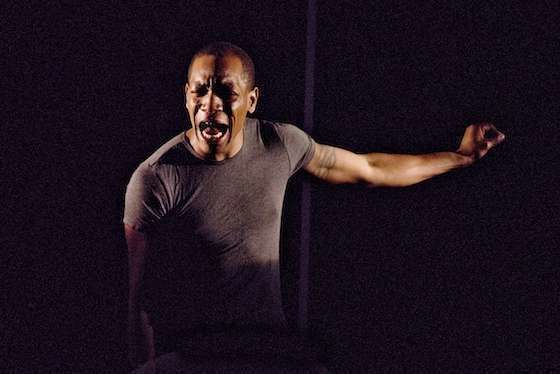 To many, politics and art revolve in very separate spheres, with MPs living out their lives in the House of Commons and actors found on either a stage or a screen.
However, when the two combine, sparks can definitely fly as is the result of Walking the Tightrope: The Tension Between Art and Politics at Underbelly Topside.
Produced by Offstage Theatre and Underbelly Productions, eight different playwrights have been commissioned to respond, in their own way, to three high profile cultural event cancellations: the closure of Exhibit B (The Human Zoo) at the Barbican, the Jewish Film Festival being cancelled at the Tricycle Theatre and when the Israeli hip hop musical forced to close at the Edinburgh Festival.
These were all controversial in their own way, but this selection of short pieces helps highlight why. With big name writers such as Mark Ravenhill and Caryl Chuchill involved, you know you are in safe hands.
Capitalism, race, gender equality and many other deep, debatable topics are brought under the spotlight and the audience are able to report back any findings during a thirty-minute post-show discussion.
The ensemble of two male and two female actors are beautifully in sync with each other, moving from play to play and part to part effortlessly and without distraction. Each piece could be analysed and scrutinised by dramatists, psychologists and politicians alike but not one feels out of place in this plethora of weighty, thought-provoking writing.
The piece that certainly leaves the biggest impression is Neil LaBute's Exhibit A. In this, a black ringmaster-like character played by Syrus Lowe rapes a white girl (Melissa Woodbridge) in the name of art. It is painful to watch as you are drawn in by the words and actions being created in front of you but you can't help but question where the line lies between art and reality.
The chance to debate and question what you have just seen after the show is a clever touch but certainly creates a different dynamic in the room once the costumes and props have been put away. Bringing in a different panel every day from activists to associate directors, the cultural conversation is exciting and frank. Panelists have included ex-International Festival Director Jonathan Mills and Claire Fox from the Institute of Ideas, all bringing voice to the month-long debate.
The whole concept of this production is to create discourse on a topic that definitely fuels more questions than answers. Politics will always be a part of drama just as drama will be a part of politics, but what Underbelly and Off Stage Theatre have done is give us a stage from which to rekindle the conversation.
Where politicians rewrite the rule book, artists will always be turning their interpretations of it into art. This production has simply given voice to that artform and articulately added to the debate itself.
Reviewer: Liam Blain