Wallis
Jennifer Selway
Ovation
Upstairs at the Gatehouse
–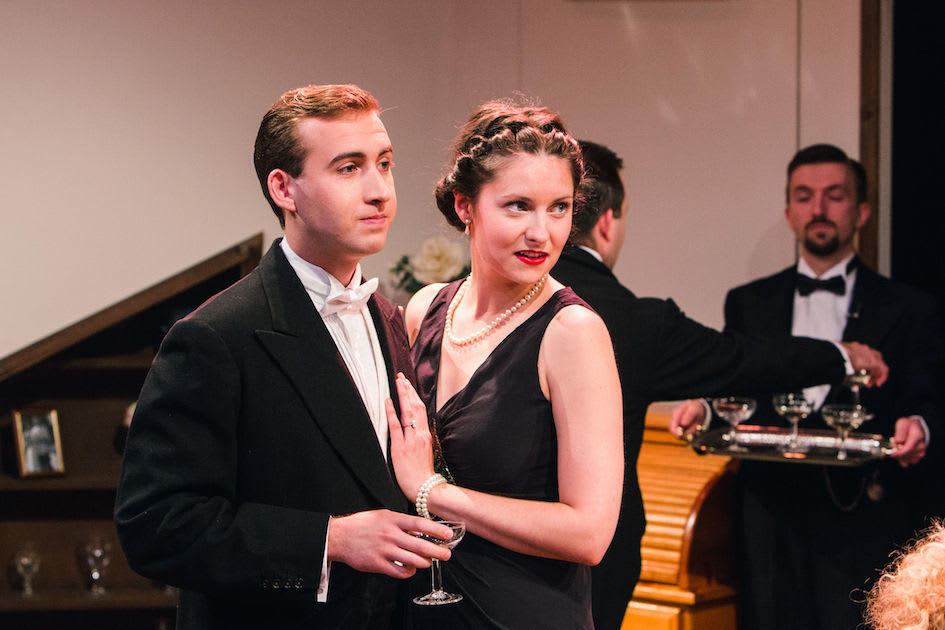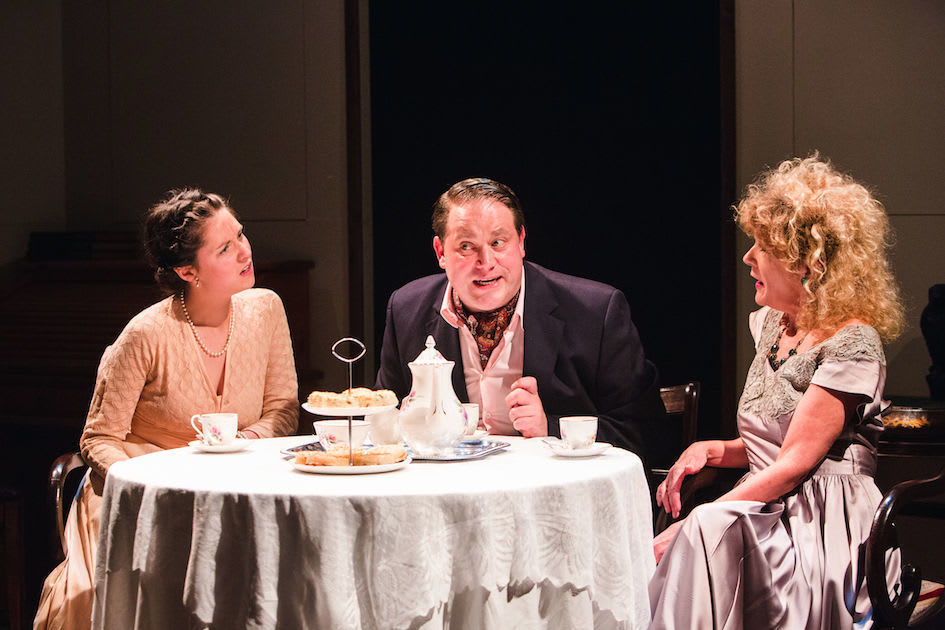 Wallis is, of course, Wallis Simpson, mistress then wife of Edward, Prince of Wales. Devised by its director John Plews and written by Jennifer Selway, this is a fictional presentation of their developing relationship from 1931 to their marriage. It paints a real seeming picture of an unbalanced relationship shown in the context of their intimate social circle.
It begins with Wallis and her husband Ernest Simpson being invited to dinner by fellow American the Viscountess Furness, the Prince of Wales's current mistress. They are there to add formal respectability to the lovers' liaison. Before we meet these posh people, the Prince's valet fills in the back-story, explaining things to a new maid as they lay the table.
In a structure as artificial as this society's mores, this couple act as a kind of a chorus. Camp valet Raymond provides a Cowardesque musical commentary to cover scene changes. Played by Robert Hazle and Katie Arnstein, they are much more likeable than their so-called betters.
Thelma Furness doesn't expect marriage from David (as intimates know Prince Edward). She says it's more fun being a mistress than a wife-in-waiting, but, when she goes abroad and asks Mrs Simpson to look after David in her absence, she doesn't expect Wallis to become her replacement. David, however, becomes besotted with Wallis who loves the attention, the jewellery gifts and the social prominence it gives her, though, as Thelma points out, "you don't even love him. I do!"
Alice Pitt-Carter gives Thelma Furness genuine feeling and Emma Odell and Tom Slatter as Wallis and Ernest Simpson suggest that they get on together: a caring and compliant husband to match a demanding wife—he even blows her nose for her while her nail varnish is drying.
Jennifer Selway doesn't give us royal romance so much as Wallis Simpson, social climber. She may gain a smidgen of sympathy as she is caught up in much more than perhaps she intended, but it is her ruthless ambition for a place in society that dominates this characterisation. It provokes growing resentment among the circles in which she wants to move.
Grant McConvey presents an immature, none-too-bright David. We are told he can put on a good show for public appearances if briefed for them but seems mainly out for a good time. He seems to have ladies lining up for a royal liaison and a particular penchant for American women. But what makes the Prince fall in love with Mrs Simpson? Could it really be some exotic sexual technique she picked up in Shanghai that enthralls him? That is what society gossip says.
Gossip is what drives this play, fashionable Lady Emerald Cunard (Eliza McClelland) at the heart of it and even the Prince of Wales's equerry Edward "Fruity" Metcalf (an urbane Lee Ormsby) joining in, though doing his job loyally.
The intervention of PM Stanley Baldwin (Bernard O'Sullivan) seen with his wife Lucy (a neat double from Eliza McClelland) add a more documentary touch but still in the spirit of satirical comedy.
There is an elegant set by Emily Bestow but the time taken to accomplish its multiple changes slows down the action, despite the distraction of Simon Slater's musical numbers. The lively tunes and tongue-in-cheek levity of Selway's lyrics makes one wish there were more of them and integrated into the action.
Despite the importance of these events in British constitutional history and the shadow of fascist connection hovering over them, the plotting is lightweight and, though John Plews's direction brings out the humour and lively performances, this could be pushed a little further into being an all-out musical.
Reviewer: Howard Loxton