The Wall
Douglas Watkinson
Silvermask Productions
New End Theatre
(2011)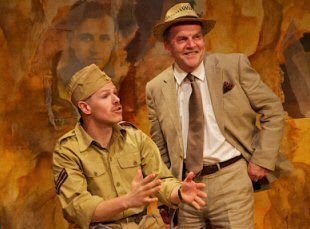 English vet David is in Israel to deliver a paper at a conference in Tel Aviv and takes the opportunity to visit a military cemetery at Ramleh where his father is buried, a father he never knew because he was blown up by a bomb planted by the Stern Gang in April 1947.
The Stern Gang, or Lehi as they called themselves, were a more radical breakaway group from Irgun, the Zionist paramilitary organisation, and, like them, used terrorist action, as in the bombing of the King David Hotel in 1946 and the massacre in the Arab village of Deir Yassin in 1948, in their campaign to drive the British out of Palestine and establish an Israeli state, and were responsible for assassinations including those of British Minister Resident Lord Moyne and United Nations mediator Count Bernadotte. Israel instituted a military decoration, the Lehi medal, in 1980 and their former leader Yitshak Shamur became the country's PM in 1983, but in the 1940s the Stern Gang's actions caused a tremor of horror in Britain.
David, though conscious of his own advancing years, is not old enough to be very aware of the back history, but rather thinks of his father as having been some sort of war hero. Having known of him only through older relations he is surprised to find, standing by the grave, that he is suddenly overcome by emotion and finds himself sobbing his heart out. That is how this play opens, in the cemetery, where a khaki clad young corporal appears, in shorts and forage cap: his father Ralph, aged 27.
The Wall is their conversation as they find out about each other, the father/son relationship they never had, and David is gradually caught up in Ralph's concern about the effect of the three-metre high steel and concrete wall that Israel is erecting as a barrier between what Israel claims as its land and the Palestinian territories.
There is a kind of analogy between the physical wall and the wall that stands between father and son, not just between David and Ralph but back to that between Ralph and his father and forward between David and his two sons. But the physical barrier is also something Ralph wants to breach for he sees how it affects the dead with whom he shares the cemetery and those who come to visit them. He fears that they will lose the constant care of Mamoud, the ancient Palestinian who tends the place, who has to cross each day from its other side, turning a short journey into a long one and with many unnecessary delays and humiliations.
There is no political argument here, no evidence for territorial claims, simply an emotional response to the situation of one old man and his family, a microcosm of the effect the barrier has had on the many, and the ideas for schemes to get Israel to abandon construction and demolish what has been built could never be considered viable except by this undereducated squaddie and man as naïvely apolitical as David. It is not a play about who is right and who is wrong and it is not partisan but an unresolved piece advocating honesty and understanding and basic human values.
There is no mention of present day Hamas suicide bombers or rocket attacks on Gaza. Is that a weakness or is that the strength of the argument in that it ignores them and so seems non-partisan? It is not going to send its audiences out as activists but gently presents a situation that has been condemned by many in Israel as well as the country's international critics.
It says much for the actors Eric Carte and Duncan-Clyde Watkinson and director Olivia Rowe that they held us for an hour and three-quarters in a piece that lacks physical action and dramatic confrontation. The performers are beautifully matched.
Katie Blumenblatt's set, with its tree stumps standing for both graves and performers and devastated orchards, bomb fractured patterns and picture postcard memories including a young man's misty photograph to reminder us of lost youth, aided by Aaron J Dootson's gently modulated lighting, helps conjure up the heat that troubles David, but he keeps his jacket on. He may swig water but where is the sweat-marked shirt, the beaded brow? Would that be too naturalistic when we have a dead father appear to be living?
Run ends 5th June 2011
Reviewer: Howard Loxton