Wanted! Robin Hood
Charles Way
Library Theatre Company
The Lowry, Salford
–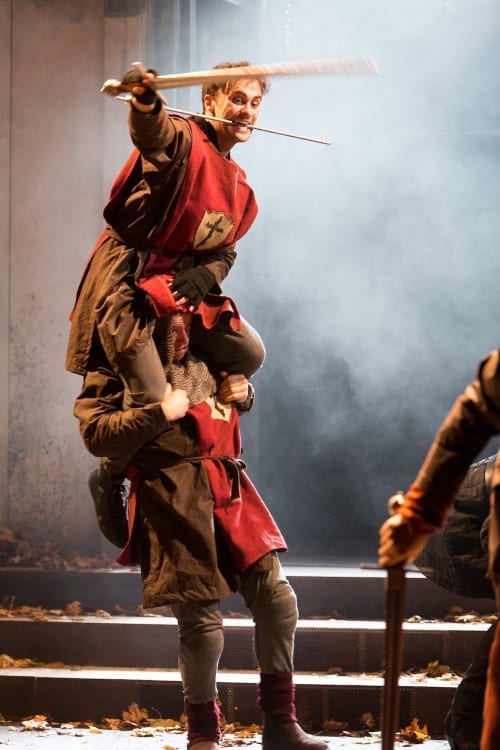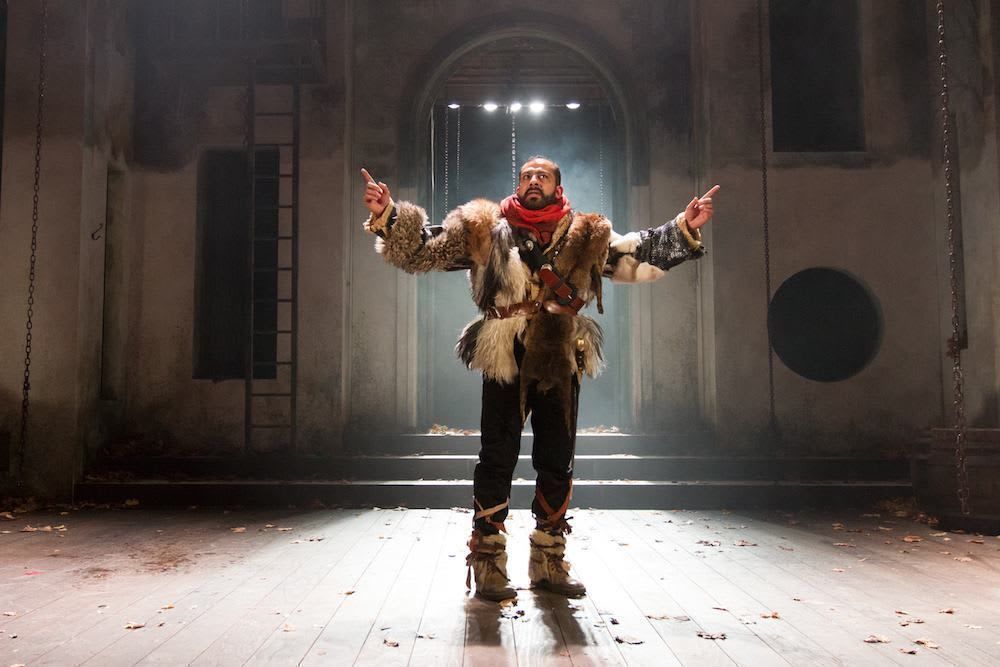 For my second Robin Hood of the season—neither a pantomime version—Charles Way, who has had a long-standing association with Library Theatre Company, brings his experience of adaptating fairy and folk tales to the legend of the great English medieval hero.
Way's jumbled-up narrative is partly an origins story, so popular currently in cinema, beginning with the hero and heroine as children, Matty and Robert, about to be separated, seemingly for ever. We then jump forward to when both have changed their names, Robert to Robin to join a rather ragged, undisciplined band of thieves in the forest and Matty to Marian to become a lady and fiancée to the Sheriff.
Sir Walter Fitzwarren, High Sheriff of Nottingham, is portrayed as a hero of the Crusades and an enthusiastic upholder of Forest Law, which issues severe punishments to anyone hunting game or farming in a Royal Forest without a licence. The relationship between the two men changes when Robin discovers that the rich lady his men have robbed is his childhood sweetheart, and then when the Sheriff's dogged pursuit of his enemy results in him brutally killing one of Robin's men.
This is the big moment of transformation into the Robin and Sheriff that we know, but it doesn't happen until the end of act 1. As the point at which the two men take the plunge into this new, violent relationship, it feels like it should happen about half an hour sooner.
The second half has many of the elements we know, such as the staff fight between Robin and Little John (in a flashback) and the archery contest, but, despite some great dialogue from poetry to very funny banter, the narrative is rather jumbled. I was sticking with it for the first half, even though I heard several people express disappointment during the interval, but I lost patience with it a bit in the second.
There are some very good performances, not least from Amelia Donkor as an intelligent, strong-willed Marian and Emilio Doorgasingh as a man, like Javert in Les Miserables, with a strong and inflexible sense of right and wrong and justice—not a hint of the pantomime villain here. Shining through even these, though, is the excellent Christopher Wright as the Malvolio-like loyal but corruptible servant, and also an emotional turn as the father of a young boy killed by the Sheriff.
Ciaran Kellgren's Robin is cheeky and boyish but not particularly memorable. Of the merry men, Umar Malik is a good Little John and does a great little comic piece as a soldier towards the end. Oliver Llewellyn-Jenkins as Will Scarlett and Dan Parr as Much are fine but do seem to be pushing towards a silly comedy that jarrs with the script, especially with the former's annoying portrayal of the Bishop. Peter Landi doesn't seem comfortable as Friar Tuck but fares slightly better as Sir Guy of Gisborne.
There's a great design from Hayley Grindle of intimidatingly high walls and chains hanging from the ceiling. Leading fight director Renny Krupinski has set some impressive fights for the final showdown between Robin and the Sheriff and the Robin and John staff fight, but other fight-type scenes are not very convincing at all.
There were a few problems too on press night, a few shows into the run, of set and props not working properly or breaking and of lines coming in at the wrong time. The firing of the arrows looks good when they appear to land in the target (even if they are at completely the wrong angle) but it is only half a trick, as they never make it look as though the archer puts an arrow into the bow.
But the big question is at whom this production is aimed. The Lowry web site says ages six and over, but the dialogue is quite verbose and complex with its poetic construction and adult humour, there are some quite harsh moments of violent death and the story jumps around confusingly quite a lot.
As an adult, there were plenty of moments I enjoyed in this production, despite its flaws, but I could quite understand the little boy in front of me saying at the interval that he wished there were more fights.
Reviewer: David Chadderton