War and Peace
Sergei Prokofiev
Welsh National Opera
New Theatre, Oxford
–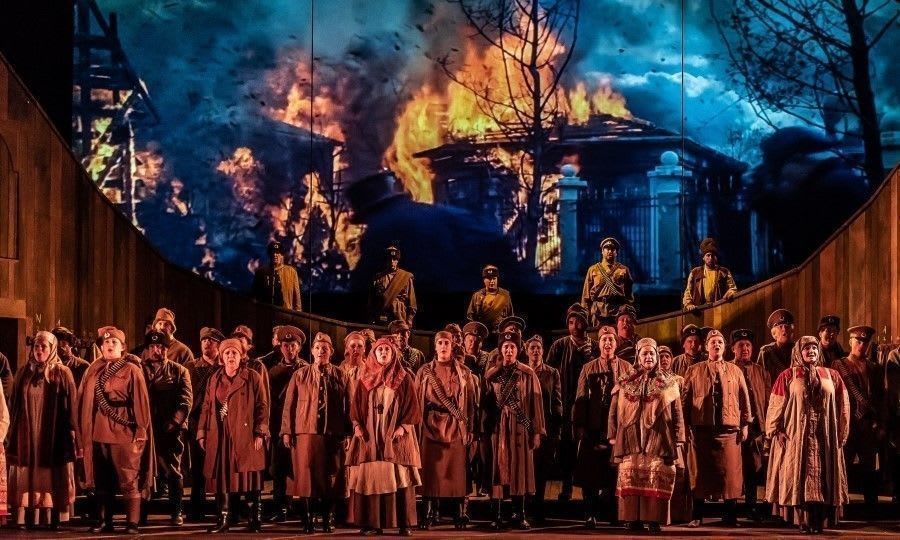 Magnificent, epoch-defining. That could describe what was arguably Prokofiev's greatest achievement, as well as this production by David Pountney, now approaching the end of his reign as Artistic Director of Welsh National Opera.
Fear of Stalin's censors meant that the composer never saw a complete performance of War and Peace, despite bowing to political pressure to beef up the patriotic fervour in the second half.
His libretto, although set against the symbolically epic events of 1812, is essentially a personal one, taking Tolstoy's narrative only from Andrei's first meeting with Natasha until his death. Events before and after—Pierre's ensnarement by Helene and his future happy marriage with Natasha for example—are only hinted at.
The opera, written either side of the Second World War, splits in two parts, "Peace" and "War", the second of these inevitably grandiloquent and stirring, but also written with the heavy hand of a man wanting to stay alive. Unlike Shostakovich, Prokofiev did not do irony.
It might have turned out differently had the composer not been looking over his shoulder, but director Pountney and conductor Tomaš Hanus treat it absolutely as a piece of its time, bearing in mind the spirit for which it was written, as much as in which it was written.
Thus the production opens with the gigantic block chords of the Epigraph as the entire chorus declares "death to those who harm our sacred land"; peasant soldiers in WW2 uniforms stand as witnesses during the first half of the piece before joining Kutuzov's victorious army against Napoleon in the second; a short ballet with Soviet uniforms and Kalashnikovs could come directly from Agitprop; and much of the military action takes place against footage from Sergei Bondarchuk's mammoth 1966 film of the novel.
It is nevertheless the wonderful first half that better represents Prokofiev's genius, and in which a just a few notes—unfailingly distinct in Hanus's sensitive performance—can express the subtlest emotions.
To take just one scene: the hopelessly love-struck Pierre (Mark Le Brocq) consoles Natasha (Lauren Michelle), abandoned by one lover, now pining for her old one Andrei. There is hesitation in his melody and in his heart, an upward glissando of emotion, and although he agrees to be her love ambassador to Andrei an odd beat in the orchestra gives away what he is really feeling. This is a moment of perfection, a poignancy achieved by superb integration of singers, acting and orchestra.
Michelle is a wonderful Natasha, her warm, rich sound caressed by legato strings, and utterly convincing as the uneducated young girl, for whom Napoleon is a source not of apprehension but of gossip. Nothing for her is moderation, all is ecstasy or anguish. No wonder they all love her.
Le Brocq, a star of WNO's recent Russian productions, delivers the goods again as a studied, troubled Pierre, with Jonathan McGovern in fine voice too as a lyrical, passionate Andrei.
The show, including an interval, passes quickly in nearly four hours. With Simon Bailey's forceful Kutuzov, Adrian Dwyer's rascally Anatole and the excellent WNO chorus seeming like a cast of thousands, this is a tour de force that will live in the memory.
Reviewer: Colin Davison