War Horse
Based on the novel by Michael Morpurgo, adapted by Nick Stafford
National Theatre in association with Handspring Puppet Company
Curve Theatre, Leicester
–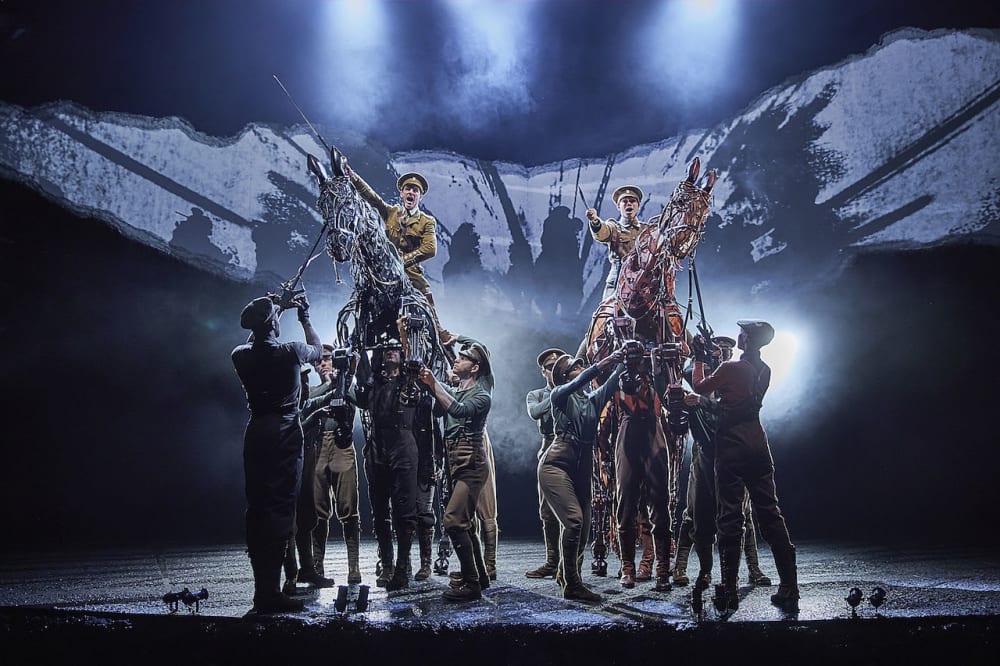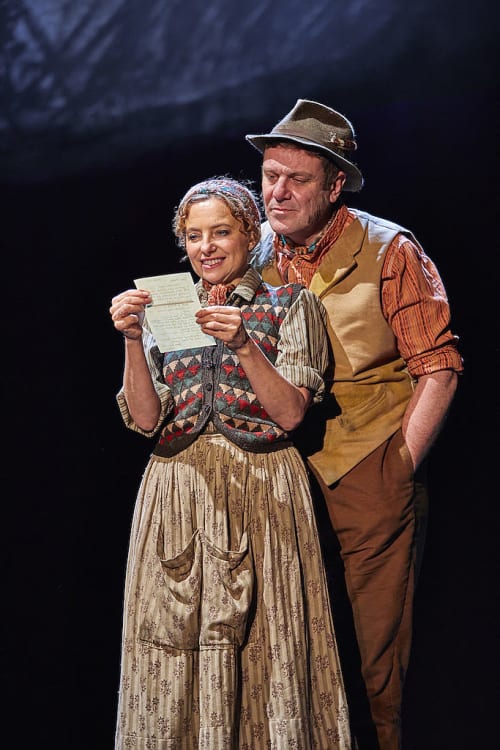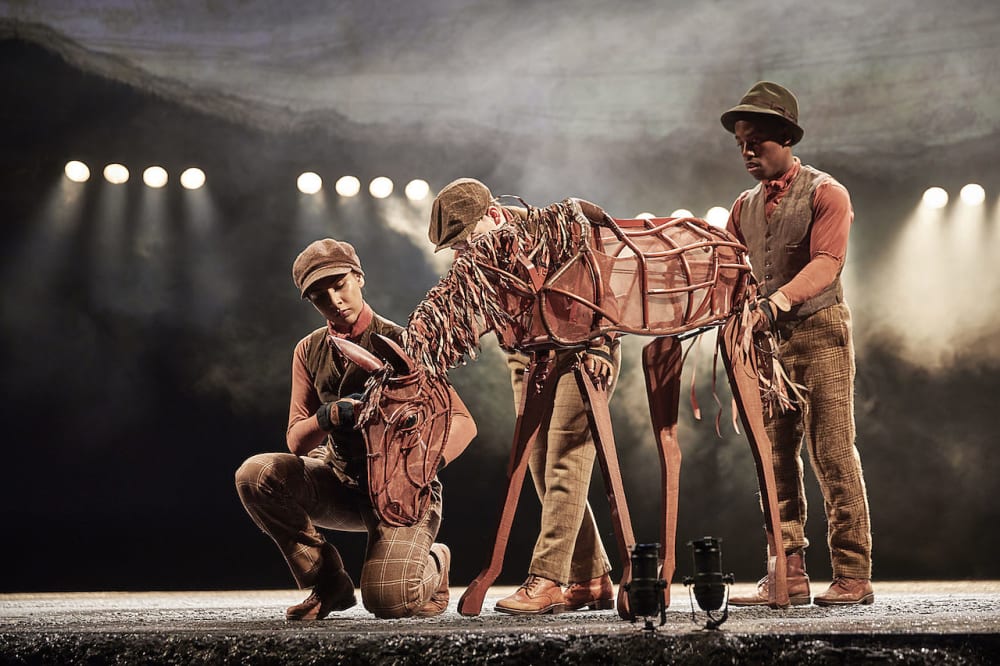 Despite its première relatively recently (October 2007), this heartbreaking and heart-lifting story seems already firmly embedded in the national consciousness. Even if you're not one of the eight million who has seen the National Theatre and Handspring Puppet Company stage co-production worldwide, there's Steven Spielberg's 2011 film version of Michael Morpurgo's 1982 children's book.
Extracts of the production have also been performed during many recent occasions of remembrance of the First World War in which this story is set, and Basil Jones and Adrian Kohler's puppet designs must now have reached iconic status. Joey and Topthorn, the two war horses, are to-scale puppets—a torso of mesh over a segmented frame, mechanical, jointed limbs and a papery mane and tail—brought immediately to life by their three puppeteers who seem melded into their frame and musculature and the horses' voice and beating heart.
We meet Joey in the bucolic beauty of Devon in 1912 as he takes his first awkward steps in the world, jumpy and unsteady on gangly legs. Ted Narracott (Colin Connor), always up for a wager and a drink, blows the mortgage money and buys Joey at auction. Ted's son Albert (Scott Miller) sets about training the high-spirited hunter to earn his keep and here the emotional core of War Horse is set; Joey and Albert form a tight bond, young man and horse will do anything for each other.
By now though, Britain is at war with Germany and, behind Albert's back, Ted sells Joey to the Army to help the war effort (and pockets £100 for an officer's horse). Joey is teamed up with the magnificent Topthorn and they experience the confusion, destruction and futility of war, as the horses are used on both sides of the trenches, making it through the horror of the Somme to spend the last years of the war pulling a German field gun. Meanwhile, Albert has volunteered, determined to find Joey and bring him home.
Directors Marianne Elliott and Tom Morris drive the story forward unflinchingly, and you should prepare for an assault on your emotions and senses as the horrors of battle and its aftermath contrast with the love between family, friends, comrades as well as human and horse. There is humour, bathos, pathos, joy and despair (and everyone loves The Goose).
It is expected that a National Theatre production will be of a high standard, but this is something else. It is the attention to detail which really struck me: the horses' twitching ears, nodding head and restless movement whilst standing, the perfect mimicry of the contrasts in the scope of their movements, whether a hard gallop or gentle nuzzling. This is not anthropomorphism, but a stunning representation of the dignity, power and sentience of an animal (although such as can be imagined by a human).
Rae Smith's design is sublime; the drawing of Joey torn from a sketchbook which keeps Albert going through their separation is represented on a large scale above stage and used as the backdrop for artistic interpretations of the fields of battle and the tranquility of Devon. Paule Constable's lighting and Christopher Shutt's sound design add so much to the sensory experience; we are with Joey, Topthorn and the supremely talented cast all the way from the start to the exhilarating and emotional end.
With the estimate that as many horses as men died during WWI, Michael Morpurgo determined to tell the story of the war through the eyes of a horse enlisted to serve. In the programme, Morpurgo considers how his story has developed since its adaptation for the stage and reflects that War Horse is "an anthem for peace", and is "a universal longing for a world without war". It is also unforgettable theatre.
Reviewer: Sally Jack