War Requiem
Benjamin Britten
English National Opera
London Coliseum
–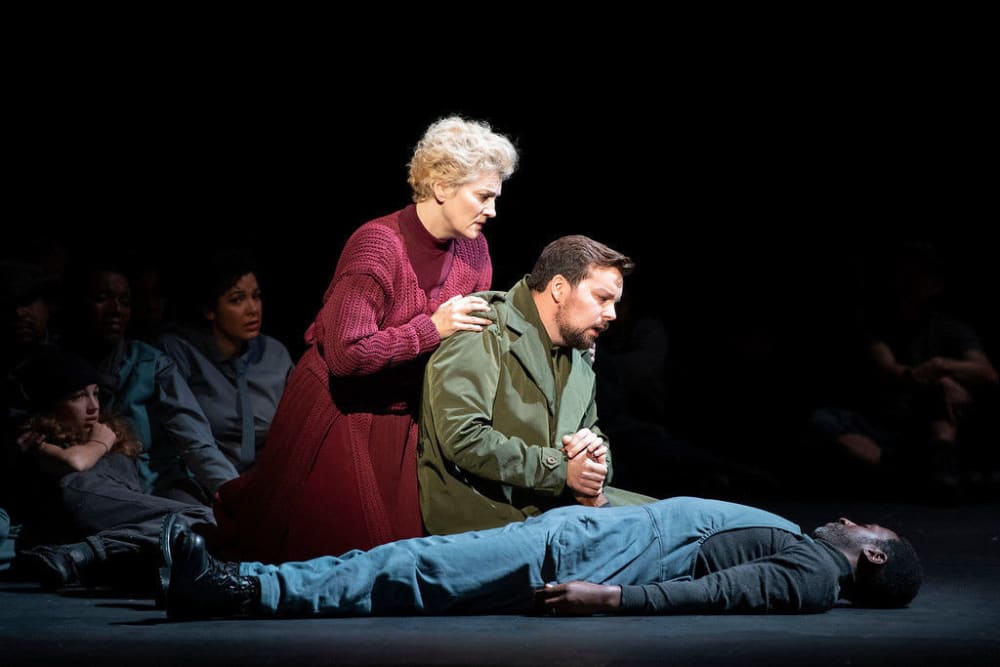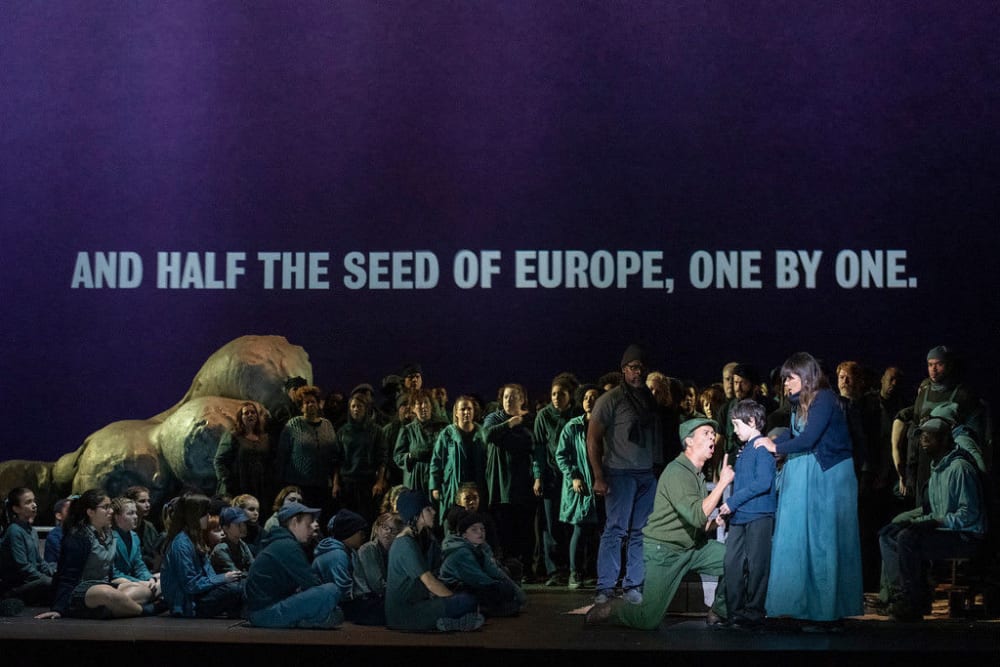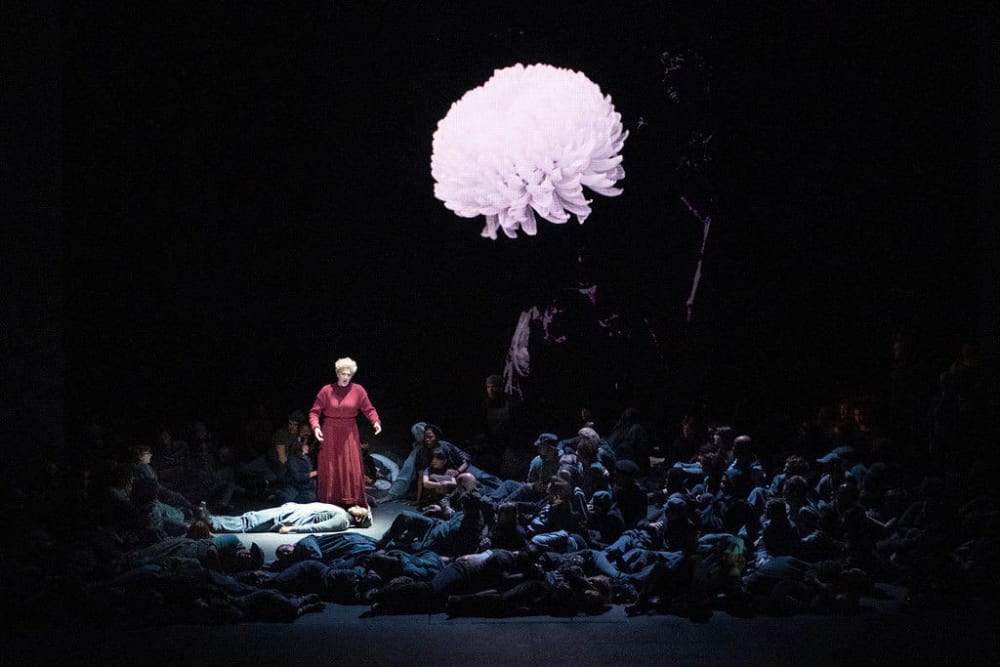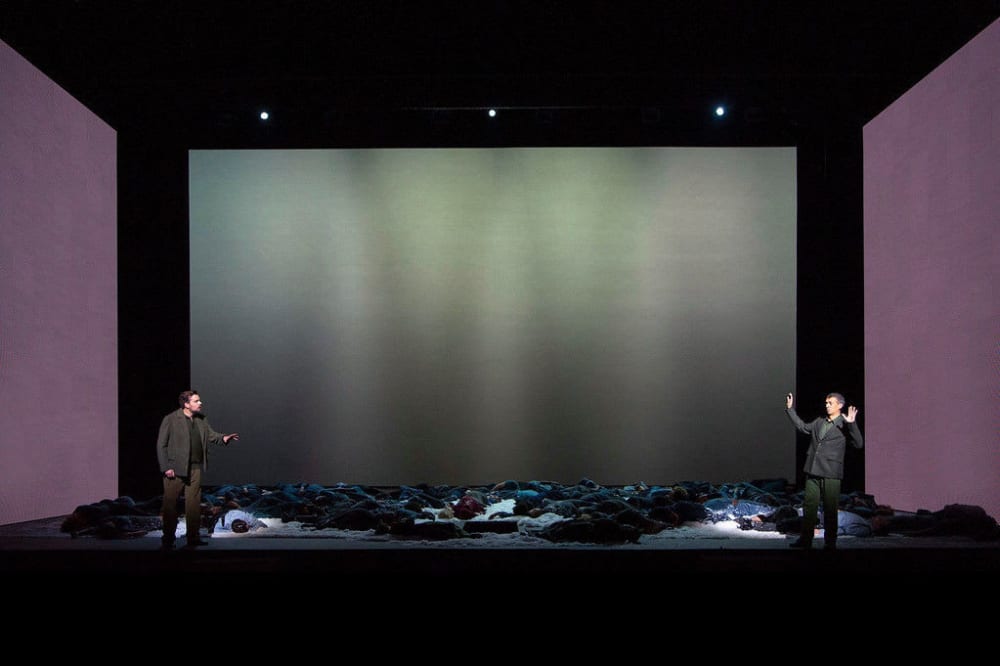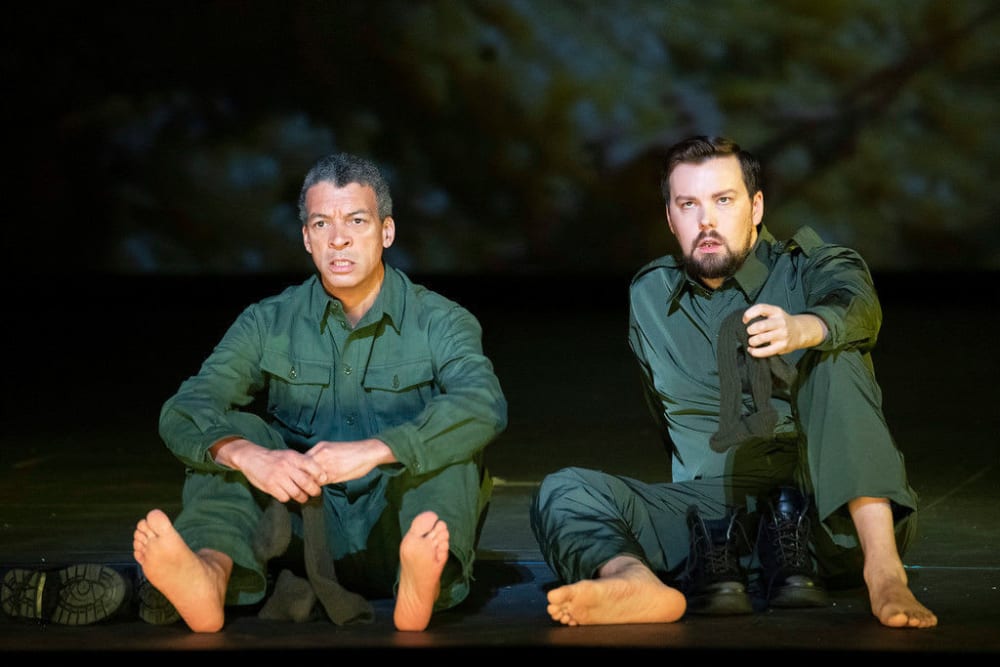 Britten's magnificent and heart-wrenching setting of the Latin Requiem Mass interspersed with poems about war by World War I victim Wilfred Owen already requires great resources with a full orchestra plus chamber orchestra, a large chorus plus children's chorus and fine soloists. This staging to mark the centenary of the Armistice, directed by Daniel Kramer with design by Wolfgang Tillmans and Nasir Mazhar and choreography by Ann Yee, adds more in a spectacle that presents the largest number of performers that ENO has ever put on the Coliseum stage.
Britten's emotional score requires no illustration, indeed it is in some ways better just heard without the concert hall set up and a staged performance could prove a distraction, but ENO (which has a track record of staging oratorios) avoids that.
It begins with a sequence projecting pages from Ernst Friedrich's Krieg dem Kriege (War Against War) beginning with drawings of children's toy soldiers that progress to photos of battlefield carnage and close-ups of horrible injuries while the barely lit chorus sings the muttering Requiem. The German pacifist's images and multilingual captions of how the romantic indoctrination of children into soldiering become the reality of war is presented in ironic parallel with the ritual in a way similar to how Britten uses Owen's poems.
For those without knowledge or personal connection with what a past generation called the Great War (the "War to End Wars"), this may be a necessary education but any later underlining of the work's themes is much more subtle.
War Requiem was commissioned for the festival that celebrated the consecration of Coventry Cathedral in 1962, a new cathedral built next to the ruins of the one destroyed in a Luftwaffe "Baedeker" raid in 1942. Tillmans's design includes dark silhouettes of those ruins among his projected images.
It was intended that that 1962 première would be sung by an English tenor (Peter Pears), a German baritone (Dietrich Fisher-Dieschau) and a Russian soprano (Galina Vishnevskaya). The Soviet authorities prevented Vishnevskaya from participating; Heather Harper replaced her, though she made the first recording. Britten's work is an act of reconciliation as well as reparation. The choice of those artistes particularly reflected World War oppositions, but the work is a statement against all war and the images in this staging have much wider reference.
The corpses which cover the Coliseum stage are those of civilians as well as soldiers. The male soloists (David Butt Philip and Roderick Williams) are not single soldiers. They are sometimes comrades, sometimes enemies. Soprano Emma Bell is not just part of the ritual's praise and pleading but becomes a mother figure, a wife or lover, protective and grieving.
Although the physical presentation with its massed movement of the chorus calls up many associations, there is little acting out of matching incident. Owen's version of the story of Abraham and Isaac is one episode that becomes partly staged and followed by a literal but very effective image to Britten's reiteration of "half the seed of Europe, one by one" as a touch on the head brings death to a succession of children.
Even in a concert performance, the final exchange between dead soldiers has a theatrical presence and this confrontation, which becomes reconciliation, is well handled. It is intensely moving with no over-dramatisation, its humanity made even stronger by its contrast with an earlier image of young boys, indoctrinated in militarism, facing each other in oversize adult uniform.
Children's voices are a beautiful but unsettling element in the score and the production uses their presence to great effect. Are they led off in file to be child warriors, to prison camp, to be taught hatred? There's a poignant but perhaps hopeful moment when a child runs off from a military funeral rejecting the folded flag that had covered the coffin. It is only a moment, but this presentation is full of such moments and it keeps the work's balance between the Christian ritual and Owen's questioning culminating in the way the apparent resolution of the soldiers' "Let us sleep now…" and the Mass's "In paradisum" dissolve into uncertainty, making even its final Amen ironic.
This War Requiem is a powerful production and a profound statment that makes a fitting commemoration.
Reviewer: Howard Loxton