The War Plays
Waterloo by Arthur Conan Doyle and Before Trafalgar by James Lansdale Hodson
Finborough, London
(2005)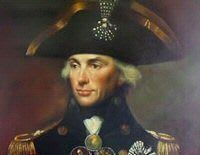 This short but enthralling evening (80 minutes including an interval) commemorates two centenaries: the Battle of Trafalgar in 1805 and the death of Sir Henry Irving in 1905. But it also marks the 75th anniversary of the death of Sir Arthur Conan Doyle and the 190th anniversary of the Battle of Waterloo!
England's greatest tragedian, Irving had great critical success when he first appeared in Conan Doyle's A Story of Waterloo, bringing humour and pathos to this 25-minute sketch of the last hours of Corporal Gregory Brewster.
His role was the 90-year old veteran of the Battle of Waterloo, whose wandering thoughts recall the day when he fought for England under the eye of Wellington, bravely driving a powder wagon through a blazing compound.
Although the first performance was in Bristol in 1893, the London critics were on hand to acclaim a small but exquisite addition to the actor's repertoire, a vivid portrait of senility and death in a moment of recollected triumph — although Bernard Shaw thought all the credit should have gone to Conan Doyle for writing 'a good acting piece'.
Tim Barlow, who plays the nonagenarian, himself spent fifteen years in the Army before embarking on a long and distinguished acting career, notably with Theatre de Complicité. Not just an actor but a theatrical force of nature, he brings a lifetime of experience to his hugely engaging performance of an old soldier who suddenly attracts the reverent attention of the local division of the Scots Guards.
Rae Mcken's revival, neatly deploying Anna Jones's setting for the Finborough's current main production, The Freedom of the City, also benefits from the attractive pairing of Mat Laroche as a young sergeant and Laura Freedman making a promising professional stage debut as the old man's pretty young housekeeper, wide-eyed with wonder.
George Dalton completes the cast as the Guards' colonel in mufti, whose promise to give Brewster the benefit of a funeral with full military honours, leads to a swift but triumphantly gratified demise.
The evening opens with James Lansdale Hodson's short play, Before Trafalgar, set aboard HMS Victory in 1805, a fascinating insight into the mindset of Lord Nelson on the eve of battle.
This revival will excite particular interest because of Hodson's better known play Red Night, about mud and blood-spattered squaddies before the Somme offensive in 1915, which drew favourable comparisons with Journey's End when it was recently revived at the Finborough.
In this case comparisons will inevitably be with Terence Rattigan's subsequent Nelsonian saga A Bequest to the Nation, recently revived at the Jermyn Street Theatre.
But where Rattigan offered a romantic view of the night before battle, Hodson presents a more plainly nautical image of events, giving absorbing attention to Nelson's strategic battle plans, and to the need for a convincing victory — for total annihilation of the French armada.
This production will also excite interest for a stirring performance of extraordinary authority from Christian Olliver, a recent graduate from Central, who brings compelling conviction to his portrayal of the 47-year old Nelson.
Interesting personal touches include the dabbing of rose water on the 'blind' eye and his firm, unruffled grasp of command when faced with Dalton's Collingwood, James Finnegan's disgraced Calder, and a group of seasoned Captains of the Fleet, led by Tom Foster's bluff, companionable Hardy.
Alas, there are few opportunities left to see these two plays in performance, playing only Sunday and Monday evenings until 19th December. But for London theatregoers they are certainly worth the trip.
Reviewer: John Thaxter