Wasteland
Gary Clarke
The Gary Clarke Company
Northern Stage, Newcastle
–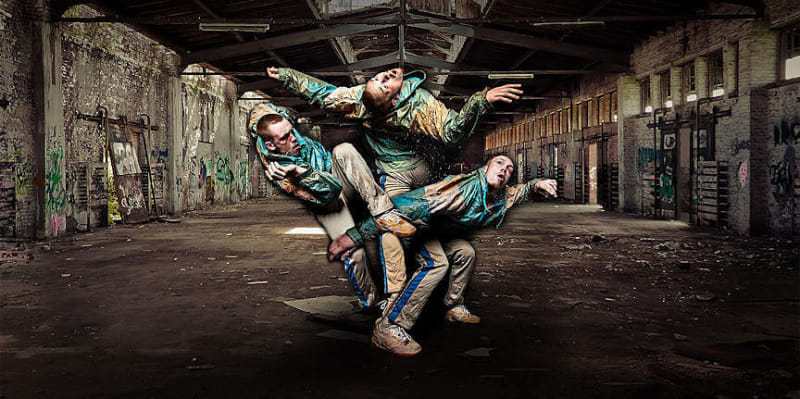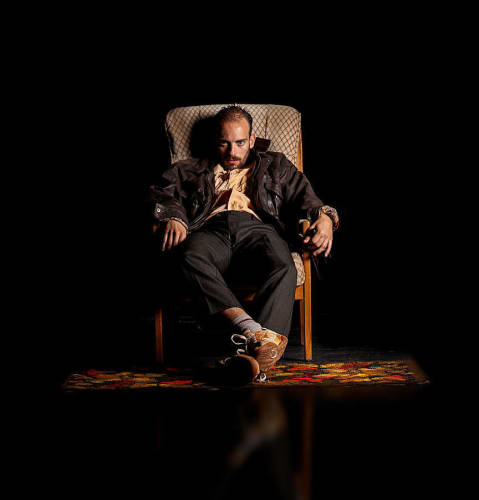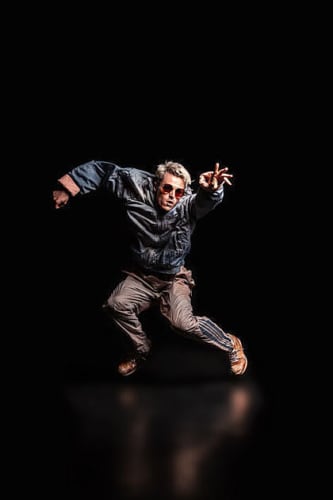 In his show COAL, Gary Clarke gave us a picture of a mining community (Grimethorpe in South Yorkshire), first picturing the reality of working in the industry and then the fight for its life during the Miners' Strike of 1984/85.
Now, in Wasteland, he returns to Grimethorpe, after the pit was closed and demolished, to look at the effect on the community with his signature mix of physicality, dance, projected imagery (archive film footage and specially created graphics), music and soundscape.
The stage is totally dark—black as the pit, perhaps?—and we hear a loud, grinding, machinery-like soundscape as we witness the slowest lighting fade-up I have ever seen in all my years in theatre. Eventually we see a brilliantly lit dole office chair while the rest of the stage remains shadowy or deep black.
I loved that. A great start.
Enter a drunk, bottle in hand, staggering, almost unable to stand. He is The Last Miner (played by Alistair Goldsmith). Eventually he collapses into the chair. He is joined by four others (a local "community choir" consisting of John Armstrong, Peter Curran, Steve Dodds and Ken Richardson who sing that most haunting and sad of melodies "Gresford", the Miners' Hymn, as well as a rewritten for the situation version of "The Red Flag". They are accompanied by two members of the NASUWT Riverside Band, Fiona Taylor (Flugelhorn) and Jamie Beeston (Euphonium), a reminder of the deep connections between miners and brass bands.
Older men, ground down by the loss of their work, even their identity, men who feel they have been thrown on the scrap heap, are replaced on the stage by the young, still in shadowy lighting, chavs with their hoodies up, nothing to do but hang around the streets, on their bikes, pushing each other around in stolen shopping trolleys.
Then along comes rave music and illegal raves, seized gladly by these youngsters. In it they find the same escape their fathers find in alcohol, escaping through the strong beat, the repetitive melodic looping which induce a trance-like state heightened by the wild, repetitive unison dance. Hints of drug-taking too? Possibly.
Through all this, The Last Miner remains on stage, a brooding, still presence slumped in an armchair in front of the TV—an empty man.
Both generations escaping from the harsh reality of everyday existence, for it isn't really life, its grinding reality echoing the industrial soundscape of the first act. For this piece is constructed in three acts, although they are not named as such nor is there an interval between them.
I really don't want to say anything about the third act, a return to the domestic, for to say anything would be to spoil the ending, the resolution—if such it is.
It's a well-structured, intelligently thought-out and superbly performed piece of dance theatre and I would have been more than happy to rave (pun intended) about it at but for one thing—the Rave section was too long, longer (so it felt at any rate) than the other two put together. Frankly, it felt self-indulgent, which is a great shame for it has all the makings of a brilliant piece of dance theatre.
Quite a number of people left and did not return during the middle section, more than I have ever seen at Northern Stage before, but the predominantly young audience clearly enjoyed it.
Reviewer: Peter Lathan