Wasteland
Laura Lomas
New Perspectives Theatre Company
Derby Assembly Rooms' Darwin Suite and touring
(2009)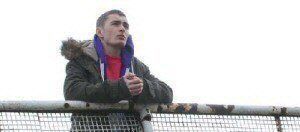 It was a crime that shocked the nation for differing reasons. Tony Martin, the farmer who claimed his property had been broken into several times, took the law into his own hands. When two young men conspired to burgle him, he shot to death Fred Barras and wounded Brendon Fearon. It earned Martin a five-year sentence for manslaughter.
The real-life saga led Derby playwright Laura Lomas to pen her first play. Wasteland is set in Newark, Nottinghamshire - the town Fearon hails from. When she was doing her research Lomas was struck by the tensions evident on a large housing estate where many people were unemployed.
The parallels with the Fred Barras case are apparent in Wasteland, although Lomas's story is pure fiction.
Wasteland outlines the tangled lives of three people who are forced to make momentous decisions about their futures. Nothing is black or white.
Jamie's stepfather has been sent to prison; he's on probation and doing all he can to stay out of trouble even if that doesn't make a very good impression on those around him.
Meghan is a 15-year-old who believes that school is a waste of time. Her mother's in a violent relationship, so she's off to London in search of her real dad.
Clayton wants to look after his stepbrother Jamie but his colourful past catches up with him and the only way out will prove a test of love and loyalty.
Wasteland was commissioned by New Perspectives and the Theatre Writing Partnership which was being run at that time by Esther Richardson. She directs the play which has been in development over the past three years.
The problem with Wasteland is that, at only an hour long, it doesn't seem finished. The relationships between the three characters seem incomplete: Jamie doesn't quite appear torn between his new-found love for Meghan and his familial duty to Clayton; Jamie's decision to abandon his new lifestyle and join Clayton in a burglary on a farm isn't completely credible.
As for the cast, Derbyshire actor Karl Haynes gives a fine performance as Clayton, the former soldier who doesn't really know what he wants to do with his life. Haynes really gets inside the character who feels the world and his family are in his debt.
Nottinghamshire-born Sophie Ellerby has no problem portraying the 15-year-old Meghan, a spirited teenager who has a lot to learn about how to make relationships last and not to devalue them.
Joe Doherty, making his theatrical debut, shows all the angst of a youngster trying to resist the temptations that come his way. Occasionally he garbles his lines, especially when he's on stage on his own, and doesn't project enough even though the Darwin Suite is a relatively small venue. But he does have a superb scene with Ellerby in which their quick-fire conversation is timed to perfection.
Wasteland is a gritty, down-to-earth, realistic look at the problems facing some young people in today's society. It contains strong language which won't endear it to people of a certain age.
It's a promising start to Lomas's writing career but it will need an objective re-working if it's to have a life beyond its current tour.
"Wasteland" tours to venues across the Midlands until June 6th
Reviewer: Steve Orme