Watson: The Final Problem

Tim Marriott and Something for the Weekend
Assembly George Square
–

Listing details and ticket info...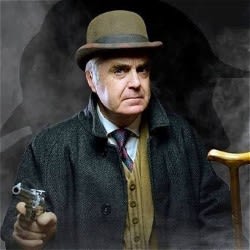 This is a fantastic solo show with a crafted performance at its heart.
Watson has arrived back at his lodgings and begins to read the latest version of the adventures he had shared with Sherlock Holmes. Watson, having decided that his writing of the introduction is too flowery, then abandons the introduction to replace it with his telling us of a few of the well-known tales: The Speckled Band with the acute intelligence of Holmes tested to its utmost; The Sign of Four where Watson was to meet his Mary and then; The Reichenbach Falls, Moriarty and his return home to find that not only has his best friend died but his wife is now ailing and about to die herself.
It is meant as a eulogy as Watson tells each tale with affection, but under the cloud of his pronouncement that Holmes is dead. Then, when the doorbell rings, Watson prepares himself for his next adventure…
Watson can be a difficult role. Whether it be Carlton Hobbes on the radio or Jeremy Brett on the television, we all have our favourite Holmes, but who is our favourite Watson? The sidekick, the person chosen to marvel at the wonderment of the genius, which is Holmes, they can be relegated to bit parts. But without them, Holmes merely becomes a character we are struggling to like. Our entry point is often Watson, and we love the energy with which he takes on the role of the sidekick, but where it can often fall down is when they are portrayed as the buffoon.
This is unfortunate, because John Watson has suffered and survived many tragedies. Being shot at in war, seeing action in Afghanistan and India, losing his wife as well as losing his best friend, would be enough to devastate any man, but Watson has resilience. And it is that resilience which is shown in the script. It has sufficient admiration for the work of Doyle without being sycophantic. It also has enough skill in its words that it gives our actor, Tim Marriott, a platform to deliver an affectionate glimpse at the man who was behind the mysteries of Sherlock Holmes.
But if the script acts as a platform, the performance needs to use it to springboard onto our laps. Marriot is a skilled performer, and here we get a touching rendition of all of the tragedies with the stoic nature of a Victorian gentleman. Poised and respectable, there is a hidden emotion behind a stiff upper lip, but also a humanity which speaks out regularly along the way. Tonally, it hits all the right notes.
Physically, Marriott also throws himself around the stage for effect, and this reminds us we are in a theatre whilst underlining the need to comprehend how the cane came into use as a prop and the vulnerability alongside that wound continues to show how important that is an aspect of Watson's character.
There is little by way of theatrical trickery, though the set is impressive, as is the costume.
Of course, this well-directed piece leads us to a cliffhanger where the visitor at the door is about to throw the disappearance of Holmes and the death of Moriarty into sharp focus. For now, however, we see an elegant man ready for his next adventure, little knowing what that may be.
Reviewer: Donald C Stewart