Waves
Devised by Katie Mitchell and the company; based on Virginia Woolf's novel The Waves
A National Theatre production
Bath Theatre Royal
(2008)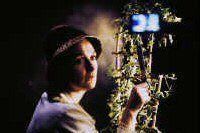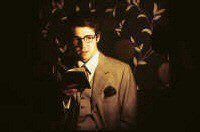 Kate Mitchell is a director about whom it seems impossible to feel ambivalent. To some, she points the way to a bright theatrical future, one which breaks down barriers in its embrace of the possibilities of technology and film; to her critics, she is a misguided auteur ploughing an increasingly sterile furrow.
My first reaction on reading of her decision to adapt Virginia Woolf's novel, The Waves, was, to paraphrase Dr Johnson, not so much a matter of whether the matter was done well, rather that it was done at all. And the opening twenty minutes or so of the production at Bath did little to assuage my scepticism.
Gradually, however, as the production hits its stride and a succession of brilliantly-realised images fill the large screen above the stage, the staging begins to exert a grip. Some viewers have found the staging confusing and are torn between whether they should look at the screen, or at what the eight-strong cast are doing below it with a succession of props, cameras and lights.
For my own part I found it easier to follow the images on the screen while occasionally looking at the stage to see how a particular effect had been created. I assume this is less of a challenge for younger audience members, although even older ones will probably have some experience of opera, where an audience is obliged to switch from looking at what is on stage to surtitles.
What is perhaps more of an issue is the difficulty of an audience member concentrating both the images and the narrative which is often intricate, involved and poetic. That said, one comes to realise how well Mitchell chose the material for this show. Woolf's 'novel' with its episodic, multi-viewpoint, stream-of-consciousness, brilliantly lends itself to adaptation in this way.
Since Waves premiered in November 2006, Mitchell has gone on to adapt Dostoevsky's epic The Idiot in similar fashion but with decidedly more mixed results. Here though, the outcome if a brilliant success although I am not sure what we are seeing is theatre so much as live cinema being created, the only real difference being a dialogue which would make a director tear his hair out.
What is unquestionable is the skill and commitment of the 'actors' who spend more than two hours setting up props; acting; narrating; lighting, or filming using a hand-held camera against orchestration provided by four musicians.
Apart from one lapse of taste when Mitchell opts to illustrate a character's infatuation with his classmate by having him lasciviously eat a banana, the show feels a little too breathless early on as the actors, in portraying childhood lives come perilously close to Comic Strip Famous Five parody.
I don't think Waves points out the way for theatre in the future but it is an undoubtedly impressive achievement. These Waves are well worth catching.
David Chadderton reviewed this touring production at The Lowry, Salford
Reviewer: Pete Wood