Way Out West
Paul Hodson
The Future Is Unwritten
New Greenham Arts Newbury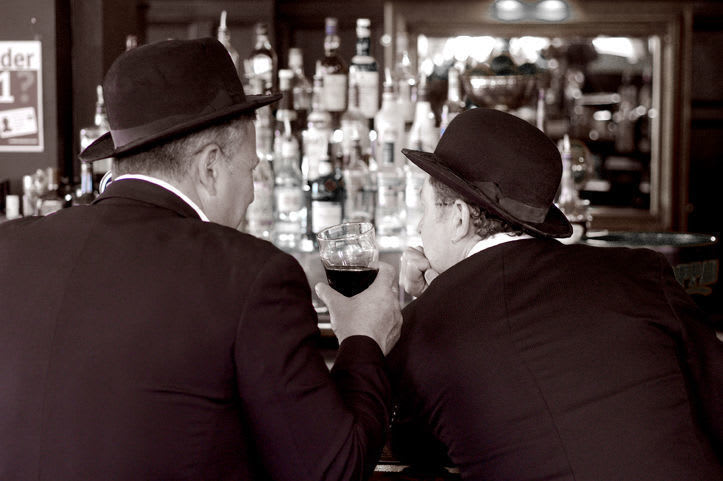 Brighton based theatre company The Future is Unwritten has produced a surreal play Way Out West written and directed by Paul Hodson. Two men walk into a pub for an evening of drinking and are strangely drawn to each other. As the pints of beer flow they try to work out if they know each other. It's a familiar scene and yet in this puzzling play nothing appears real.
They have an uncanny resemblance to the two great comic characters of the Hollywood vintage years Laurel and Hardy. Mike Goodenough playing Harry looks remarkably like the rotund Hardy whilst Daniel Lyne as Sam is a gaunt perturbed Laurel.
Is it possible that these two likely lads can be the reincarnation of the famous comedy duo?
As the alcohol kicks in, Harry and Sam begin to unravel the common interests they have. Harry is an amdram actor and Sam has appeared in three episodes of The Bill. It emerges that Harry knows Sam's mother. Their conversation deepens and they share their philosophy on life and the spiritual world.
The actors slowly morph into the characters of Laurel and Hardy adopting their mannerisms with some very funny facial expressions as the sing the 'Blue Ridge Mountains of Virginia.'
There is much comedy in this sentimental play that is juxtaposed with themes of despair and isolation but the writing tends to lose its direction as the situation became more absurd.
Both actors give fine spirited performances and create well-observed caricatures of the famous comedians.
The play veers towards a darker side in the ending scenes with the pair making a suicide pact and agree to jump over a bridge. As one of the characters says, "it's a funny old world," which perhaps sums up this play perfectly.
Reviewer: Robin Strapp