We Are The Lions, Mr Manager!
Neil Gore
Townsend Theatre Productions in association with Tara Theatre, Harrogate Theatre, Unite the union, GMB, The Place Bedford and Ruskin College Oxford
Tara Theatre
–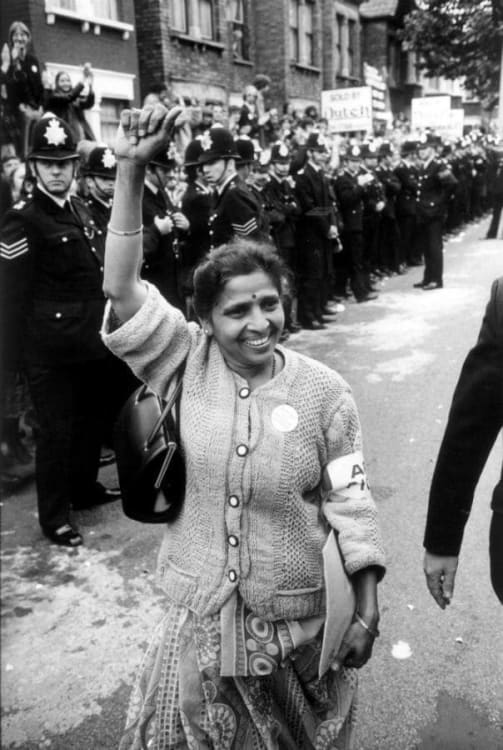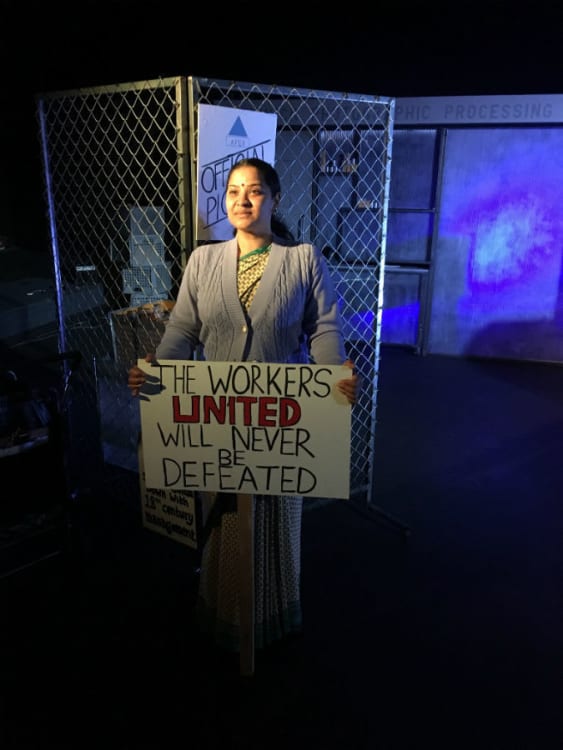 Back in late 1976, the militant image of British trade unionism that regularly appeared on news broadcasts did not fit the traditional stereotype.
It was the image of women mainly of Asian ethnicity defiantly picketing the small North London Grunwick photographic plant.
The dispute was inspiring support among trade unionists across the country, and worrying politicians from all parties.
Neil Gore's lively play We Are the Lions, Mr Manager! celebrates this important struggle focusing on the words and action of Jayaben Desai given a passionate engaging performance by Medhavi Patel.
Jayaben Desai had learned the value of protest as a student marching in India.
On the 20 August 1976 at about seven in the evening, she put on her coat having finished work for that day. This sparked an argument with a Grunwick manager (Neil Gore) who insisted overtime work was compulsory.
Threatening to sack her if she didn't carry on working, he refers to her as a "chattering monkey" which prompts the reply, "what you are running here is not a factory, it is a zoo. In a zoo, there are many types of animals. Some are monkeys who dance on your fingertips, others are lions who can bite your head off. We are those lions, Mr Manager."
The strikers are signed up by the union APEX who declare it an official dispute and give them strike pay. Postal workers refuse to deliver mail and thousands join pickets outside the factory.
The audience is repeatedly encouraged to be a part of the show singing the chorus to "Hold the line, again", signing petitions, and during the big solidarity march which we see projected onto the back screen waving torches in support.
Volunteers are asked to pick up a homemade placard and help to form a picket. Among those who enthusiastically joined the characters on stage during press night was one of the original Grunwick strikers, Sunil, the son of Jayaben Desai.
A policeman (Neil Gore) moves them back to their seats with the words, "get along with you, now. We'll have none of that immersive theatre here."
The play is laced with humour, particularly in the satiric depiction of managers and the politically right wing National Association for Freedom.
Despite the support they receive from trade unionists and a government inquiry chaired by Lord Scarman which recommends union recognition and the re-instatement of the workers, the Grunwick strikers are defeated.
But the determination they showed in the two-year battle was for a time a reminder to other employers that a workplace is never too small to easily get way with unfair practices.
Reviewer: Keith Mckenna