We Found a Hat
Jon Klassen
Little Angel Theatre
–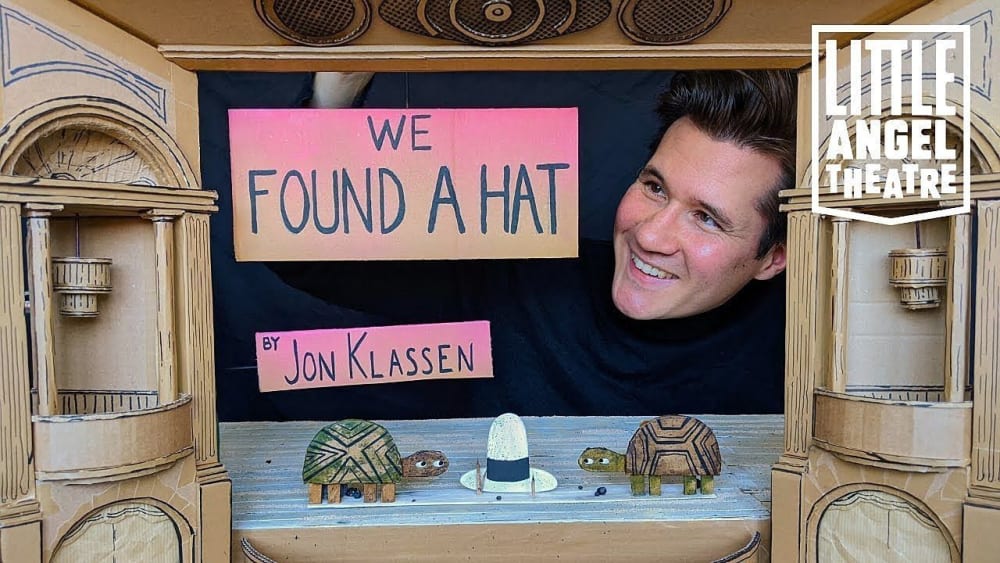 Following I Want My Hat Back and This Is Not My Hat, the third in the series of Jon Klassen's wonderful children's picture books, adapted for the cardboard stage (designer Samuel Wilde) by director-performer Ian Nicholson for Little Angel Theatre, also involves a debate over the ownership of a hat, but has a very different feel to it—and no one gets eaten.
In this case, a pair of tortoises find a hat, which they both like and both say the other looks good in it, but there are two of them and only one hat. They go off and do other things to take their minds off the hat, but Klassen again does his thing with the eyes to subtly suggest that the words we hear may contrast with the thoughts of the characters, and once again that is mirrored in this performance.
Will one of them take the hat while the other sleeps? It looks likely, but this isn't a cheekily funny story about a thieving rabbit or fish; this is about friendship and loyalty, and it drifts into a touching fantasy dreamworld rendered very well here and helped by Jim Whitcher's music—and there is some very well-organised magic going on behind the scenes from the occasionally visible stage manager, Susannah Stevenson.
This is the longest of the trilogy but not by much and again is well worth catching. In fact, take the chance to savour all three before they disappear at the end of June and then buy the books, whether you have children or not.
Reviewer: David Chadderton