We Missed You
Julia Masli and Viggo Venn
Assembly Showcatcher
–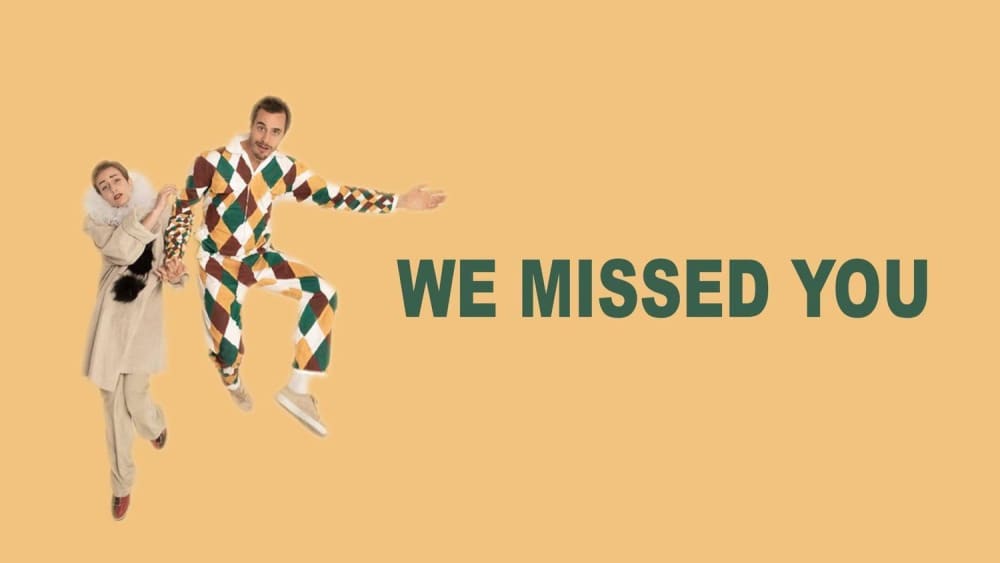 This curious but quite hypnotic online show begins with the red velvet curtains of old-fashioned theatre with a voice-over welcoming us to "the theatre of your home", but when they open, the rest of the 40-minute piece was filmed entirely on location, apparently in London, in streets, parks and in front of St Thomas' Hospital, where our Prime Minister was treated after contracting COVID-19.
This pandemic haunts the whole film, as the soundtrack features the voices of various people talking about their experiences during the last year and a half: what they miss, what they've suffered or lost, what their fears were—and are now, for the future.
Taking us on this tour are clowns Julia Masli from Estonia and Viggo Venn from Norway as Pierrot and Harleqino respectively, but they are also credited for most other roles, individually or collectively, including writing, directing, cinematography, editing, music and costumes.
There are thoughtful moments of contemplation, as the childlike actions of the clowns reflect the words of the interviewees, interspersed with moments of silliness, such as creating a pirate ship on a traffic island—which attracted some police attention—and involving passers-by in their antics. The voice of an old woman talking about missing going to "dance for olderly people" ("so I dance by myself") is lip-synched by Masli then cut up and mixed into a dance track, without losing its poignancy.
Then, almost halfway in, we witness a telephone conversation where it is confirmed the piece is no longer a kids' show, although, "there is still clowns" and it becomes slightly sweary, but also takes a generally darker turn. Amongst reports of loneliness, there's an odd story told over a black subtitled screen about hearing gunshots and the police shooting people and dumping their bodies in the river, although the speaker at one point admits,"I wasn't there." Scary contemplations about the future are voiced over images of the clowns in a spooky and smoky dark forest.
Then they are back playing with strangers on the street and on the carousel, then recreating the carousel with cut-out horses in front of St Thomas' Hospital, entertaining and involving nurses, hospital staff and anyone else who happens to be passing.
This isn't laugh-out-loud clowning so much as something to raise a few smiles; the stories of the pandemic don't tell us anything we don't already know, but can be, with the accompanying images, a prompt to reflection.
Reviewer: David Chadderton