#WeAreArrested
Can Dündar
Arcola Theatre and the Royal Shakespeare Company
Arcola Theatre
–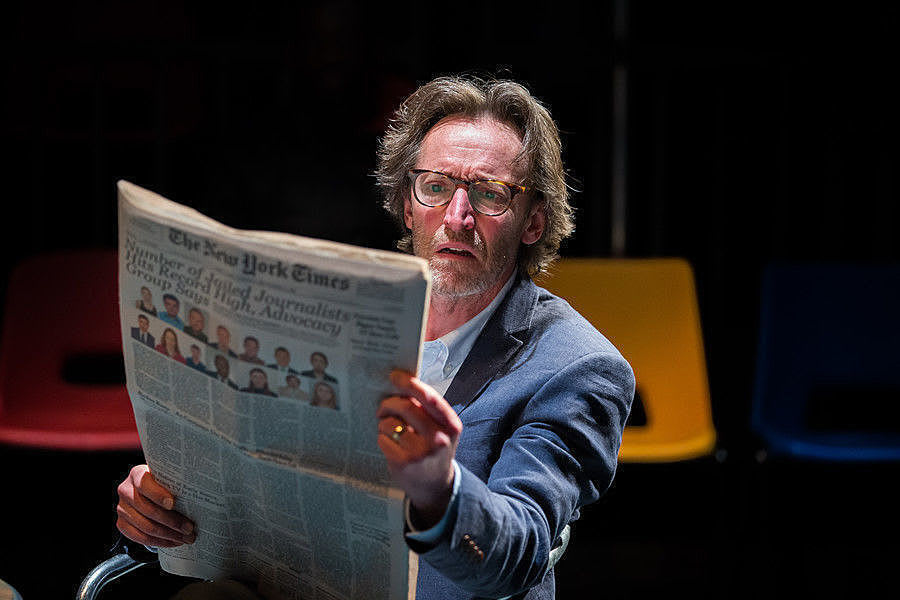 In May 2015, Turkish editor–in-chief Can Dündar published evidence in his newspaper, Cumhuriyet, that the Turkish state was selling arms to Islamic fighters in Syria. A couple of months later, he was arrested under charges of aiding terrorists. #WeAreArrested is the tweet that he fired off upon arrest as well as the title of the play. Adapted by Pippa Hill and Sophie Ivatts and a co-production between the RSC and the Arcola Theatre, the play is based on Dündar's book he wrote in prison.
As Dündar unobtrusively walks down the aisle in a raincoat carrying a cheesecloth bag, he could be easily mistaken for an audience member until he strides onto the stage. "There is a price to pay if you are journalist or writer in Turkey," he says, "but maybe our publishing this story would stop our country from making a terrible mistake." This is at the heart of the play. It's about traditional journalism under threat and a story of man unafraid to fight for the truth in a fickle world dominated by social media. Watching a man festering in solitary confinement for a crime of nothing other than telling the truth could be tough going to watch, but it's a surprisingly entertaining evening.
Using nothing more than a white table as a prop, Dündar, played with restless inquisitivness and intelligence by Peter Hamilton Dyer, has us believing that a dirty grey wall is the gateway to all things imaginary. He brings raging colour and life to a bleak prison cell. He digs his toothbrush into orange juice and, smearing it on the walls, turns grey into swathes of orange. Sheer creative wizardry leaps into life to steer us away from the bleak reality of solitary confinement. Dündar creates magic by turning slices of burnt toast into elaborate meals and making cheese toasties by sticking bread and cheese in a bag between the prison radiators. Such glorious details in the narrative, mostly written in first person, are drawn out stylishly by director Sophie Ivatts, who even consulted a professional magician to create pizazz in a prison setting.
The play is further enlivened by movement director Ingrid MacKinnon, who injects a playful rhythmic energy into the characters through movement, propelling the story on, especially during some of the bleaker moments of Dündar's captivity. In one instance, Dündar dances as if consumed with happiness and alcohol with Indre Ové (Dündar's wife) to Adele's "Hello", surreally swaying with physical expressiveness in sheer defiance of his prison. It's these little acts that keep the journalist sane.
#WeAreArrested proves that such stories need to be told and what better way than in the intimate space of the Arcola, up close and personal with the actors, literally rubbing shoulders. While Dyer remains onstage, Ové and Jamie Cameron (Son) hop in and out of seats among the audience; the characters are both observers and participants. Given such bleak subject matter, it's a strangely uplifting, inventive evening, where magic comes to play and Dündar's spirit shines strongly in his battle for freedom of speech, truth and humanity.
Reviewer: Rachel Nouchi