Wedding Album
Girish Karnad
Primetime Theatre Company
Watermans, Brentford
(2009)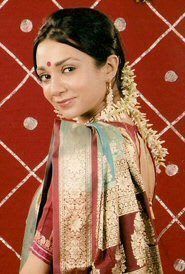 While offshore Call Centres have proved a mixed blessing for corporations and customers alike, most have been grateful for those sophisticated graduate voices from the subcontinent that patiently lead us through the techno minefields of internet banking and BT's broadband connexions.
But Girish Karnad's witty comedy, staged by the Delhi-based Primetime Theatre company, looks at life through the other end of the muti-national telescope to show us the impact of globalised technology on Indian culture: on its customs, business and family life — a computer literate world in which even wedding traditions are being turned upside down.
Twenty-two year old Vidula (played with delicious spontaneity by Ira Dubey and strongly reminiscent of the young Felicity Kendal) is looking forward to her arranged marriage to a Non-Resident Indian (or NRI, for those who prefer Mumbai shorthand).
Her betrothed, a smart guy played by West End actor Raaghav Chanana, runs a successful business in the USA and dreams of Indian world domination as a cultural cure for Western decadence.
Far from the old idea of the couple's first encounter being under a wedding podium, these two have already enjoyed a lively prenuptial exchange of videos and exploratory messages by way of SMS, email and even Skype.
But the would-be bride is also carrying on a romantic vocal intrigue with a Chat Room stranger, via the local Internet Café, an oily baritone charmer who longs to discover her name and address. No wonder those backwoodsman of the Brethren, who want to keep things exactly as they once were, are struggling to cast out the cybernet demons with their angry voices and cries of alarm.
The play opens with Vidula's brother Rohit (Sarchit Puranik) in a city production office, hoping to sell his screen ideas to Deepika Amin's brusque script consultant with a rerun of his sister's engaging confessional video. But we soon move to the middle-class family home in Karnataka, ruled over by Lillete Dubey (in real life a successful Bollywood star and the director of this play) as a still glamorous matriarch with perhaps a shadowy past.
But her cynical husband, looking for peace and quiet behind his book or in front of the box, also enjoys his deadly way with husbandly satire and gentle gestures that totally unsettle the female dominance.
His role is given a superbly timed comedy characterisation by Utkarsh Mazumdar who, not surprisingly, is a much acclaimed veteran of Indian television serials, films and theatre, and deserves to be better known in the UK.
Unwelcome family visitors are the suburban Sirurs, with husband Gopal (strongly played by Amar Talwar) determined to 'sell' their unwed daughter in marriage to the reluctant Rohit with every possible bribe. But it becomes clear that the object of Karnad's play is not dramatic resolution but album snapshots of a swiftly evolving Indian society, under pressure from its changing world role and the demands of a consumerist and technocratic economy.
Primetime Theatre, an English language theatre company making its fourth visit to the Brentford venue, has just completed a successful tour of India, Singapore and Dubai with this enjoyable play, and it seems extraordinary that such an engaging piece of work is only in the UK for six performances at Watermans.
Apparently funding was shaved very close indeed, thanks to the current credit restrictions. But one hopes that the Indian High Commissioner, who was in the audience for the Watermans opening night, can find some way to support this company so that its work can be seen by British audiences and Indian ex-pats throughout the country and not just in London.
Last performance at Watermans on Sunday 20th September 2009. There is a Saturday matinee performance at 3.15pm to meet the demand for tickets
Reviewer: John Thaxter