The Wedding Singer
Book by Chad Beguelin & Tim Herlihy, Music by Matthew Sklar, Lyrics by Chad Beguelin
Theatre Royal, Newcastle, and touring
(2008)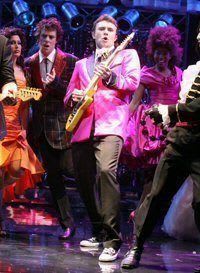 I must confess to feeling more than a little disappointed after seeing this kitsch 80s throwback.
It was bad enough that it was a late start - a good 40 minutes late, due to some technical hitch or other, but that I can forgive as these things happen. But worse than that, I thought I was being transported back to the 80s with a musical celebration of all those fantastically cheesy hits of the time - we're thinking Culture Club, Madonna, Wham and the rest Or at least I was.
Alas, the stage show, based on the hit movie, sports a completely new musical score - rocky and pounding and catchy in parts, yes, but not what I understood it to be
So there was no dancing in the aisles, a bit of toe-tapping, yes, from the predominantly female audience, some of whom had turned up expecting the same as me.
Like the film, which starred Adam Sandler and Drew Barrymore, it's a full-on, unashamed celebration of the 80s, when hair was big, greed was good and shoulder pads were ubiquitous.
Wannabe rock star Robbie is everyone's favourite wedding singer until he himself is jilted at the altar. Enter Julia, a waitress who wins his heart, the only problem being, she too, is about to get married
Robbie is played by Jonathan Wilkes, and there's no doubting he is very good. He has many musicals under his belt, among them Godspell, Rocky Horror and Guys and Dolls and he does sing beautifully. Along with Natalie Casey (of Hollyoaks and BBC 2's Two Pints of Lager fame) as Julia, the two make a good pairing and very strong leads.
As with the rest of the cast, they are all individually strong performers, everybody can sing and act, everybody can dance.
In fact there were some great performances from the likes of Nick Hayes, camping it up big-style as Boy George look-alike, and Tricia Deighton as the outrageous grandma. And Jodie Jacobs as Holly is an absolute delight, playing her role with a personality.
There were flashes, too, of absolute brilliance with some of the musical numbers, in particular, All About the Green, a play on money and so of the time, and the electrifying Move That Thang.
But there was just something about this show, which, for me, didn't quite gel. At times I couldn't wait to get to the next song, to move the action along. But then not being familiar with the songs made it all very difficult for me to lose myself completely in the plot. Which is a great shame, because all the elements are there - with a cast as strong as this one - for a cracking show
It's destined for the West End - whether that's a match made in heaven remains to be seen
At the Theatre Royal until 15th March, then touring to Cardiff, Reading, Bristol, Birmingham, Canterbury, Stoke, Ipswich, Eastbourne, Edinurgh, Milton keynes, Woking, Glasgow, Sheffield, Bradford, Aberdeen, Cheltenham, Nottingham and Southampton.
Reviewer: Katharine Capocci