A Wee Home from Home
Devised by Michael Marra, Frank McConnell, Gerry Mulgrew and Karen Tennent
Presented by plan B
Traverse Theatre, Edinburgh, and touring
(2009)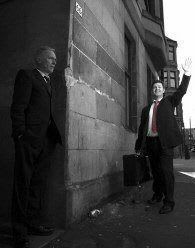 A weegee returns home in this wry tribute to Glasgow through dance and song. Combining the talents of old hand Michael Marra at the piano and the sprightly steps of Frank McConnell on the stage.
Amazing but true, as Marra's newspaper titbits are prefaced, this is a revival of a piece from over two decades ago that has hardly dated at all. Nor does McConnell strain to pull off the routine his younger self devised.
So 21 years on, this piece, that veers from joyful to dark, is able to entertain a new audience and no doubt more than a few who saw it first time round.
Marra has a great, slightly brash stage presence, even from behind the piano. Not just a witty singer and songwriter, Marra surprised with his physicality, joining McConnell on the stage in quite a violent dance near the end. It is worth adding that Marra did this in a suit and slippers.
McConnell's attire looked equally lacking in elegance, with heavy boots, but these did not hinder his routine, many diverse dance pieces molded together to represent the complex mosaic not just of Glasgow but of the universal experiences of growing up.
The set looked at first rather shoddy and grey, but there was more to it than met the eye, the corrugated iron proved beautifully musical in Marra's hands and the rotation of several pieces for the finale created an explosion of tartan into the seemingly grim surroundings.
This was a revival worth having, the dance was certainly impressive, but it is Marra's songs like 'Mother Glasgow' that really hit a nerve and are as fresh as ever.
Reviewer: Seth Ewin