Weekend Breaks
John Godber
Tabs Productions
Pomegranate Theatre, Chesterfield
–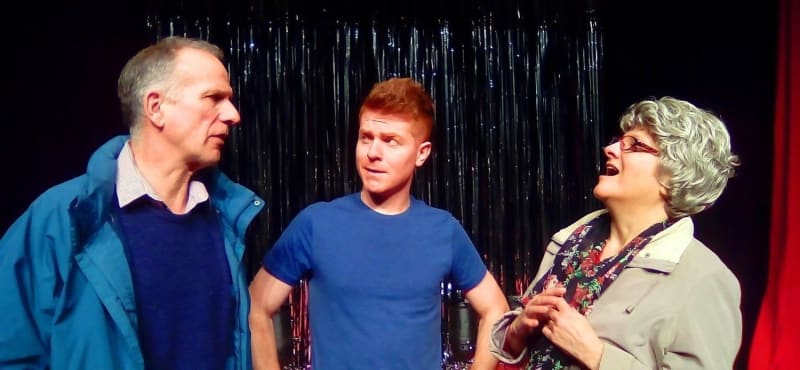 George Telfer knows all about marathons, having run the distance more than a dozen times. The Chesterfield actor must have thought he'd taken on another endurance test when he signed up for the spring play season at the Pomegranate Theatre in his home town.
He had a huge part playing Stanley Gardner in the Rumpus Theatre Company production of the Ray Cooney farce Caught in the Net and now he's playing Len Dawson, another major role in John Godber's Weekend Breaks, presented by Tabs Productions.
Godber's 1997 play doesn't appear to get many outings—it's not been reviewed before by the British Theatre Guide—which is amazing bearing in mind that it's a three-hander with simple staging and it illustrates how good Godber is at observational comedy.
Maybe it's because some people just don't get northern humour. One critic reviewed a previous production of Weekend Breaks and noted the "lack of genuine warmth" in Godber's writing which "makes the characters seem mean and miserable". But in the skilful hands of Telfer, Karen Henson and Chris Sheridan the characters are not only engaging but also convivial.
Weekend Breaks is the story of Martin Dawson, a 35-year-old teacher of theatre studies at Humberside University who's trying to write film scripts. An extra-marital fling has turned his life upside down and upset his disapproving, working-class parents. He's also become a stand-up comedian, his act being full of stories about his mother and father.
John Goodrum who also directs is responsible for the set, a basic nightclub stage backdrop on which Martin's parents emerge to demonstrate why they're the bane of his life.
There's no doubt about why there's such a culture clash between Martin and his parents: they can't understand why he's thrown up a good marriage and is dreaming of Hollywood while he berates them for their simple life and their tendency to "make do". No wonder Martin says spending time with them is like being in a Beckett play...
Telfer appears totally comfortable in the role of Len who has something to complain about from the moment he and his wife arrive to spend time with Martin in the Lake District.
Telfer's timing, especially in scenes with Karen Henson who plays his wife Joan, is impeccable as they talk over each other, finish each other's conversations and repeat what the other has said.
Henson is just as impressive as Joan, glasses perched on the end of her nose and wearing beige crimplene trousers, with a shampoo and set keeping her hair in place. She looks old and has the mannerisms of an old woman; it's a commendable depiction.
Chris Sheridan, who also appeared in Caught in the Net, is exuberant as Martin, ever the optimist about his work yet a realist when he grasps the fact that he's not going to change his parents' stubbornness. A good many of the audience must identify with him when he eventually realises that he loves his parents despite their foibles.
Perhaps some of the poignancy of Godber's writing doesn't come through towards the end. Overall, though, this is a hugely successful production with plenty of laughs which, dare I say it, should appeal not only to those from the Midlands and the north. A pity it's not got a marathon run.
Reviewer: Steve Orme