Welcome to Paradise

Ship of Fools
Stanley Arms, Preston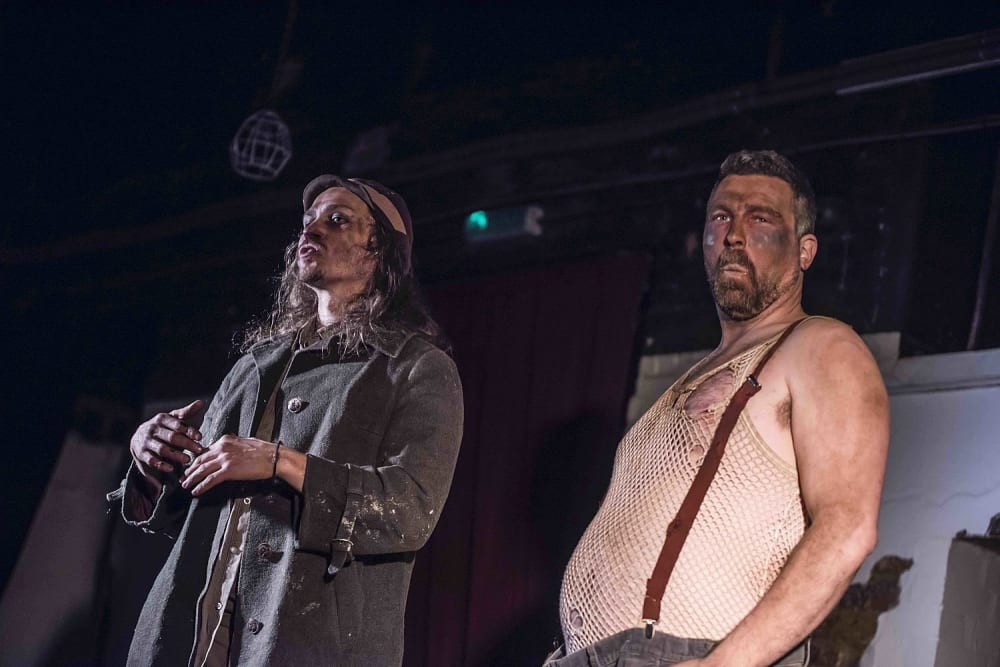 Christmas came early in this darkly comic invention from subversive theatre company Ship Of Fools.
It had little to do with Paradise, but earned itself a riotous Welcome from a standing-room-only audience upstairs at this city centre pub.
Raoul (Mark Winstanley) and The Captain (Charles Shetcliffe) appear as two dirty-faced fools, throwbacks to the origins of clowning—characters originally seen as society's outcasts. Look beneath the grubby stage make-up here however and you find the kind of eager-to-please comedy double act that has been entertaining audiences down the centuries.
It's a timeless enjoyment, and one lapped up by a largely-youthful audience.
Winstanley is blessed with one of those helium-infused voices which makes any utterance amusing, while Shetcliffe's character alternates between playing his patrician master, or a sad-faced mute. Their routine here is to invite their audience—and particularly one or two hapless members of it—to join them in a grotesque Santa's Grotto, one where the claws come out, and an elf ends up being treated with barbaric cruelty!
It's a carefully-contrived entertainment, dependent heavily on audience interaction (and Preston can take pride in its involvement here). In turn they're rewarded with plenty of laughs, the occasional sharp intake of breath, and even pantomime-style 'sweetie showers'—once they have mastered the song that comes with the reward of confectionery of course.
Anarchic doesn't quite sum up such riotous assembly. Think of Estragon and Vladimir trying to keep themselves amused while Waiting For Godot, and you have something of this performance.
Underneath all its apparent al fresco invention however there is a calculated skill, one that teeters between comedy and cruelty but somehow manages to always strike the right balance.
If only Christmas itself could always be so much concentrated fun... and last just 75 minutes!
Reviewer: David Upton