Welcome to the UK
The Company, music and songs by Tamara Astor
PSYCHEdelight
The Bunker
–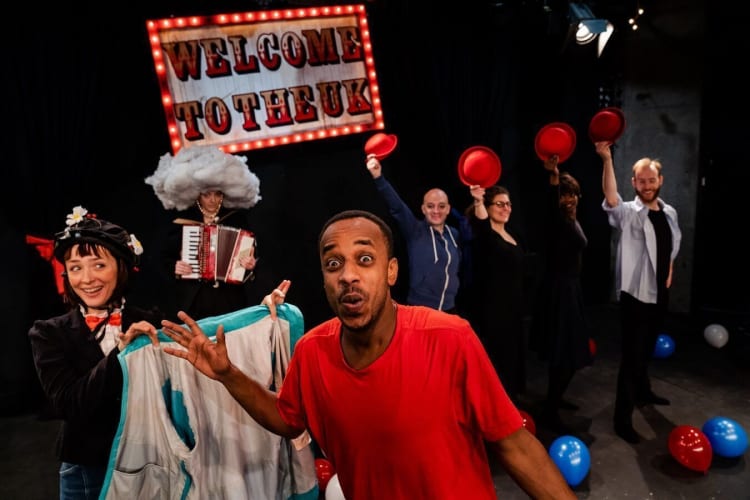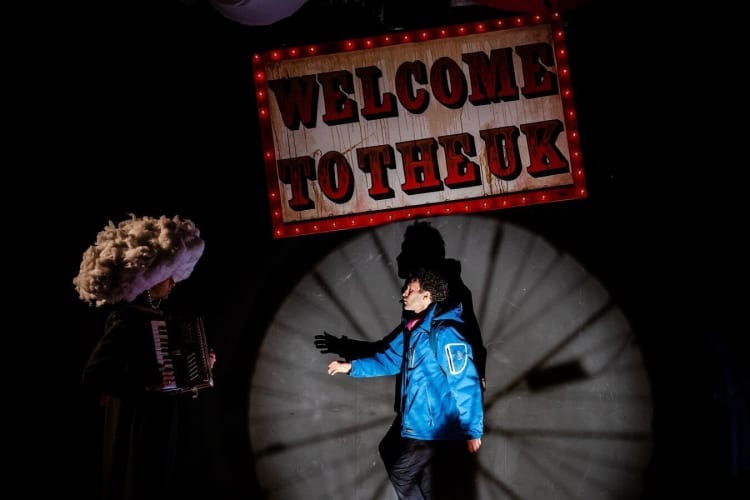 PSYCHEdelight is a company created in 2011 by playwright, director and therapist Sophie N L Besse. It calls itself "a theatre company of sanctuary" that, as well as creating socially engaged theatre, provides drama workshops as a place of expression and integration. In 2015-6, Sophie ran workshops in the Calais Jungle, which led to the creation of a company of refugee performers and the creation of Borderline, which drew on their experience and has toured the world since. Welcome to the UK carries their stories on from that play to what happens if they actually manage to get here.
It is a picture of impossible patience, unfeeling bureaucracy and private pain that is presented through comedy. "Blow up a balloon" it asks the audience, "fill it with your hopes and then throw it out to us".
Just try that: do you feel loss or aspiration? This is a show that is full of strong images. There is a woman from the Gambia send to England for an arranged marriage to an unknown man, who abuses her, the strands of her wedding veil pinning her in her trapped situation. There is a misguided Mary Poppins representing ill-informed British do-gooders; there is Megan Markel with Prince Harry pushing to the front of the queue of those facing the citizenship quiz as they seek passports; immigration staff repeat their instructions to "create a hostile environment".
Did you know that even after being given leave to stay there is only a 28-day window in which they must get an insurance card, find a job, open a bank account and find accommodation? A man on a treadmill is a reminder of the interminable waiting, waiting without being allowed work, surviving on an allowance of £5 a day, unable to choose where you are sent to.
Welcome to the UK is a montage of glimpses of personal stories. It doesn't dig deeply into individual traumas as men and women from Africa and the Middle East from Zimbabwe to Afghanistan are given voices along with some European participants.
There have been other refugee performers; many of the issues will be familiar to those who choose to follow the news, but that doesn't make them less painful.
Welcome to the UK doesn't provide razor-sharp satire, nor is it really very funny, but that doesn't mean that it fails for it has a rawness that reminds you that these are real people not just role playing; in a Q & A session after every performance, you will meet more hard facts and personal detail that may have even greater impact.
Reviewer: Howard Loxton