Welcome to Thebes
Moira Buffini
Bristol Old Vic Theatre School
Tobacco Factory Theatre
–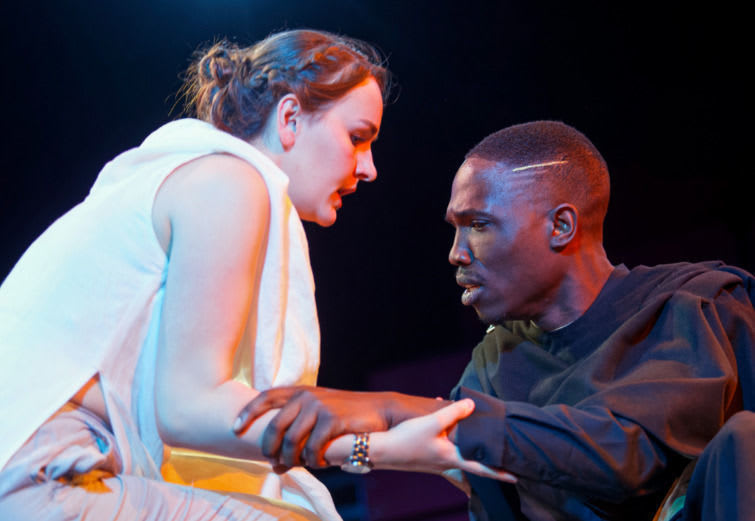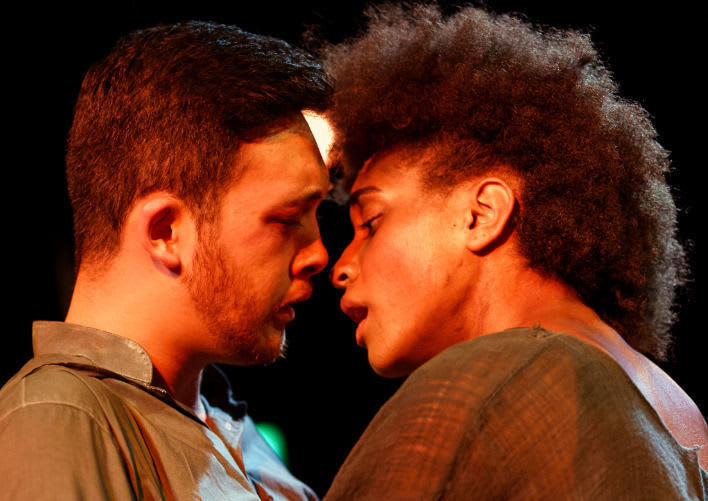 A country ravaged by civil war emerging from the ashes of destruction to become a fledgling democracy. A paternalistic patron, who could make all the difference, arriving to visit the wastelands. It could be the setting of so many conflict zones in recent history but, in Moira Buffini's 2010 play, this is Thebes, centre of an ancient Greek myth now transposed to the near future.
Bristol Old Vic Theatre School's graduating students show admirable ambition in tackling this thrilling if uneven epic, but suffer in the opening scenes from the weight of exposition required to set up Buffini's poetic complexity of tensions.
Eurydice (Emma Prendergast), widow of Creon, is democratically elected leader of Thebes, promising to rebuild the country with a distinctly feminist agenda. She may be supported by a sisterhood, but she still needs aid from Theseus (Alexander Mushore), arrogant first citizen of neighbouring superpower Athens, to do so.
A summit between the two heads of state and Eurydice's inauguration are hindered by her vengeful refusal to bury the body of former dictator Polynices, murderer of her son. The nation unsettled, opposition leader Tydeus (Marco Young), a violent malcontent from the former regime goaded by Polynices's wife Pargeia (Lucia Young), sees his opportunity to seize control.
Towards the latter part of the first half, this production gets into its stride as Eurydice and Theseus become locked together in negotiations that threaten to demand too much. Their performances are well matched: Prendergast a compelling and idealistic Eurydice, firm in her belief that her new manifesto should not be compromised by Athens's profit-motivated view of Thebes, while Mushore's Theseus oozes entitlement as he seeks to take possession, on both a national and a personal level.
The country's violent militia and the hawkish security contingent from Athens circle the unfolding narrative, unhinged Antigone (an incredibly expressive Bonnie Baddoo) vows to bury her brother and blind soothsayer Tiresias (a mournful George Readshaw) foretells of doom. Free-will and destiny collide, culminating in a disturbing standoff with explosive consequences that threaten the basis of this fragile democracy.
Counterpoint to the action are the touching testimonies of those who have lost family and friends through war and the personal tragedy of Antigone's sister Ismene (movingly portrayed by Anna Munden) who keeps her suffering to herself until she can bear it no longer. But Buffini's writing is playful, too: evoking the myth of Phaedra as Theseus repeatedly calls his wife on a mobile phone and then asks his son Hippolytus to search for her, while a bittersweet moment finds an almost blind Haemon (James Bradwell) proposing to the wrong person.
Director Lucy Pitman-Wallace uses Emily Leonard's simple but effective stone plinth design and Daniel Scott's strikingly demarcated costumes to build from some initially static moments; the desecration and brutality of war, the fragility of democracy and compromises and corruption of power are finally laid bare. What begins with the capacity to confuse ends with the momentum of a genuinely absorbing and satisfying piece, with performances full of potential from a talented and committed company.
Reviewer: Claire Hayes