Welcome to Terezin
Philip Glassborow
Yvonne Arnaud Youth Theatre
Gilded Balloon
–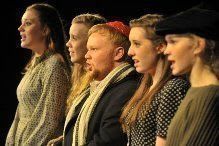 Performing with sincerity and commitment, the 19 youngsters from Guildford's Yvonne Arnaud Youth Theatre take us back in time to 1944 and a Nazi internment camp for Jews in the Czechoslovakian town of Theresienstadt, known locally as Terezin.
It is the home of artistic Jews, professors, stars of the stage, musicians and cabaret performers who have all been promised delightful accommodation and, for a modest sum, deluxe lodgings with a view of the lake and log cabins.
The reality was far from this idealistic propaganda of a village "built by Hitler for the Jews".
With an upcoming visit from a representative of the International Red Cross to compile a report on the camp, an elaborate deception is conceived with a beautification programme of creating façades where the morgue becomes a school and shops and delicatessens spring up to deceive the inspector.
Kurt Gerron, a former movie star and film director, is persuaded to make a documentary film portraying Terezin as a "paradise ghetto".
His intentions are honourable as he hopes to gain extra rations for the inmates who agree to perform and perhaps extra privileges for his sick wife.
It is agreed that they will perform a 'carousel cabaret' for the inspector but their future after the performance is dark and inevitable.
Writer Philip Glassborow has used the documentary evidence to create the characters such as Johnny and Jones, a famous Amsterdam swing duo, and poet and songwriter Ilse Weber, who was known as the 'Angel of Terezin'.
The talented cast are uniformly good with strong performances from all. They sing beautifully with some excellent harmonies accompanied by Aileen Sweeney on the accordian.
It is a poignant reminder of the horrors of the Holocaust that these talented youngsters deliver with honesty and confidence. Highly recommended.
Reviewer: Robin Strapp