Werther
Jules Massenet
The Royal Opera
Royal Opera House
–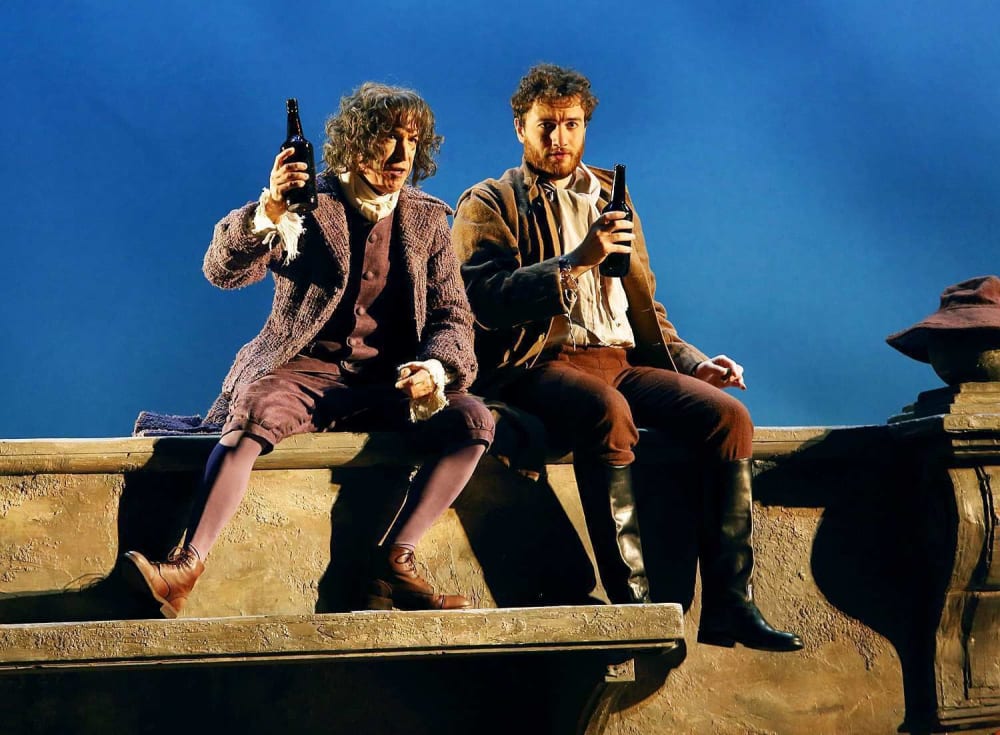 Massenet's Werther was finished in 1887, based on Goethe's The Sorrows of Young Werther, published in 1774. It is a boy meets girl story—but the girl is already promised to another. A simple theme, but full of deep emotions as our troubled poet bares his soul, revealing his tragic longing for Charlotte.
This literary tome once converted makes for a long opera—over three hours running time with two intervals. Luckily, Benoît Jacquot's unfussy production keeps the drama moving, and Massenet's music is exquisite.
Massenet is famous for prostituting his art for commercial gain, but Werther is considered his own passion project. He eschews long duets which could be performed out of context, or the expected large drunken tavern scenes. Instead, he has created an epic drama with an unusually well-paced, and easy to follow, plot.
This is the third revival of Jacquot's staging. The young poet's obsessive love story plays out on Charles Edwards's beautifully lit, vast, stormy skied sets.
A performance from Flórez is always much anticipated, but he is more famous for his interpretations of the bel canto repertoire than late 19th century French opera. As always, his clean, bright tone rings out through the auditorium throughout, but the success of his Werther ebbs and flows.
Flórez may not be a natural actor, but he certainly cuts a fine figure in his dashing blue suede suit. He grows into the role throughout the evening. Initially, Flórez lacks intensity and authenticity, but Werther's troubled music in act two brings him to life. The broken phrases of the accompanying strings, coupled with a more heroic tenor line, are well suited to his style.
His "Pourquoi me réveiller?" elicits cheers from the audience and there are hints of a more expansive vocal line and pathos in this performance. Certainly it will be interesting to see him develop in these lyric roles.
Isabel Leonard's sumptous, caramel tone makes for a fine Charlotte. Sadly, her and Flórez lack romantic spark; however, she has an ease onstage which makes her a pleasure to watch. Act I sees a young women exuberantly tending to her charges and excited by the possibilities presented by Werther. This is well contrasted by her sudden reserve in act II as she sits awkwardly with her new husband, Albert.
The letter scene is the vocal high point, Leonard's rich, velveteen voice spinning out Massenet's lyrical lines, coupled with a heart-tugging despair.
Charlotte's controlled presence is excellently offset by Sofie's sparkling spirit. Heather Engebretso is fleet-footed and sprightly, capturing the essence of youthful excitement. Vocally, she is just as agile, boasting a bright tone which never becomes tight or metallic.
Vincent Ordonneau makes a plucky Schmidt (friend of the Bailli) alongside the well-projected, bravado-injected performance from Michael Mofidan (Johann). Unfortunately, they are mismatched as a pair of friends: Mofidan easily out-sings his co-star and they lack chemistry in their friendship.
The children's chorus is on fine dramatic and musical form. Just a small gang of children prance onstage, but their singing is crisp and they deliver their material with great energy.
Edward Gardener draws miraculous playing from the ROH orchestra, coaxing sumptuous warmth from the strings alongside bold, expressive woodwinds and brass. Gardener masterfully negotiates the balance of voices against the passionate orchestral scoring.
Massenet's writing moves the drama on with great effect. The score is filled with leitmotifs and the orchestra emphasises each character's emotional state. The result is an energetic, changeable score, demanding quick emotional pivots, adeptly negotiated by Gardner. Great swathes of Massenet melodies are brought to their emotional climax, before the orchestra deftly turns once more with athletic lightness as a new character appears.
Jacquot's production still appeals—the attractive sets and clean staging work well but unfortunately this cast isn't quite able to bring the work to life. There is some fine singing, but the emotional depth is lacking.
This boy meets girl story hinges on the couples burning love—tonight's performance showed a mild fizzle at best.
Reviewer: Louise Lewis