West Side Story
Based on a conception by Jerome Robbins, book by Arthur Laurents, music by Leonard Bernstein, lyrics by Stephen Sondheim
Curve Theatre
Curve Theatre, Leicester
–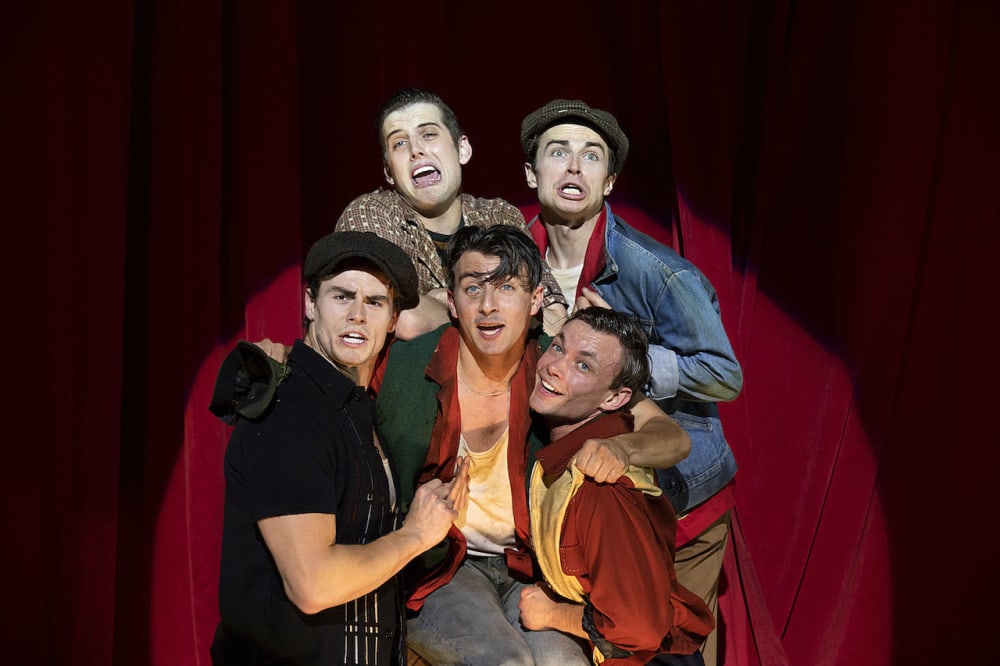 Clutching suitcases and under a large, ragged American flag, a group arrive in Manhattan from Puerto Rico, all with the hope of a better life in the land of opportunity. It doesn't take long for those already settled in New York to make these new arrivals feel unwelcome in their neighbourhood, and so begins a fresh cycle of turf war, prejudice and mistrust.
Never one to shy away from a challenge, director Nikolai Foster tackles one of the great icons of musical theatre, West Side Story, for Curve's Christmas show this year. I will try not to say iconic too often, however, this is practically peak icon: almost all the songs are well-known classics, likewise Jerome Robbins's distinctive choreography. The 1961 film version is well-loved and groans with Oscars (eleven nominations, ten wins) and the stage show has won three Tony awards since the original Broadway production of 1957.
Back in 1957, West Side Story changed the way musicals were done: how songs and choreography drive a story forward, unafraid to show the ugly side of human behaviour with its depiction of gang violence and racial prejudice.
Licensing rights have changed this year, allowing choreographer Ellen Kane the freedom to introduce new choreography to Robbins's groundbreaking work. Likely a daunting prospect to approach, Kane skilfully weaves more modern takes throughout Leonard Bernstein's masterful score of jumpy, percussive Latin rhythms and cool jazz.
Inspired by Shakespeare's Romeo and Juliet, this is a classic love story of girl meets boy, but from the 'wrong' crowd: Maria (Adriana Ivelisse)—sister of Puerto Rican Sharks gang leader Bernardo (Jonathan Hermosa-Lopez)—falls in love with Tony (Jamie Muscato), 'retired' Jet and best friend of Jet leader Riff (Ronan Burns). Both gangs live tough lives, scratching around for work and pride amongst the grime-ridden back streets of New York and the slag heap of discarded rubbish cornering Michael Taylor's set perfectly summarises this air of lost opportunity and discarded dreams.
With dead-end jobs and little else to do, all the gangs have left is to fight each other over territory and avoid capture by the police.
The initial joy and purity of Tony and Maria's love story is beautifully captured by Muscato and Ivelisse, both doing justice to Bernstein's soaring melodies. Muscato is a rather laid-back Tony, Ivelisse impressive in her first professional role and together they convince as the two lovers grasping at their chance for happiness only to have it ripped from their hands. Carly Mercedes Dyer is sublime as Anita, Bernado's girlfriend and Maria's confidante. Dyer owns the stage and, along with Abigail Climer (consuela) and Mireia Mambo (Rosalia), delivers a thrilling performance of the iconic (sorry) "America", and its love / hate comparison of Puerto Rico and America.
The big numbers are tackled well, with a pulsating sequence at the dance at the gym, a dreamy, poignant "Somewhere" involving the whole company and inventive humour and slapstick with "Gee, Officer Krupke" which drew enthusiastic and prolonged applause from the audience.
Taylor's set design, incorporating a three-storey tower of rooms with Doc's diner below, allows action literally on all levels. Moveable metal fence frames create the alleyways and lots which cage in the disaffected gangs, adding to the sense of no way out. A small point, but there is something of a strange, 'over-designed' moment during Tony and Maria's make-believe wedding scene as a host of wedding dresses descend from the heavens to hang above the stage—a worrying portent of angels perhaps, or a dozen Miss Havershams? Whatever, it detracts from the sweetness of the performance on the stage below.
However, this is a thrilling, dynamic cracker of a production with a superbly talented cast and brilliant work by conductor George Dyer and his musicians all giving due respect to Bernstein's complex score and Sondheim's masterful lyrics.
Sadly, with its tragic finale, this story still has relevance and lessons for us to heed, and humans being humans, probably always will.
Reviewer: Sally Jack