West Side Story
Book by Arthur Laurents, music by Leonard Bernstein, lyrics by Stephen Sondheim
New Victoria Theatre, Woking, and touring
(2008)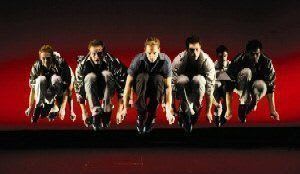 Perhaps it was a mistake to read one or two reviews of the London production of this show before I went along to Woking, the first venue of its UK tour, expecting an enjoyable but slightly disappointing evening. I could not have been more wrong. Try as I might, the only (very slight) fault I could come up with was that the fire escape and balconies set is a little noisy as it moves – and it moves frequently. Otherwise Paul Gallis's design perfectly represents an Upper West Side street in Manhattan with its crowded living conditions. Back projections show street scenes of the area and the balconies are used to the full, not only in Tony and Maria's tender love scene, but also where the inhabitants appear, to see and discuss what is going on below.
Robbins' choreography is set in stone – nothing is allowed to be changed – and under Joey McKneely's direction it is zings with breathtaking brilliance. As the rival gangs – the American Jets and the Puerto Rican Sharks - square up to each other and show off their respective styles, the dancers are in perfect unison, seeming even to float in the air as one, yet this doesn't appear the result of constant drilling in rehearsals (although it probably is), but as if each gang member is in complete accord with their leader.
The leaders here are Howard Jones, a very credible aggressively swaggering thuggish Riff, leader of the Jets, and Dan Burton is Puerto Rican Bernardo, sexy, smouldering, and conscious of being an immigrant but convinced of his people's right to be there. Our hero is Tony (Daniel Koek) smarter than the rest of the Jets and aiming to improve his life.
Fifty years ago, when this show was first premiered on Broadway, it broke the mould of the traditional 'happy ending' musical and must have shocked its audiences with flick knives, vicious fights, and street life depicted on stage, but the reality of knife culture is still with us and stronger than ever – hardly a day goes by without reports of another stabbing. When the Jets are accused with "You make the world lousy" they retort, "That's the way we found it!" They have a point!
There are frequent gems throughout the show – the Jets' cheeky send-up of the bumbling Officer Krupke (Martin Chamberlain) is inventive, slick and very funny. Maria and Tony, young and in love despite the dangerous clash of their cultures, happily plan their wedding, dressing up in clothes from the family shop, and the song Tonight sung from Maria's balcony as night falls brings tears to the eyes for the sheer beauty of the scene as their voices blend and soar.
They could not have chosen a more perfect Maria – young and innocent in virginal white, and with the radiance of love shining through every fibre of her being, Sofia Escobar lives the part as she grows into womanhood with her passionate, all-consuming love for Tony and the tragedy of her loss really sets the tears flowing as she slowly, and with dignity, walks away from the scene of her lover's death. Her singing voice too is a dream.
Her counterpoint is Jayde Westerby, vibrant as the fiery, dramatic Anita, more worldly-wise than Maria, but that doesn't prevent her horrendously realistic gang rape by the Jets
An eighteen piece orchestra, under the baton of Simon Beck, beautifully re-create Bernstein's glorious score, with songs such as Something's Coming, Maria, I Feel Pretty and Somewhere.
The Romeo and Juliet story of doomed love has never been more tenderly, movingly, and entertainingly told. Vibrant, dynamic, exciting, sometimes touchingly tender and ultimately devastatingly tragic – this is a show worth dying for - sheer perfection!
Touring to Milton Keynes, Stoke-on-Trent, Salford, Belfast, New Wimbledon Theatre, Glasgow, Cardiff, Norwich, Southampton, Newcastle on Tyne, High Wycombe, Leeds, Nottingham, Edinburgh, Aberdeen, Sheffield, Stoke on Trent, and Bristol. It will return to Woking from 14th to 18th April, 2009.
Reviewer: Sheila Connor