Wet House
Paddy Campbell
Live Theatre Company
Live Theatre, Newcastle
–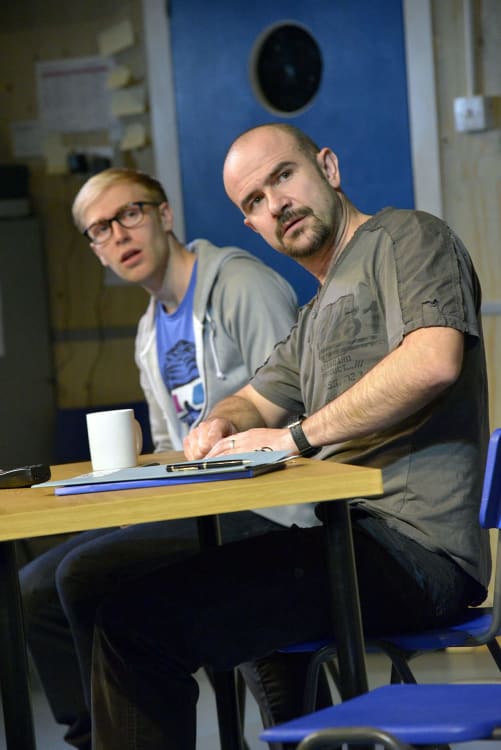 At times we hoot with laughter; other times (were we not British) we would cry out with indignation; elsewhere we shrink into our seats from the pure horror of it all.
This is real theatre alright, and this is a major new writing talent whose full-length debut we were privileged enough to be witnessing.
Paddy Campbell is fortunate to be served by a Live Theatre cast of six whose portrayal of his grotesque, buffoonish, tragicomic, vulnerable, cruel, bewildered, bellicose, simpering, exploitative, exploited characters in an alcohol recovery home, brings an incandescent feel to the Newcastle stage. Max Roberts's production is fiercely physical, muscular with intent and looks to take no prisoners.
I swear I could smell the drunken tramp's fetid clothes carried at arm's length to the washing machine, or hear the cascading pee as the banjoed woman dropped her trousers and squatted to the floor.
The main character, Chris Connel's 'carer' Mike, makes Cuckoo Nest's Nurse Ratchett seem of Florence Nightingale benificence. I shuddered each time he walked on stage knowing the destructive potential that lay ahead. Connel has appeared in many high profile Live productions including The Pitmen Painters. But this is an unrivalled performance, down to every cruel / comic facial twitch.
A physical and psychological bully, an ex-para brutalised into a barbaric yet effective survival technique, Mike pours scorn on all liberal intentions. Appalling? Yes, but he also has us laughing our socks off, making him one of the least comfortable, most watchable characters seen in a long time. His nihilist philosophy on the whole caring set-up is chillingly powerful and on the receiving end of it is the young wide-eyed greenhorn graduate, Andy (Riley Jones), whose journey the play plots.
How many plays are controversial enough to make us empathise with a paedophile?
You see—your hackles are raised already. How many plays take place in one small unit, yet say so much about our society? This is the kind of territory television drama should cover if it could free itself from coppers and stately homes.
It is the kind of play all arts organisations should watch before going cap-in-hand for funding to big breweries. It is a play of wrecked lives, both the cared and the caring(?).
Everyone here is slowly sucked into a dark fetid pit and if there is any hope it is that.
Andy manages to extricate himself while Jackie Lye's compassionate yet vulnerable Helen partially wriggles free from the sexual and psychological power of Mike.
Joe Caffrey plays Dinger, an drunk of almost Shakespearean comedy and tragedy, with David Nellist as the paedophile Spencer, a man of deep troubled silence battered by Mike almost beyond recognition—the kind of tabloid-fuelled hate that moves righteous indignation onto pure sadism. Eva Quinn is the only female inmate, the combustible Kerry, pregnant, foul-mouthed, spitting hurt, venom and confusion at anyone who will listen.
Of all the characters, only Kerry's seemed slightly bolted-on or 'written' and not intrinsic to the plot—which is not to detract one iota from Quinn's hi-octane performance. All cast members here are out of their skin.
The writer is a graduate of Live Theatre's new writing programme and the play's powerful whiff of authenticity springs from his own personal experience working in such institutions where inmates are locked away and allowed to consume as much alcohol as they want. It vividly describes a Victorian-type underbelly of our society of which we know nothing until (possibly) shocking facts are revealed by some token enquiry.
How many playwrights venture into such territory? How many are brave enough to attempt this mix?
It's a play not a documentary and like all plays character is paramount. Mike's character haunts me. I am repulsed. I am fascinated. I hate him. I want to understand him. He is abominable. Yet when all hell breaks loose in there, who can handle it best? Mike. It is the hell he has helped create. It is the hell that has helped create him.
Gary McCann's gruesomely anonymous Wet House interior properly suggests a bureaucractic indifference.
Is it slightly long? Possibly by ten minutes. Any other criticisms for the sake of balance? A small one. As the cast themselves do the scene changes (in character), dimming the lights seems unnecessary and out of sync with the sense of our painfully and unavoidably, like the rest of them, being always in that house. Leave the set lit.
But that's the nits picked. Go and see it.
Reviewer: Peter Mortimer