What I Learned From Johnny Bevan
Luke Wright
Edinburgh International Book Festival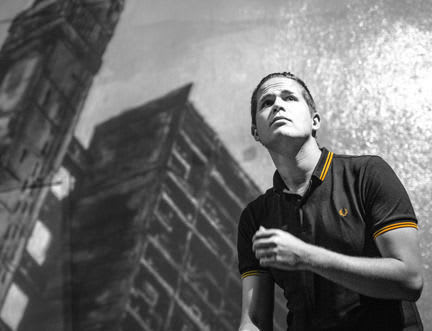 Poet Luke Wright appeared at the Book Festival to perform his feature-length one-man verse play for just a single performance.
This was not a performance that I was intending to review so I made no notes and I couldn't find the book in the Festival's shop the next day, so excuse me if the details are sketchy or even inaccurate. However I thought it deserved a mention as it was a remarkable performance.
Wright speaks as Nick Burton, who looks back to when he started at university on a safe course (he wanted to do English literature but took law to please his father) sticking to safe male friends and safe activities such as drinking and football—until he saw a passionate performance of political poetry in a pub by fellow student Johnny Bevan.
Nick and Johnny became best friends, Bevan turning our narrator from a political naïf into a keen activist, campaigning for the reforming wave of socialism that they were convinced would come if Tony Blair's New Labour got into power in 1997.
However, this is all looking back from a time when Nick is now a journalist, again sticking to the safe, as he is taken by a very posh girl from a PR firm (a brilliant piece of observation—there are lots of "Millys" and "Tillys" about in this field) to a secret location for a new arts festival. The destination turns out to be the concrete block of flats where Johnny Bevan used to live, now emptied of tenants and drug addicts and filled with "installations" and media suites.
This brings Nick's memories of his friend flooding back and he tries to track him down, but the final meeting doesn't quite go as well as he hoped.
This is a brilliantly observed piece of writing, well-researched and with a sharp political edge. It was also performed with energy and passion by Wright, who is a very charismatic performer, even when delivering more than an hour of dense, poetic text from memory without the aid of costume, set or props.
It's a performance you should catch if you ever get the chance. I fully intend to get hold of the printed version to see if it comes across as well on the page as it does on stage—I suspect it will.
Reviewer: David Chadderton