What Once Was Ours
Chris Elwell
Zest Theatre and Half Moon
Half Moon Theatre
–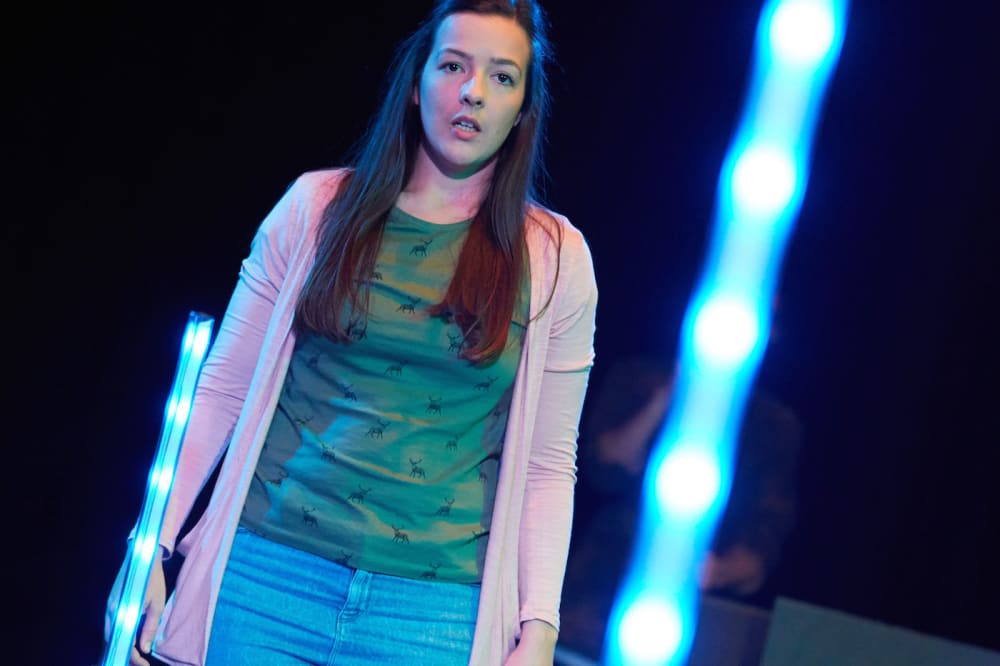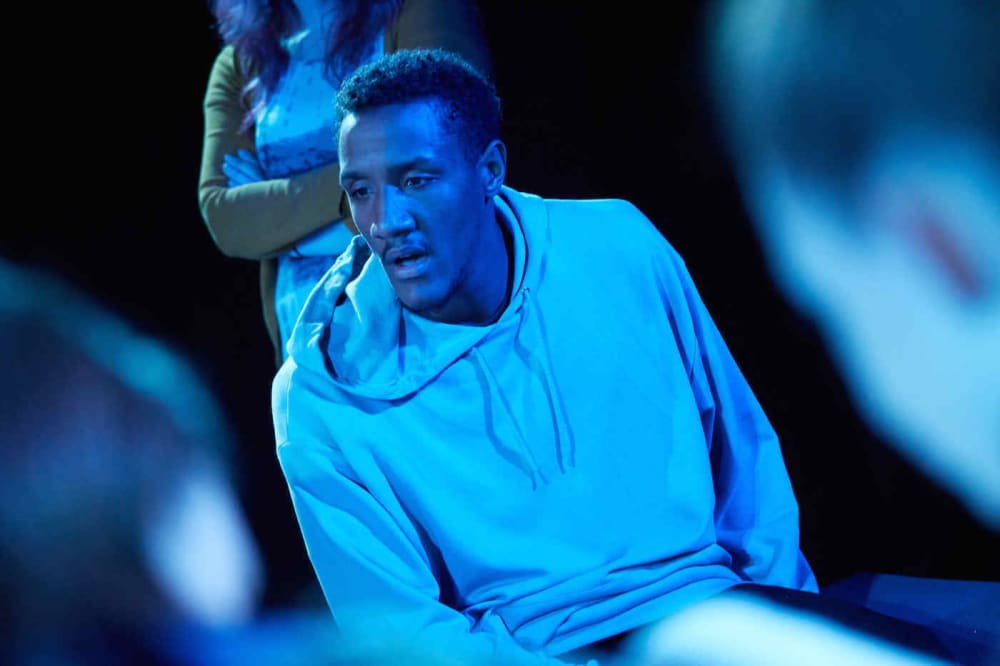 For this production, Zest Theatre of Lincoln and Half Moon Theatre of East London last year talked to young people in Lincolnshire, London, Barnsley and Newcastle / Gateshead and recorded conversations in which they expressed their opinions about issues that concern them. Two of these areas voted to leave the European Union, two voted to remain and each area had very different communities and different viewpoints.
The views expressed in those conversations were the basis for this hour-long two-hander. They inform both the dialogue of this play, which presents a meeting between a half-brother and half-sister with the same father and different mothers, and a montage of the teenagers' actual recordings that forms a soundtrack to the play and expresses the conflicting ideas that give voice to what the characters base their ideas on. These are voices that both express their own views and repeat and report those of their parents and others. They have been edited by writer / dramaturg Chris Elwell and mixed with a strong music track.
What Once Was Ours is presented as an immersive production with the audience free to move about. Pillars and blocks of foam plastic and light pillars that are also speakers form the setting. They provide both places the audience can perch on and such furniture as the play needs. This is in-yer-face performance with maximum proximity. The design is by Verity Quinn and the very directional sound by Guy Connelly.
It begins when the ambient music pre-show turns into a massive montage of voices, a barrage of sound which leads to a young black man challenging the audience in a rap on the theme "What do you know about me? / What do you see?" He is Callum, he says, the son of Mike Reynolds, and he has come here to see his dad, knocking at the door and asking to see him.
At first no-one answers. Then he sees his half-sister Katie. She's the only one there. She is younger, child of the woman their dad married after separating from Callum's mother. Katie eventually lets him in; she can do that only because her father and mother are in Spain, though they'll be back the next day.
Katie's mother wants nothing to do with Callum and it is a long time since he has had contact with his father or sister, though he and she get on. He is "this thing that has been around longer than mum" and as such for Katie's mother he is a reminder of the woman whom her father first loved and his African genes put him among people who are different. Her mother is one of those people who go to Spain but don't attempt to speak Spanish, don't like Spanish food and indeed don't seem to like anything foreign.
Where Katie lives isn't specifically mentioned but it is clear that it isn't a big town with a mixed ethnicity, and it isn't clear where Callum comes from but perhaps somewhere where a black face is more general. He seems to be an analogy for anyone other, the people who have come here and, so some believe, taken "what once was ours". Katie says her mother is always complaining about "Pakis and Poles". She voted leave, but with Brexit, as Katie points out ironically, she'll have shot herself in the foot if she has to leave Spain.
This becomes a very personal story, which Pippa Beckwith as Katie and Jaz Hutchins as Callum both play with great sincerity. There is very little direct reference to Brexit, but the play is infused with the attitudes that produced the growth of post-referendum xenophobia.
Callum just says he needs his father's help, but without explaining. Katie asks if he's in trouble, a hint of racial stereotyping on her part, suggesting trouble with the law. Later we learn of a truly tragic situation that even at 19 seems to have undermined his self-reliance. He needs to belong: he is looking for family.
This isn't a play about the economics of Brexit, about how undemocratic the EU is. That's isn't what the recorded voices talk about. It is a play about understanding.
Some of those young voices come through very clearly. One says, "I want people to be accepted for what they are and not judged." Another, not concerned about being British, says, "I just want to be me."
Director Toby Ealden has brought the play's components together in a way that obviously involved the audience I saw it with, an audience from one of the schools where recordings took place and whose voices are part of the palimpsest, and rather ironically given some of the views the play includes an audience made up overwhelmingly of black teenage girls.
Reviewer: Howard Loxton