What's It All About? Bacharach Reimagined
Conceived by Kyle Riabko & David Lane Seltzer, music by Burt Bacharach Lyrics by Hal David & others
Menier Chocolate Factory
–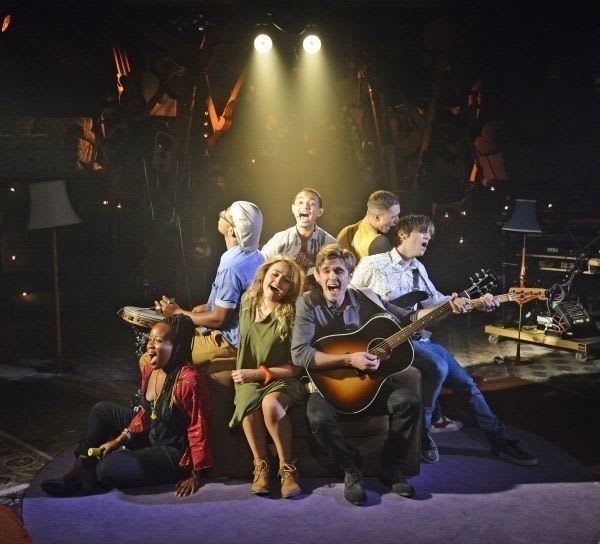 If you a relative oldster, Bacharach's songs are part of your history. "Magic Moments" was probably the first that I heard, back in 1957, the year Bacharach teamed up with lyricist Hal David after meeting in New York's famous Brill Building.
Since then, his music has been a background to a large chunk of life. In the '60s and '70s, his songs were sung by Tom Jones, Dusty, Cilla, Sandy Shaw, Engelbert Humperdink, Gene Pitney and so many more—even the Beatles—but it was the partnership with Dionne Warwick, for whom so many were first written following her very first single, that made the most perfect match. It is her inimitable voice that I hear most in my head when I think of their music.
But forget that kind of nostalgia. This isn't a romantic recital of the Bacharach songbook. Kyle Riabko and David Lane Seltzer have put together a sparkling show that really does reimagine the Bacharach repertoire. Conceived with the composer's approval, it presents his music through a contemporary 21st century musical awareness.
It's a very long way from a juke-box musical; it doesn't impose a storyline but links songs in a way that connects their meaning, sometimes blending songs together, sometimes using only snatches. Only a few get a more straightforward rendition. They include a soulful "Walk on By" sung by Stephanie McKeon, Anastacia McCleskey's passionate rendering of "Don't Make Me Over" and Riabko's feeling delivery of "I Just Don't Know What to Do With Myself" and a very direct version of "Alfie" that he makes entirely his own.
This team of seven singer musicians make a marvellous noise whether in plaintive solo or building a great wall of sound and are a fantastic example of teamwork. On guitar, alongside Riabko, are Daniel Bailen (also from the original New York cast) and Greg Coulson, who plays double bass too, a fantastic drummer in James Williams (who was also in the New York production) and, though almost everyone at seems some point to play keyboard or the upright piano, it is mainly 19-year-old Renato Paris, who is definitely a youngster to watch.
Designers Christine Jones and Brett J Banakis have created a comfortable, cosy atmosphere with sofas and standard lamps or table lamps set on stacked books and a patchwork of carpets that spread out onto the roof beams and pillars adding acoustic as well as visual advantage, the whole backed by a montage of instruments, and shelves and sofas to perch on.
Steven Hoggett's direction keeps the action almost constantly moving giving still moments even greater poignancy. Piano and keyboard are pushed around, microphones set out, sofas rolled in as part of the choreography. The performers move smoothly together, stepping out in rhythmic unison in effective though simple dance steps and Tim Lutkin's complex lighting adds excitement and atmosphere carefully matched to the music.
Riabko's arrangements are sometimes loud and more strident than the originals. He doesn't treat songs as golden oldies but makes them for a young modern audience and, though there are losses, like not always hearing the lyrics, it's a lively, non-stop, ninety-minute reminder of what a big talent he is celebrated by a group of dynamic and gifted performers. It felt wrong to be sunk, as I was, deep in a well-padded sofa at stage-side; this show's energy makes you want to get up and be part of it.
What's it all about? Burt Bacharach! And on press night he was there to join the cast in a final curtain call to take his place at the piano for a final, emotional rendering of "Raindrops Keep Fallin.'" It's a great gig—and I've still got my old vinyl to hear the songs in their old form.
Reviewer: Howard Loxton