What the Women Did
Gwen John, Herbert Tremaine and J M Barrie
Two's Company
Southwark Playhouse
–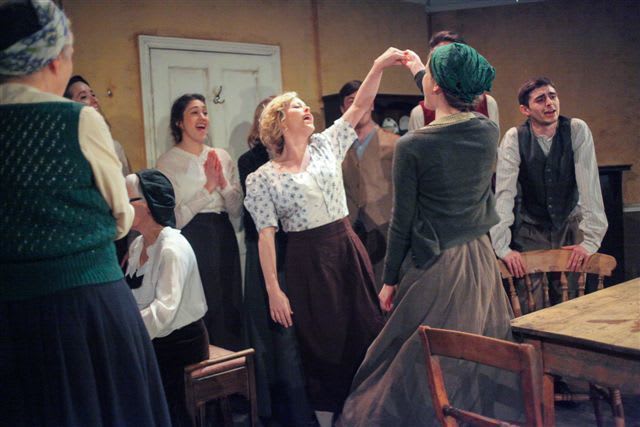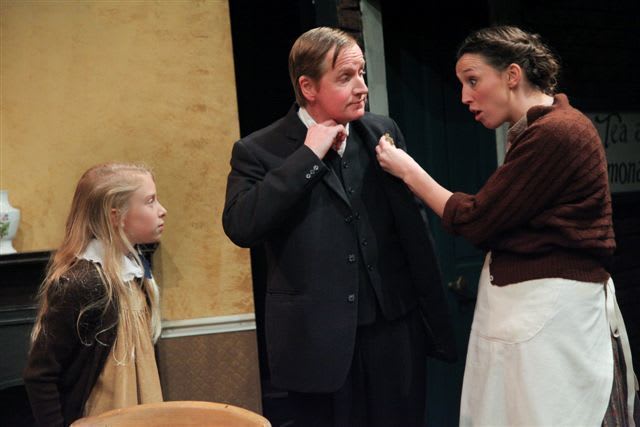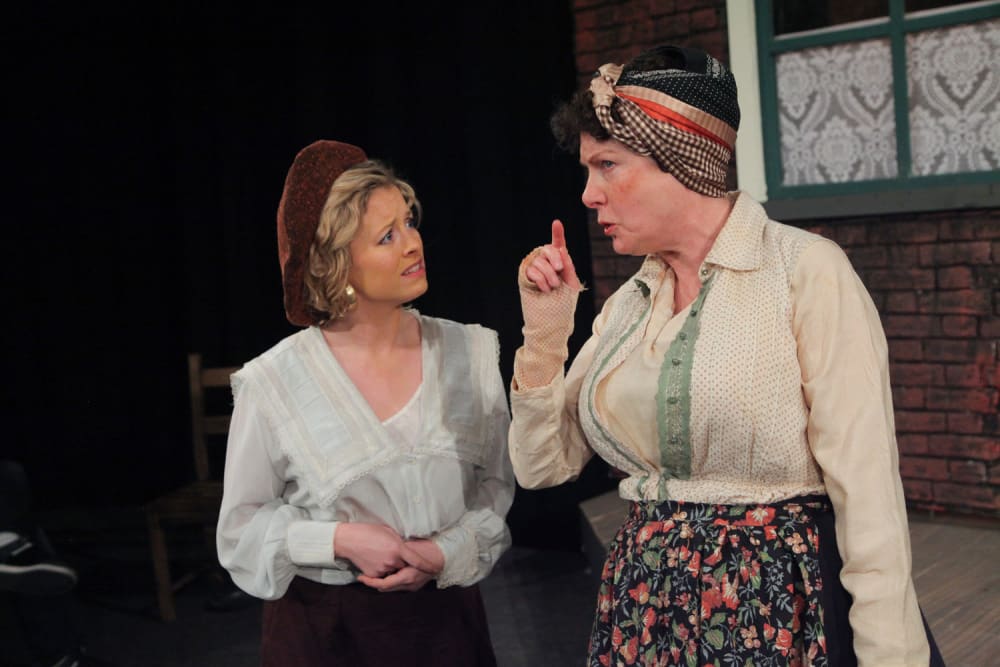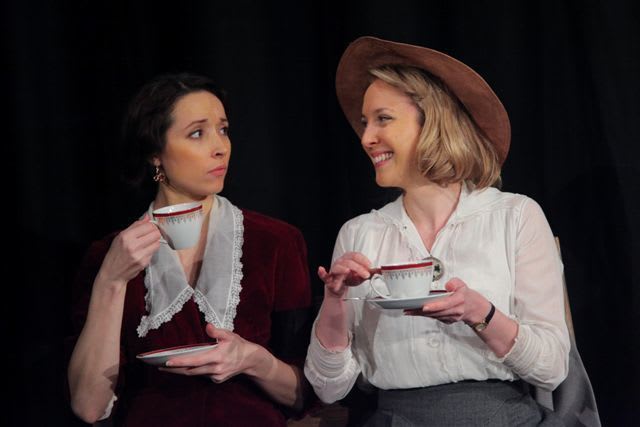 Arrive early and for twenty minutes before the first play the company offers a concert of First World War songs delivered with verve and some feeling that ends with the women waving their men off to war while singing Ivor Novello's famous "Keep the Home Fires Burning" before they all melt away into the darkness.
It is an entirely appropriate opening to this triple bill which is part of Two's Company's "Forgotten Voices from the Great War" series of revivals of plays about and from the time of the First World War.
It consists of Luck of War by Gwen John (not the better known painter), Handmaidens of Death by Herbert Tremaine and the once well-known The Old Lady Shows Her Medals by J M Barrie. These are new productions of the same bill that was staged with such success at the old Southwark Playhouse in 2004.
Luck of the War, first performed at the Kingsway by Edith Craig's Pioneer Players in 1917, is set in 1915 when a war widow, newly remarried, is faced with the return of the husband she thought was dead.
A couple of years later, Somerset Maugham based his comedy Home and Beauty on a similar situation, but this is no laughing matter. This family in a Midlands town with the second husband about to go off to a celebration of his seven years on the temperance wagon is a far cry from Maugham's fashionable sophisticates.
Ann Hemingway (Victoria Gee) is a working-class woman left to raise her children on her own who has been supported by family friend Amos Crispin (Matthew Cottle), financially and emotionally. There are hints her marriage to George Hemingway was not a particularly good one though since believing him dead she has remembered his good qualities and memorialises him in a poetic tribute to the fallen she keeps on the piano her new husband provided.
There is a strong sense of domesticity with a nosey neighbour and their children and Ann brushing Amos's suit to send him off looking smart. The emphasis is on Ann's fraught situation after a letter announces still-alive George's imminent arrival.
Simon Darwen gives George an easy-going attitude unconcerned about his failure to keep in touch, blasé about his war experience, describing bursting shells as being like fireworks, (though this positive attitude may have been necessary to get past the Lord Chamberlain's censorship). Although his crutch and injured leg mark him a victim, this, like all these plays, is about the woman left at home.
Handmaidens of Death, by another female dramatist (her real name Maude Deuchar), was written in 1918 and has a contemporary setting. It presents a group of women munitions workers that includes a couple of "better" class ladies on bicycles as well as girls from the working class.
These women may have taken the place of the men at Woolwich Arsenal but there is no one to take the place of men in their lives. One girl even criticises a war widow who is getting remarried, getting a second man when most don't have one, not even a dead one or a boy at the front.
It is a situation that is serious but treated with humour and a sharp differentiation of class. The first scene, set during the lunch break outside a small tearoom, culminates in the joking suggestion that they all insert notes to the men at the front into the casing of the shells they are making.
The second scene, when the women are on their way home when leaving work after nightfall, is staged almost in darkness except from the glow of the cigarettes of a group of men they encounter on the way who engage them in banter. Men with accents, provided they don't turn out to Belgians (who one of the girls is dead against for no obvious reason) their advances aren't unwelcome.
These men have turned up in reply to the factory girls' messages, a surreal response that is not quite what they hoped for that spirits the audience straight back to the mud and the blood out in Flanders.
With Susan Wooldridge as the tea room proprietor, rounding the girls up like a hen with her chickens, Alix Dunmore and Emily Bowker as the posh pair, Mia Austin as raucous Blanche, Fiona Sheehan as stand-offish Violet, Polly Eachus and Victoria Fee this is a lively piece with a sting to its tail.
The Old Lady Shows Her Medals, first performed at the New Theatre in 1917, is a satirical look at the kudos claimed by those with husbands and sons in the army. A gaggle of charwomen are gathered in the basement room of elderly Mrs Dowey (Susan Wooldridge) who keeps face with the others by displaying the bundle of letters she receives with such regularity from her boy at the front.
When the local vicar (Matthew Cottle) arrives to announce that he has just met Private Dowey (Simon Darwen) at the Church Army centre in town and he will soon be coming home, it puts her into quite a state.
When the soldier arrives shortly after, the vicar shoos the other women out to give mother and son some privacy. Just as well for this is in fact their first meeting. Mrs Dowey's letters were blank paper, her title of Mrs a convenience to give status, her son an invention, though Pte Dowey had been getting letters and cake from a seeming society lady, cake just like the piece Mrs Downey now offers him. An intriguing rapport develops between them and by the time Pte Dowey goes back on duty, it seems Mrs Dowey has a son after all.
After her verismo approach to the first two plays, director Tricia Thorns gives an exaggerated comic edge to this one, opening with the women swabbing their way on stage and opening up the setting. Although their vicarious status embellishment through their men's roles in uniform has a sound factual footing, they edge into caricature and probably rightly if you think of the way such characters were played in the West End a century ago (I wonder if the play would have been accepted so easily if upper class women had been satirised in the same way?).
This jocular edge actually increases the impact made by the new complicity and mutual feeling between the two Doweys which is delightfully played by Wooldridge and Darwen.
Set designer Alex Marker has devised a set that intriguingly adapts to fit all three plays, the transitions becoming part of the action and the whole production team contributes to a time machine switch that captures the attitudes and feelings of our forbears.
Reviewer: Howard Loxton