What Would Judas Do?
Stewart Lee
Greyscale Theatre Company
The Ustinov, Bath, and touring
(2010)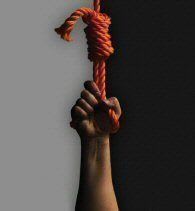 Director Lorne Campbell (Carthage Must be Destroyed; Gagarin Way) returns to the Ustinov this week with his new company, Greyscale, and a provocative and engaging double-bill of one-man shows. The first of these is a revival of Stewart Lee's What Would Judas Do?
Lee's monologue is an entertaining, 50-minute re-telling of Christ's passion, skilfully spun from the perspective of Judas Iscariot, here a small-time, wanna-be revolutionary, who interprets Christ's every word, move and miracle as a precursor to what he believes will be the imminent and spectacular overthrow of the Roman Empire. When it turns out he's been badly misreading his leader, Judas comes to a moving, and theologically thought-provoking conclusion.
David Ireland is instantly an entirely likeable Judas. Making his entrance clutching a noose, and making certain we have no doubts about how this story will end, he stands downstage and engages the audience directly from the start. His style is a winning one: modest and unassuming, he creates a disarming intimacy which is more conversational than it is stand-up.
Having won us over, Ireland then pitches Judas as the misunderstood, disillusioned and disappointed young man that Lee's script demands; not so much the villain, the angry young man, so much as a mildly petulant one.
Along the way Lee's script throws a very funny, very modern light on the events, the miracles and the Big Man himself. Most memorable is Ireland's perfectly pitched retelling of the Last Supper and his moving recollection of the crucifixion, "not the kind of death to hang a revolution on".
Lee's original production played to a very mixed reception in 2007, but Greyscale raise the bar with the show's first revival: hugely absorbing, thoroughly entertaining and deserving a far more extensive tour than that already planned.
Runs at the Ustinov until 1st May then tours to Northern Stage, Newcastle
Reviewer: Allison Vale