"What's What?" An Evening with Bernard Shaw
Devised by Heather Barnett and Gwen Sasse
ReCollect: creative explorations of the LSE
London School of Economics
(2007)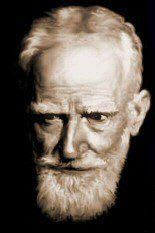 Last year's 150th anniversary of Shaw's birth passed almost unnoticed by London theatre, apart from productions at the Orange Tree in Richmond, so it is good to see the London School of Economics creating a show exploring some of his, perhaps, less known work.
The LSE was founded in 1895 by socialist pioneers Beatrice and Sidney Webb, with the support of their friend GBS, and this performance began in the attractive library on the sixth floor of the building which bears Shaw's name. It is a room with comfortable armchairs and the director chose to place the audience in them, supplemented by some standard metal and canvas ones.
Now this would have been fine if they had been ranged round the room and the action taken place in the middle or moving between them but instead they chose to use an end-stage arrangement for the first section, which consists of readings of letters between Shaw and the Webbs. This meant that much of the audience had at best a partial view and at worst none at all.
Admittedly, this show had been promoted as a promenade production and the audience warned that seating would be limited. But in fact it was fixed staging and to see it was easier to stand in the spare space at the back.
Letters are not usually written to be spoken. Having some chunks read by the writer and others by the recipient does not turn them into dialogue. Director Gwen Sasse did try to animate things. She moved her cast around and gave them business with tea cups, but the mixed cast of young professionals and amateurs were hard pressed to sustain this for over forty minutes.
Fortunately, the letters themselves are interesting. They range over half a century and include references to the founding of the LSE which Shaw (Leander Denny, seen recently with Wrestling School in The Seduction of Almighty God ) calls 'the Palladium of British intellectual superiority to America', Sidney Webb reporting a visit to New York, the establishment of the New Statesman, GBS's marriage --'My objection to my own marriage,' he wrote, 'ceased with my objection to my own death' - Charlotte was nursing him after an accident.
This was followed by extracts from Shaw's plays and political writings. First was the beginning of On the Rocks. It was performed on one side of the room in so little light that the actors were in silhouette, which may have disguised that they were too young for their roles but made their performances less effective. Things got brighter, in both senses, for a duologue between William of Orange and the Earl of Sutherland about how to handle Parliament from Everybody's Political What's What.
After an interval the audience then moved to a new venue, one of the student bars, where an extract about money from The Intelligent Woman's Guide to Socialism was presented in a video directed by Heather Barnett with some witty visual conceits, though again sometimes under-lit, but nicely played by Vera Filatova.
This was followed by the Cultural Bureau scene from Act One of Geneva, in which it seemed odd to cast heavily-accented Filatova as a girl from Camberwell. The show ended with and edited version of Shaws' 90th birthday broadcast; though surely Sasse did not intended to edit it to the single word 'Hello'. I assumed there was some technical problem. A pity, for it would have been a suitable end to a well thought out collection of material that ranged over Shaw's economic and political ideas, showing how apposite they still are and far we have departed from some of them.
The directors had obviously abandoned the idea of making this a promenade production. It simply had a static audience in two locations. Several of the performers had not really found a way to handle Shaw's text, but that is a problem you can see elsewhere. Not many actors today are used to handling long and carefully argued speeches, though Steve Bond did well as Sutherland. A little more directorial guidance might have helped them and a little more attention to detail. How would another character know someone was a bishop when the bishop is wearing a black and not a purple shirt for instance?
But, perhaps, one should not be too critical for it was good to see this material being aired. I suspect that it was entirely new to most of the audience, especially its younger members. Good, too, to see a multi-national cast, reflecting LSE's broad studentship, working alongside the professional members of the cast.
25th & 26th April 2007 only
Reviewer: Howard Loxton