When Chaplin Met Gandhi
Jim Kenworth
Kingsley Hall
–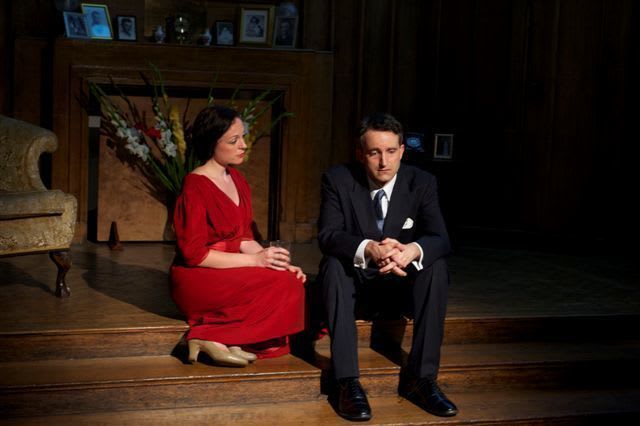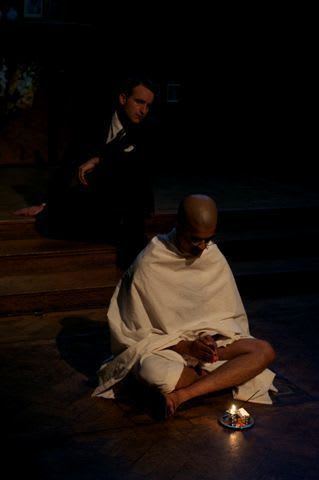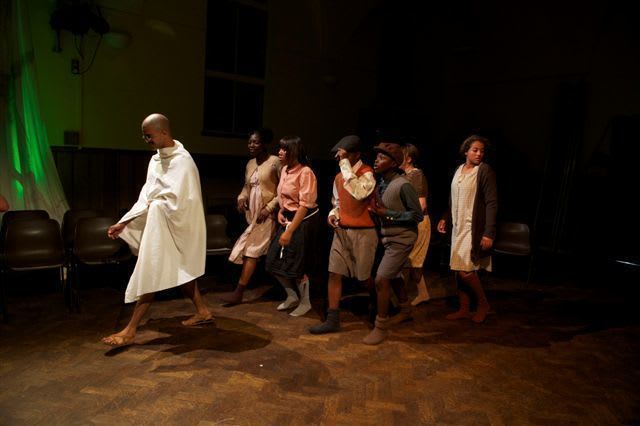 In 1931 M.K. Gandhi, the pacifist Indian leader of non-violent demands for Indian independence, was in London to attend a Round Table Conference about it. At the same time Charlie Chaplin was in town for the European premiere of City Lights and asked to meet him. That meeting took place at Kingsley Hall in Bow, a community centre in London's East End that had been established and run by the philanthropic Lester sisters.
Muriel Lester had met Gandhi when visiting India and it was in one of the small cells at the top of their newly completed building that he chose to stay for the twelve weeks of his visit. It is in the hall below that this performance of Jim Kenworth's play, which centres on their meeting, takes place. It follows performances earlier this year at Eastlea Community School, whose pupils form part of the cast.
This is not a play of great dramatic incident, though major international events are ever present in the background; it is a gentle reminder of Gandhi's visit and an imagined presentation of that meeting between two seemingly very different people: the film director and the man whom his followers called Mahatma (Great Soul). Vegetarian, loin-clothed Gandhi and the Hollywood movie man actually had much in common. Both identified with the poor and they shared a belief in equality and justice.
Kenworth begins his play in 1948 with Chaplin and his wife Oona first hearing of Gandhi's assassination and then it looks backward to show us Gandhi's arrival and his interaction with East Enders while Chaplin sets up meetings with prominent figures such as Prime Minister Ramsay Macdonald and Winston Churchill (an opponent of Gandhi who called him "a half-naked fakir").
Gandhi's entourage sees no point in the meeting but Gandhi agrees, though he knows little of Chaplin. The film actor is at first thrown off balance by their encounter. Gandhi doesn't like being called Mahatma, says call me "Brother Gandhi", and after Chaplin briefly performs his Little Tramp character thinks he might have a go. It is a touching encounter, with Chaplin seeing industrialisation as freeing workers from toil and Gandhi agreeing but insisting that for India the hand worker must first achieve independence or industrialisation will just lead to more exploitation. He even invites Chaplin to join him in prayer.
Eager to see into the lives and homes of East Enders, Gandhi soon has a following of intrigued youngsters. He explains that he wears his loin cloth to show his identification with the poor and he doesn't mind being laughed at—after all he must look funny with no trousers. He sees progress since his days as a law student in London in milk bottles on doorsteps and a home that has a piano. He tries to instill his ideas about caring for others in young minds. A 2012 episode questions how successfully but a clip from Chaplin's The Great Dictator in which his dictator-look-alike barber delivers a speech that, apart from its impassioned delivery, could have been Gandhi speaking.
There are strong central performances from Mark Oosterveen as Chaplin, who doesn't attempt impersonation but plays the character as written, and Divian Ladwa as Gandhi. Pip Mayo, her silver hair worn in earphones like the real woman, captures exactly the right mixture of primness and kindness as vegetarian pacifist Muriel Lester. Marcus Ellard takes on a whole range of well-defined characters from Chaplin's publicity man to East Enders including a Winston Churchill who wryly points out that what Chaplin thinks is a painting by Seurat is actually a Churchill. Jennie Leverton plays, among other parts, Muriel's sister Annie and a rather glamorous Oona O'Neill.
Director Matthew Xia and designer Laura Cordery have used the whole space of the hall, turning one end into sitting room but playing in a thrust space that makes use of existing features and doors. A sequence from a Chaplin movie plays on the curved ceiling of the apse end as the audience assembles and projected date identifications ensure we can follow the time shifts. Xia, who elsewhere has given us lively choreography and physicality, here exercises a restraint that reflects Gandhi's calm in his fluid direction. It makes a slow entry through the space or a scene by flickering candlelight extra effective and the kicking of a football becomes violent. He has also done an excellent job in getting committed performances from his young supporting cast drawn from local young people.
While holding with its presentation of character, this play also passes on a surprising amount of information and in an educational context could provide a valuable starting point for exploration of the topics it touches on and discussion of the issues it raises.
Reviewer: Howard Loxton