When Kurt Met Thora
Clara Nel Haddon
Plush Tiger Productions
theSpace @ Surgeons Hall
–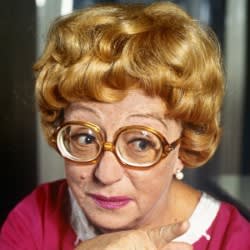 If there was a moment that cemented the famous grunge pioneer and rock legend Kurt Cobain in the consciousness of UK audiences, it was Nirvana's legendary appearance on Top of the Pops in 1991. This play imagines a meeting between the musician and national treasure Thora Hird, as the pair cross paths in the green room; over the course of an hour, they share tea and custard creams and a little bit of their lives with each other.
There's a lot of ground you can cover with a scenario like this, a fascinating clash of cultures as the young, emotionally raw rock star meets with the endlessly cheerful, ageing actress. The moments where the pair talk about their takes on religion are especially entertaining, but overall there's a thinness to the proceedings.
Kellie Gamble and Ant Hopkinson do great work as the pair of chalk and cheese performers. Despite neither hugely resembling them physically, the mannerisms and voices sound unnervingly accurate, Kurt lounging around like a pile of tired old clothes and Hird all but bouncing around with barely contained cheerfulness.
The place where the show never quite manages to come together is in the rather sparse interaction between the pair. There are a surprising amount of asides to the audience, where each takes turns to monologue about their past and their traumas, as well as some brief interludes from recorded voices outside the context of the meeting. It's interesting, but never feels entirely cohesive. There's an unwillingness to have the pair just talk at any length, which may be entirely realistic, but seems to squander some of the potential of the concept.
Reviewer: Graeme Strachan