When We Are Married
J B Priestley
Co-produced by West Yorkshire Playhouse and Liverpool Everyman and Playhouse
The Quarry Theatre, West Yorkshire Playhouse, Leeds
(2009)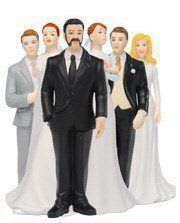 West Riding Playhouse, West Riding play, West Riding culture, West Riding playwright. It's a West Riding night out (should that be 'neet out'?) and neither production nor audience let you forget it.
When We Are Married sees John Boynton Priestley drawing on his Bradford roots and applying superb craftsmanship to a 'farcical comedy' of parvenu hypocrisy and class dislocation.
Three figures of the establishment of 'Clecklewyke' meet to celebrate twenty five years of marriage. The name 'Clecklewyke' says it all and allows you to imagine the characters and appearances of its Councillor, Alderman and Businessman (Herbert Soppit - henpecked and thoughtful, a worm that will turn) and their 'lady wives' who, like the chaps, are dolled up to the nines for this special evening. A journalist and photographer (a drunk, bohemian in a Northern way) are called in to record the anniversary. But first the young choir master (Lah did dah and from the dreaded South) must be disciplined or sacked: he's been seen out with a woman in - horror of horrors - Morecombe! Wrong side of the Pennines, you see. Might as well have been born on the wrong side of the blanket.
A parlour maid and house keeper, unimpressed by their 'betters', pass judgements based on innocence and experience. And, to further fill out this sociograph of Northern stereotypy, we have a barking vicar and a bar-room tart.
Having peopled his stage, Priestley has fun. The choir master knows that the vicar who married the three pairs was not licensed to do so! Cats pounce and pigeons squawk. But all works out well in the end. There's nothing here to frighten the horses or upset the servants. And trousers remain safely belt and bracered throughout.
Of course Priestley was very much the worker writer, turning his hand to all forms, and doing 'em well. Having got his plot, this play would have been a doddle for him. The magic of it is that a Yorkshire audience loves what could be seen as a vicious send-up of all things Northern, written by a generously gifted, archetypical professional young Yorkshire man who was the toast of London Town.
This is a fine production of a classic, first performed in 1938. Colin Richmond's late Victorian wainscoted set is a little static, and in a play termed 'farcical comedy' one would have liked a inventive use of the two doors but it was an excellent backdrop for intricate plotting. Ian Brown's direction allows the text to breath and work to the delight of a packed house. And the play is well cast.
Admittedly I was worried by Jodie McNee's determinedly comedic movement and enunciation. And I sighed when Tom Georgeson came on as the drunken photographer, dressed in a suit and hat that screamed 'laugh at me'. But then he completely won me over. He gives a wonderful performance which, against all the odds, breaks through the stereotype and reveals a bruised and fractured sensitivity making the best of a narrow small town environment and a bad habit.
Eileen O'Brien's bustling, bristling housekeeper, Mrs Northrop, is also a bravura performance as a working class boozy-nosed little termagant, more than happy to put down the uppity wives and their freshly starched husbands.
But there was a high standard of acting throughout. Indeed this is a high standard production leading to a very satisfied audience and, let's hope, more full houses in The Quarry.
Until 25th April, 2009
Reviewer: Ray Brown